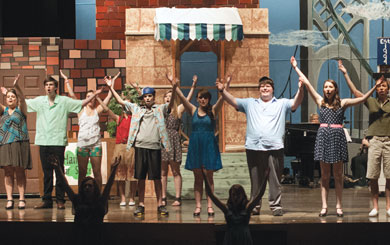 Barbara dragged me to a high school musical a few weeks ago. I'm glad she did.
She wanted to go because the play involved students she taught in middle school and are among the last she taught before retiring. I didn't know anyone in the production or anything about the musical, "In the Heights," which is about cultural and economic changes in a New York City Puerto Rican neighborhood. It's not "West Side Story," but it's not unlike it, either. It won a handful of Tony Awards in 2008. The music is more rap and rock than Bernstein and Sondheim.
The Mason High School production of "In the Heights" was dazzling, not because of the acting, singing or stage production—these are amateurs, after all, though some could have a future on-stage—but because of the heart and energy of the actors, musicians, artists and stagehands. Their commitment to excellence, with only a couple of months to prepare, was evident.
No doubt, their directors, Helen Hansens and Sharon Garner, had much to do with their success. (Who doesn't need good teachers?) The school also seems to be solidly committed to theater, with a class even offered in Set Design and Construction.
The dedication and teamwork we saw that night occurs in hundreds of high schools all over Michigan in spring. The students who participate learn things at least as valuable as those learned by the athletes we tend to over-glorify: the value of hard work and teamwork, the camaraderie forged by common purpose, the creativity in each of us.
The standing ovation the students received at the final curtain was sincerely delivered and well-deserved. It was a moment they will forever remember and cherish.
At about this same time, sports news was focused on the handful of athletes who were about to decide where they would go to college or who would draft them for the pros and multi-million-dollar contracts. This loud, greedy, degrading process seems to go on forever. We like our athletes. We cheer their successes. We tolerate their excesses. We love that they win—for us. (Is it any surprise that the highest paid public official in 29 states is the football or basketball coach of a state-supported university?)
Not many of us, athletes or not, end up in the future we envision—if we even bothered to envision it at all. We can make plans, but as we pursue them—in sports, the arts, or wherever—we are more likely to adapt to our life's changing conditions, because isn't that what life is, a series of adaptations? Aren't those adaptations what memories are made of?
It's too bad we channel kids into one or the other before they know what it's all about. Athletes would be better off understanding art, and artists would be healthier with sport in their background. Some schools make students choose one or the other. In Mason, an effort is made to bend schedules to fit the student.
No matter what else happens in their lives, the students in that musical will never forget it. For those who make a career in theater (and some will), it will be remembered as a stepping stone. For the others, it will become fonder as the years pass. (Much as the lone, officially-recorded basket in my high school basketball career, in a game in the tiny Trout Creek gym, has achieved mythic status in my own mind.)
During a recent trip to Columbus, Ohio, to visit Barbara's Aunt Jeanette, we shared a home-cooked meal in her apartment, along with a tasty bottle of wine. Jeanette and I split the bottle. With the wine flowing, so did the memories, of Jeanette growing up in Ironwood, going through medical technology training in Minneapolis, moving to Columbus for a job before Pearl Harbor, the war years, the jobs after, the apartments she lived in.
Jeanette has an incredible memory and it was a joy to hear her stories, about her father, the former Ironwood Fire Chief, who in his youth raced Olympic gold medalist and world 100-meter record-holder Archie Hahn to a standstill, about the people they fed in their home during the Great Depression, and about her life in Columbus.
I have a lot of memories, too. I just can't remember them. I have the worst memory of anyone I know. Where did it go? Do women have better memories than men? Would I have benefitted from memorizing lines for plays? Will more wine help?
-Mike Buda is editor emeritus of Country Lines. Email Mike at mike.f.buda@gmail.com or comment on his columns at countrylines.com/ramblings.