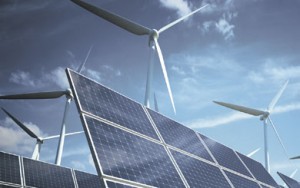 On Nov. 6, you will have a chance to play an important role in establishing Michigan public policy. Besides having the opportunity to select candidates, six statewide ballot proposals will be presented for your consideration. One in particular, Proposal 3, will have far-reaching effects on our state's economy and environment, if it's approved.
At first glance, Proposal 3 is deceptively attractive. It would require 25 percent of all Michigan's electricity to be generated by in-state renewable sources—specifically, wind, solar, biomass and hydro—by 2025. The devil is in the details, however, and the unintended consequences of this proposal would be particularly harmful to co-op members living in rural areas. Before voting, be sure you understand all the costs associated with locking this renewable energy policy into the state constitution.
FINANCIAL COSTS
Michigan is already on track, by state law, to get 10 percent of its energy from renewable sources by 2015. This law will be reviewed in 2015 to ensure Michigan continues on an affordable, reliable path to clean energy, and it can be changed if needed to adjust to new technologies or spare consumers from unreasonably high costs.
Proposal 3 language limits rate increases to 1 percent annually, but this is misleading. A 1 percent increase every year, over a 13-year period, represents a cumulative 13 percent increase in the final year, and every year after. This cap does not include related costs—such as building necessary transmission systems and back-up generation for when the wind doesn't blow—or normal rate increases not associated with this measure. The Mackinac Center for Public Policy reports that Proposal 3 would cost the average residential ratepayer an additional $170 to $190 per year by 2025.
JOBS & OTHER ECONOMIC COSTS
Proposal 3 backers claim it will create tens of thousands of jobs in green industries, but there's no credible way to predict such job creation. Similar claims were made when the current Renewable Portfolio Standard (RPS) was enacted in 2008, but actual job creation has fallen well short of the hoped-for projections.
Ironically, current wind projects under construction in Gratiot County are manufactured overseas and out-of-state. The Muskegon Chronicle reported that Muskegon's shipping port has received multiple loads of turbine tower sections from South Korea, and is expecting more turbine blade shipments from Germany this fall. The "value-added" portion of the turbines for this project—hubs, gear box and generator—are produced in Arkansas.
While transporting and assembling of blades and tower sections may provide some short-term jobs, they are not sustainable jobs. More likely, Proposal 3 will kill full-time utility jobs and place another handicap on Michigan's economic growth. The added impact on electric rates will force businesses to spend money on higher energy costs instead of hiring new employees. Worse yet, if energy rates become uncompetitive, Michigan employers will look to relocate across state borders.
None of the states that Michigan competes with for economic development projects has a 25 percent RPS, and no state in the nation has an RPS locked into its constitution. A model simulation coordinated by the Mackinac Center for Public Policy estimates the proposal would result in a loss of over 10,500 jobs.
Many of the state's trade unions, including the Utility Workers Union of America, Iron Workers Local 25, and the International Brotherhood of Electrical Workers, oppose the measure. They are concerned about the job loss it would create.
"I've looked hard, but I can't find anything in this proposal that would guarantee real jobs for the people who need them," says Pat Dillon, national president of the Utility Workers Union of America. "Things are finally looking up in Michigan and people are starting to get back to work. We need to protect those jobs, not gamble with them, and that's what this proposal would do."
ENVIRONMENTAL COSTS
While the proposal is intended to improve the environment, it would change our state's beautiful landscape and lakeshores forever. The 25 percent mandate would require 3,100 more wind turbines in the state, each taller than the Statue of Liberty, which lined up side-by-side would require space four times the area of Detroit, Grand Rapids, Flint, Lansing, Ann Arbor, Kalamazoo, Saginaw and Traverse City—combined!
Proposal 3 does not include any plan for where to locate the additional wind turbines and high-voltage transmission lines, and no environmental impact study has been done to understand the impact on birds and other wildlife. Today, local communities set their own zoning standards and ordinances to govern the development of wind farms and other renewable energy projects. If the proposal is locked into the state constitution, such zoning laws could be challenged on constitutional grounds and potentially overturned, stripping local officials of their authority. Or, the need for so much land to meet the constitutional requirement could force the state government to step in and impose a statewide zoning ordinance. Some industry observers believe the adoption of Proposal 3 would very likely reignite the debate about placing wind turbines in the Great Lakes.
Simply put, Proposal 3 is bad for co-op members, and bad for Michigan. Michigan electric co-ops support the current 10 percent by 2015 RPS, but do not support amending the constitution to enact energy policy. Please consider all "costs" associated with Proposal 3 before heading to the polls Nov. 6.
Voting "No" on Proposal 3 is a vote for ensuring that Michigan continues on an affordable, reliable path to clean energy.
– Doug Snitgen