As an electrical contractor, Chris Roxburgh spends his working days bringing light to dark areas. Perhaps it's not all that surprising that Roxburgh spends his recreational time doing more of the same.
A few years ago, Roxburgh posted his first pictures from the depths of Grand Traverse Bay, revealing a 1979 Ford Pinto covered in zebra mussels. The photos quickly gained online recognition, and while it was the beginning of Roxburgh sharing the wonders beneath the waves, it was by no means the beginning of his love of water.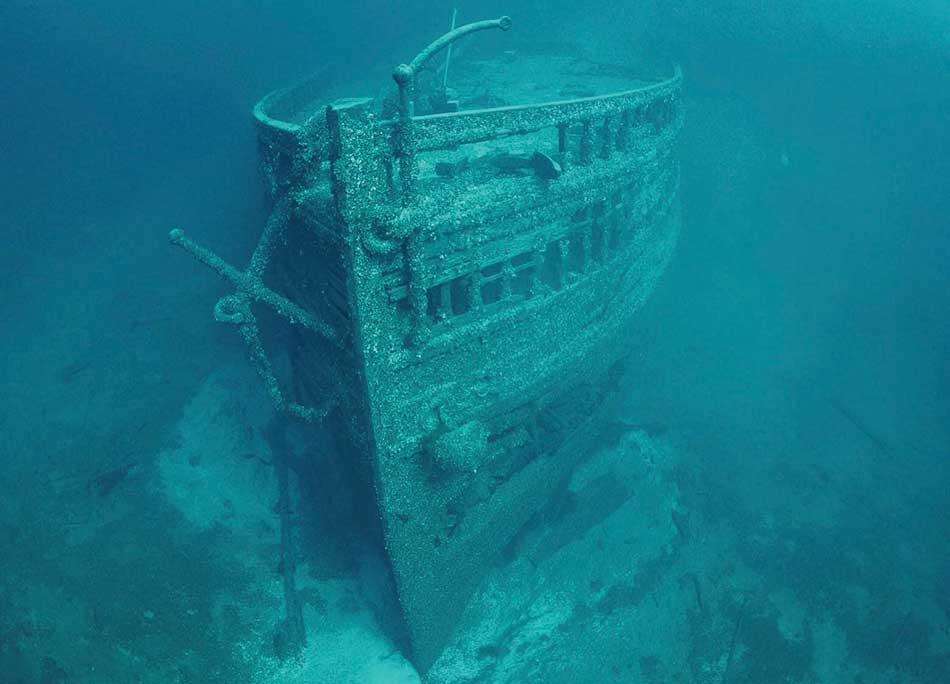 Roxburgh has been obsessed with the water since he was a child growing up in Traverse City, Michigan. "Our family was always finding a way to the water," said Roxburgh. "Every weekend we'd take out the boat and as I got older, I'd take a deep breath, and hand-over-hand, I'd follow the anchor chain down as far as I could manage to hold my breath."
Free diving, also called skin diving, is when the diver holds their breath until resurfacing. Roxburgh may not have been familiar with the distinction as a child, but that didn't keep him from building the skill.
Roxburgh's free diving continued into adulthood and he used this method to get a closer look at the shipwrecked George Rogers tugboat, located in Grand Traverse Bay at the northern tip of Leelanau County. Roxburgh and his wife Bea had been stand-up paddle boarding when they saw the wreckage below the water's surface. A couple of days later, Roxburgh came back with photographic equipment and his wetsuit to free dive the sunken treasure.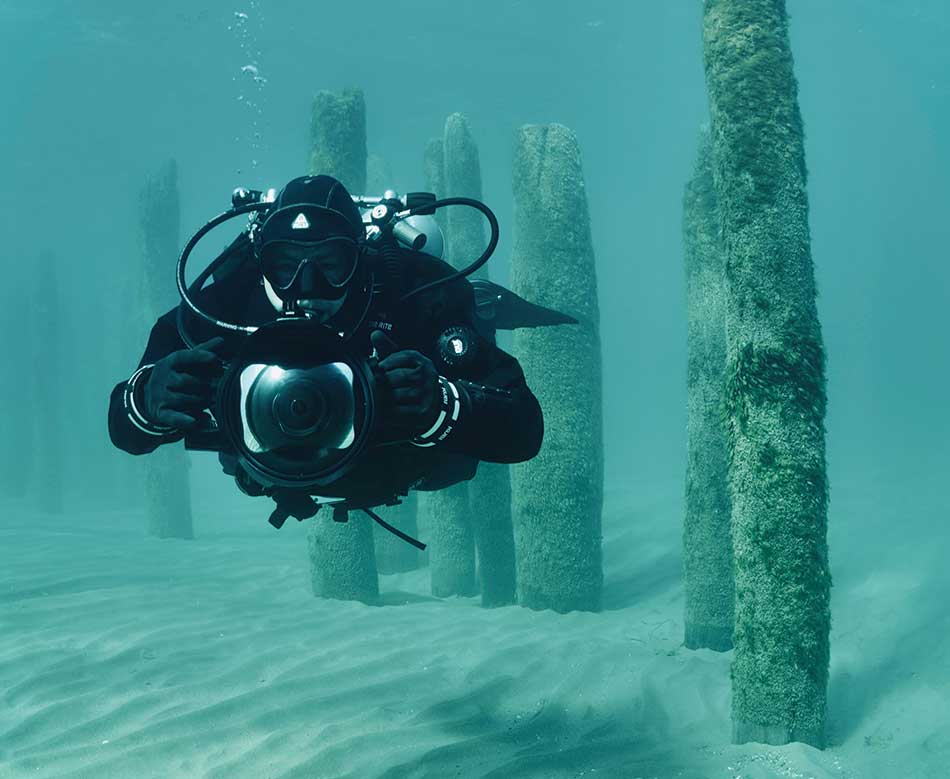 "I was so excited by that dive. I became obsessed with the history," said Roxburgh. "I knew right away that I wanted to get my scuba certification and I couldn't wait any longer."
And Roxburgh didn't wait. While most divers get their open water certification in the spring and summer, Roxburgh reached out to the local scuba school to see if they would let him get his that winter.
With a rented 7mm wetsuit, in 36-degree weather, Roxburgh spent three wintery days with instructors to complete his open water certification. It was the beginning of more than a hobby, but a passion.

Over the course of his new obsession, Roxburgh crossed paths with another Michigan diver who had a similar interest in shipwrecks and history as well.
"When I met Dusty [Klifman], things really kicked off," said Roxburgh. "We had a similar inquisitive mindset and we were gung-ho to explore more."
Klifman, who had been open water diving for 20 years, while Roxburgh had two under his belt, worked as a lineman for an electric company. Their mutual love of water and exploration has led to some epic adventures including the Alva Bradley, a schooner in the Manitou Passage; the Jane, a small freighter off the shore of Arcadia; and the Typo, a schooner that was crashed into by a steamship in Lake Huron's Thunder Bay. The two have a massive wish list for the coming year, including the Thomas Hume in southwest Michigan and the Newell A. Eddy in Cheboygan.
In the meantime, groups like the Old Mission Peninsula Historical Society have invited Roxburgh to share his experiences. Hundreds of people have come to hear Roxburgh's thrilling stories, as well as witness his testimony as an environmental and conservancy advocate. Roxburgh has seen how pollution, dumping, and everyday littering have impacted the Great Lakes.
"I want future generations to have a chance to explore what I've been able to experience," said Roxburgh. "I hope to shine a light on how we can all do our part."