Craft spirits in Michigan is an industry that speaks often about creativity, a sense of community, and of course, good times and fellowship. After the nationwide outbreak of COVID-19, Michigan distilleries, along with the bulk of their hospitality brethren, found themselves displaced, with dining and tasting rooms closed and the bulk of their workforce suddenly without income or purpose. It seemed like the good times were becoming a distant memory.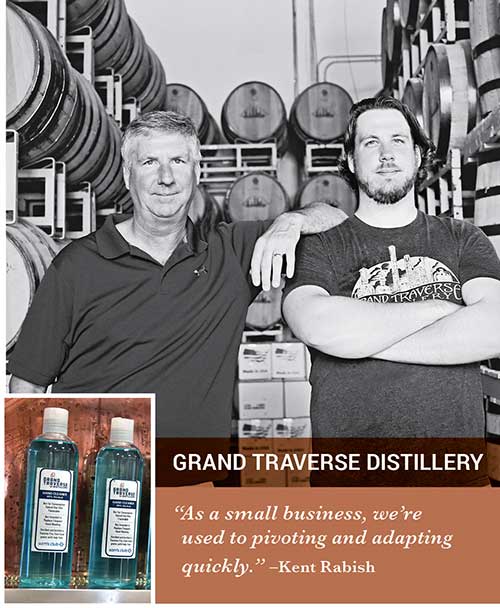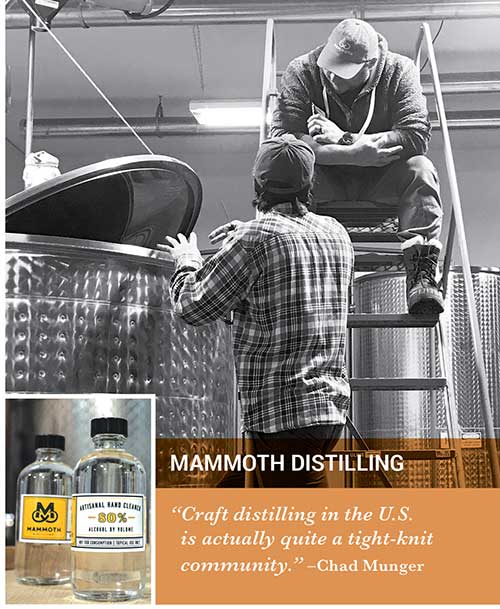 "Craft distilling in the U.S. is actually quite a tight-knit community," said Chad Munger of Mammoth Distilling. "We started hearing stories of distilleries in the northwest of the United States who were starting to make hand sanitizer on their stills."
The country began to prepare for an anticipated influx of people contracting the virus and the pressure that would be put on the health care and first responder communities. Gaps began to appear in supply chains. Protective gear like face masks and gloves was in short supply. Medical professionals, the Center for Disease Control (CDC), and the World Health Organization (WHO) all noted that handwashing was a critical step in flattening the curve of the impact of the virus. They noted that in lieu of soap and water, hand sanitizer was also effective.
"You don't realize just how much sanitizer is needed in health care and for first responders," said Kent Rabish of Grand Traverse Distillery. "From reception areas, to disinfecting each exam room, to having on ambulance rigs for each call. And now suddenly, the country realizes, we are going to need even more."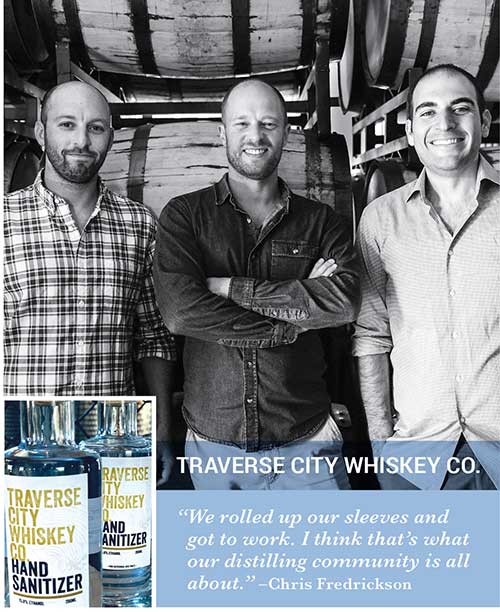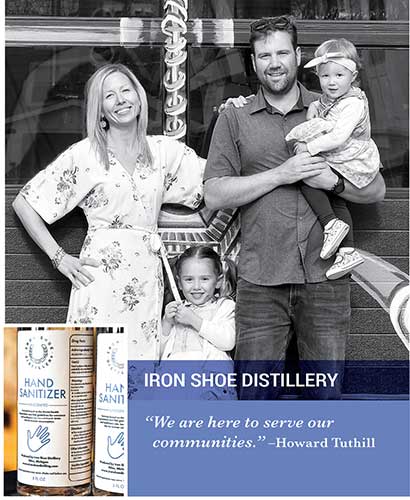 Michigan distilleries quickly launched into action. Initially, they delivered or gave away the sanitizing runoff they had on hand, which is the byproduct of producing alcohol.
"Our employees were dropping off sanitizer to local firehouses, municipalities, and hospitals, just to support our community," said Chris Fredrickson of Traverse City Whiskey Co. "It was a quick and easy way to step into a strange situation and find a way to help."
Suddenly, the creativity, ingenuity, and adaptability of this craft industry kicked into high gear. Calls were made to source materials, ensuring they had the federal "recipe" for allowable sanitizer, and distilleries across the state began trading in corn and wheat for ethanol and glycerin.
"As a small business, we're used to pivoting and adapting quickly," said Landis Rabish of Grand Traverse Distillery. "We stay nimble and adapt to new circumstances constantly. This is second nature to us."
Buildings that once hummed and produced handcrafted libations were now adapting to a learning curve by distillery workforces who were grateful for a way to pitch in.
"So much of our industry is about community," said Howard Tuthill of Iron Shoe Distillery. "We are here to serve our communities. And when we suddenly weren't able to share moments in person, it felt good to be able to reach out to our community in another way."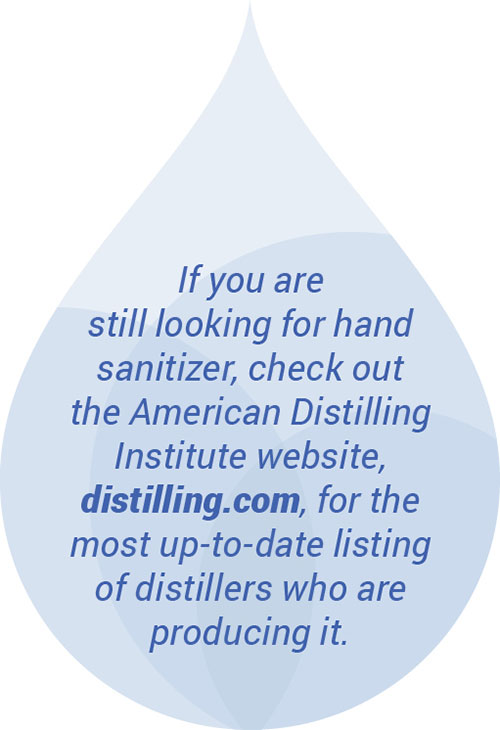 Dozens of distilleries around the state and country have stepped into this space and are now producing hand sanitizer as quickly as they can acquire the supplies.
"We took the first step, simply because it was the right thing to do," said Fredrickson. "We had the infrastructure to help people in a really unusual and weird time. This wasn't a moment to sit back and watch things happen. That's not who we are as a business. It's not who we are as a team. So we rolled up our sleeves and got to work. I think that's what our distilling community is all about."