Every time I travel back to my Benzie County roots, I marvel at how everything feels both exactly the same and somehow very different. I graduated from Benzie Central High School 21 years ago and as I drive through the hilly terrain toward Frankfort, I can't shake the notion that, although the route hasn't changed, everything along the way seems to have grown up—including me.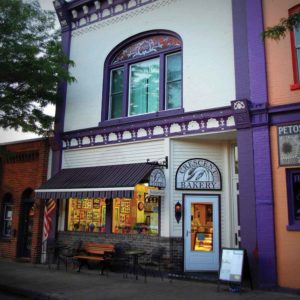 Downtown Frankfort is just waking up as I make my first stop at Crescent Bakery for a welcomed cup of coffee, delicious breakfast panini and the bakery's world-famous fritters. Fueled by caffeine and sugar, it's time to journey to Frankfort's pride and joy, the Point Betsie Lighthouse. With views of the Manitou Passage, the Point Betsie Lighthouse is rumored to be the most photographed lighthouse of all time. The views are unparalleled, and it still stands today as a beacon of beauty and direction. Although Point Betsie still functions as a navigation aid, the majestic lighthouse also regularly hosts museum tours and weddings. Curious visitors can even rent the Keeper's Quarters—available from late May through October.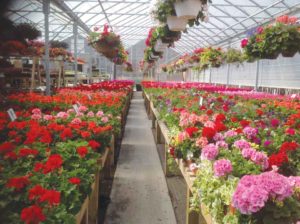 No visit to Frankfort is complete without a stop at Crystal Gardens. Crystal Gardens has been the source for gardening supplies for more than 40 years. However, Crystal Gardens has evolved to give visitors more of an experience, including a rock shop filled with unique gifts made with Petoskey stones and geodes, the Barn Swallow antique store—and even the Nature Exhibit which boasts peacocks, butterflies, a fairy garden and a gigantic stone turtle. My absolute favorite at the Gardens, though, is an entire greenhouse, called Mom's House, which is fully dedicated to the hardy geranium.
Rolling through town, I spot the A&W Restaurant, in addition to hot dogs, burgers, fries and root beer, A&W sells nostalgia; and I am definitely buying! I pull up to a drive-in spot and am served by a friendly waitress. Staying in the car, I turn on '50s music and pretend I've gone back in time.
The next stop is Main Street. I marvel at the historic Garden Theatre, the gem of downtown Frankfort. I then make my way into Frannie's Follies, a must-stop shop for tourists and anyone looking for a t-shirt or trinket. Sunbeams of Promise catches my eye next, and there I find a huge variety of local stones, including the elusive Leland Blue.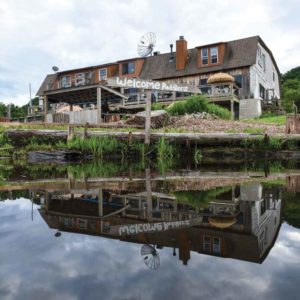 Our final stop leads us to Elberta, Frankfort's port city sister, just two miles away. In fact, this tiny town was once known as South Frankfort. My tour ends at the Cabbage Shed, a building that has more history and character than any other place in the county. First built in 1867, the shed offers over 70 varieties of Irish whiskey and the longest running open mic night in Benzie County. If you leave the Cabbage Shed without trying the Drunken Beans, you will never forgive yourself.
Only a 45-minute drive from Traverse City, Frankfort has managed to hold on to its small-town charm. And, it welcomes you, like a hug from an old friend you haven't seen in years.
---
Christal Frost is a media personality who can be heard on Today's Country Music-WTCM, The Christal Frost Show on NewsTalk 580-WTCM AM.