For the past 90 years, the first week of May has been a time when Michiganders dust off the cobwebs of winter and look for the first signs of spring. In Holland, Michigan, the first signs look like millions of tulips bursting through the soil to delight locals and visitors alike.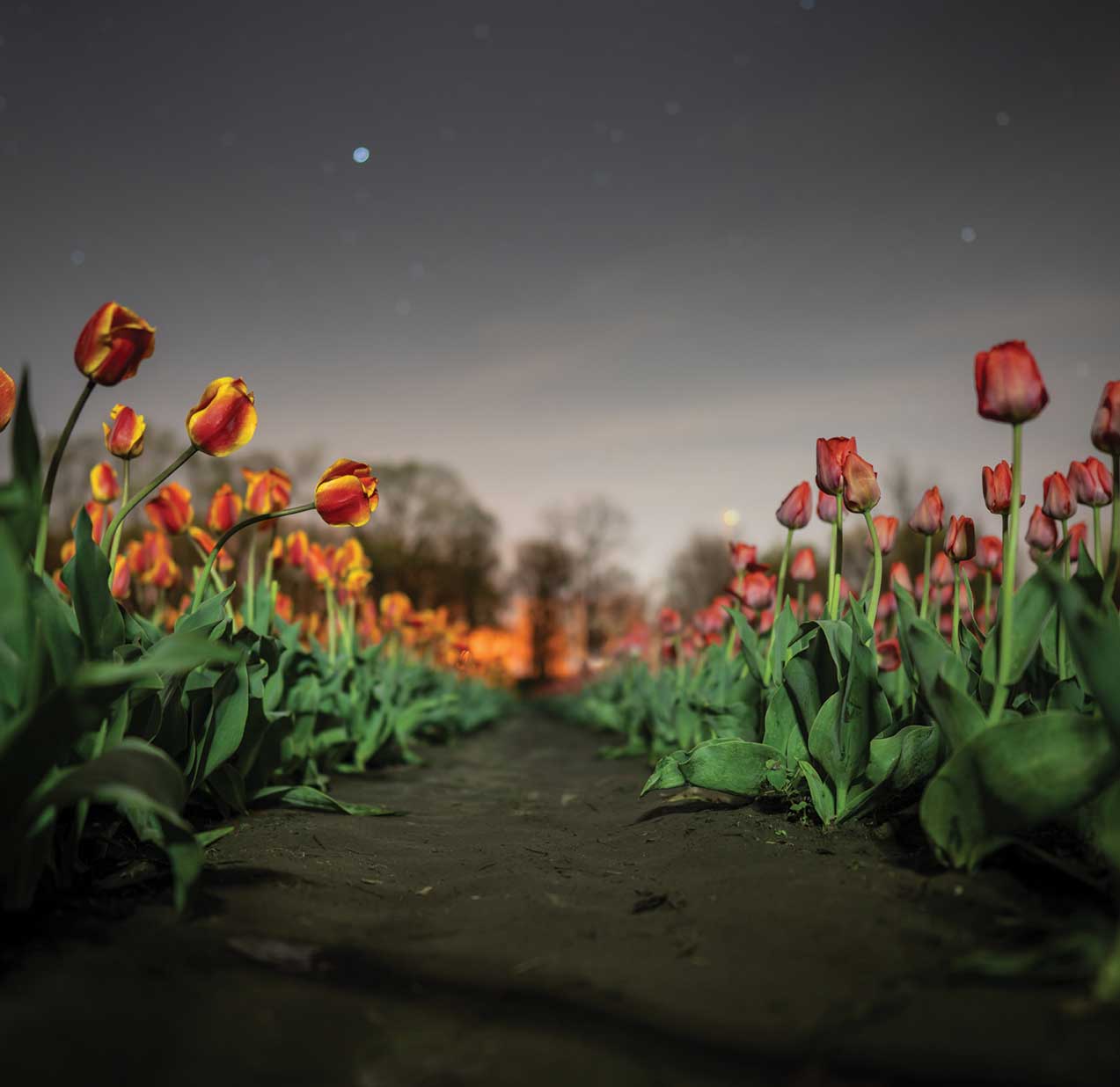 Tulip Time was once a local beautification project that started with 100,000 bulbs in 1929. Today it has grown to become an international hot spot for travelers from all around the world to engage in Dutch history while tiptoeing through nearly five million tulips.
In May 2019, Michigan Country Lines teamed up with Tyler Leipprandt of Michigan Sky Media for an Instagram takeover to cover Tulip Time. Leipprandt, an expert at drone photography, captured images that showcase why Tulip Time is just the kind of adventure you can start dreaming of for next spring.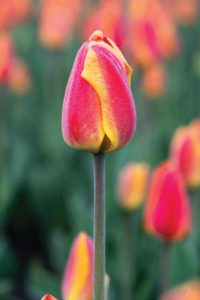 "Tulip Time is an opportunity for people to come and marvel at the spectacular tulip gardens and displays," said Tulip Time Executive Director Gwen Auwerda. "But it's also the perfect time to explore the beauty of Lake Michigan living."
If the views are saturated with bright pops of flowering color, the history that the event brings to the streets of Holland is equally rich. City officials, volunteers, and even residents don their historically accurate costumes—complete with real wooden shoes—providing a glimpse into life during the late 1800s and early 1900s. These traditions are proudly passed down through generations, as spectators will find local high schoolers performing traditional Dutch dancing, called Klompen, at demonstrations, as well as through the streets in multiple parades which are scheduled during the week-long event.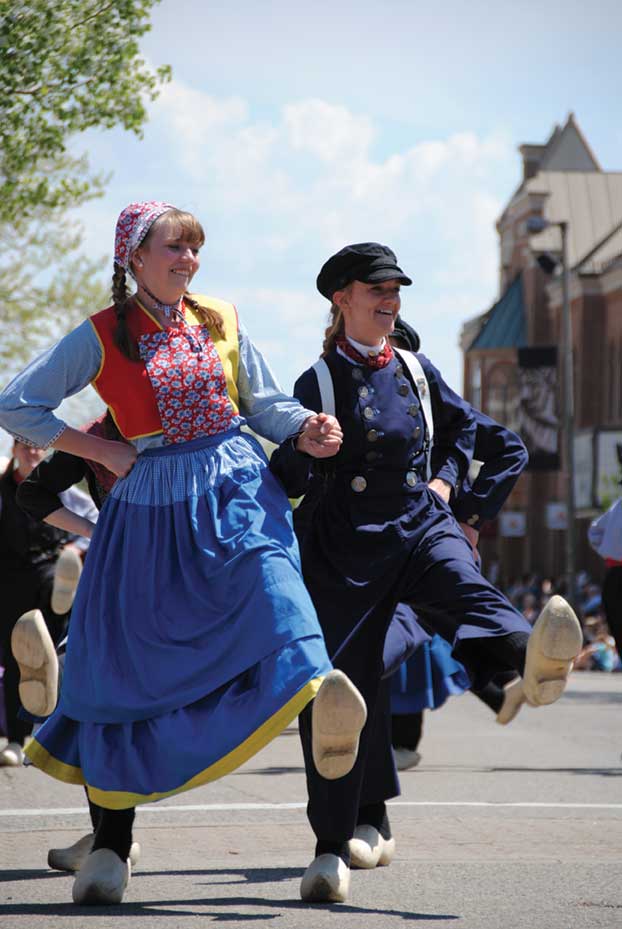 Along with the themed-parades (Volksparade/People's Parade, Kinderparade/Children's Parade, and Muziekparade/Music Parade), there are dancing demos, flower walks, and an artisan market. At Windmill Island Gardens, visitors can marvel at not only tulip gardens, but "De Zwaan," the last Netherlands-built working windmill in the United States. Folks can take the four flights up to the windmill for a historical tour, then look at the Amsterdam street organ, ride on the antique carousel, or purchase some fresh-milled flour to commemorate the visit.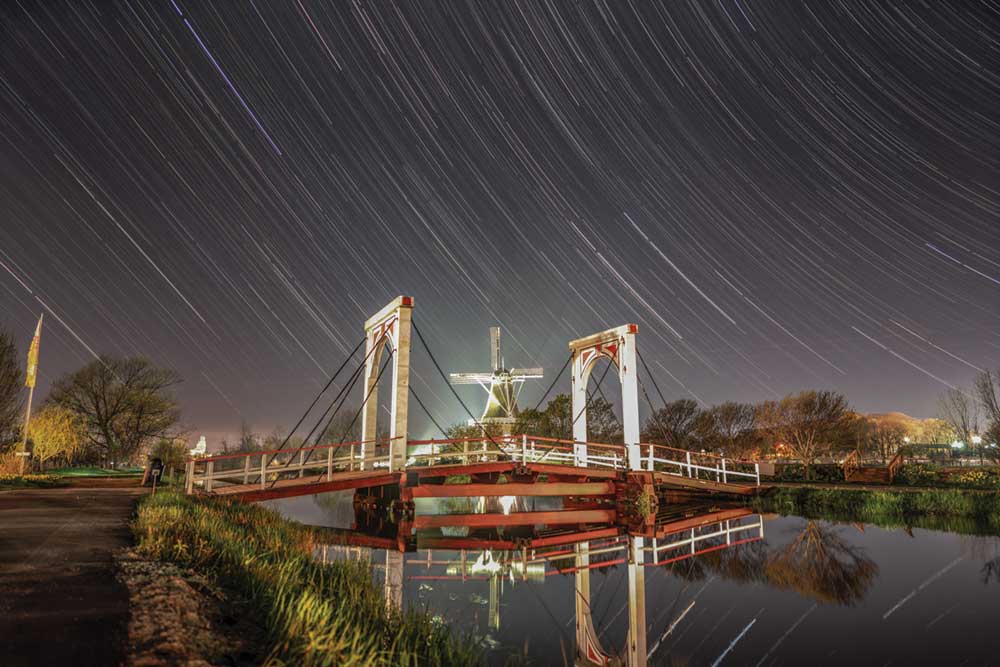 Over the years, the charm has never left Tulip Time, but new attractions have been added—a lively carnival sets up annually at the Civic Center, craft and art shows are displayed in the park, festival-goers can try yoga in the tulips, and many food and beverage demos are also featured. The latter is unsurprising, as the food and beverage scene has never been stronger. In fact, Holland boasts a variety of eateries for all preferences and a vibrant beer and spirits scene—including several breweries and distilleries who all participate in hosting the 500,000 people the festival brings in annually within a short, nine-day period.
"We have over 800 volunteers along with city workers and businesses who make this more than an event," said Auwerda. "Tulip Time is a part of the fabric of our community."
Over the years, while Tulip Time continues to grow and provide wonderful new experiences
for attendees, it's the quaint charm that has been a constant.
So next spring, as the tulip bulbs once again sprout their brightly colored petals, make plans to visit Holland's Tulip Time. Those sweet flowers are a reminder of spring's hope, but also a proud past that one little town along Lake Michigan is keeping alive.
Save the Date May 2-10, 2020