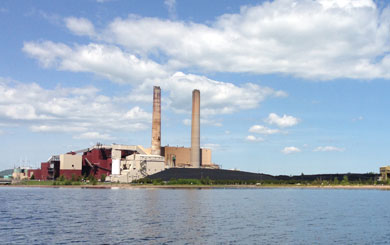 The Michigan Department of Environmental Quality (MDEQ) issued a draft air quality permit in late September for installation of an air quality control system (AQCS) at the Presque Isle Power Plant in Marquette.
Wolverine Power Cooperative and We Energies announced plans to pursue joint ownership of the power plant in 2012. In exchange for an approximate one-third ownership in the facility, Wolverine agreed to fund construction of a state-of-the-art AQCS.
"The new AQCS will meet current and proposed air quality requirements," explains Brian Warner, vice president of environmental strategy for Wolverine. "It will help keep an important source of electric generation in the Upper Peninsula running."
The MDEQ will review public comments on the draft air quality permit and is expected to approve or deny the permit by year end. The air quality permit is one of several regulatory authorizations needed to proceed. The Michigan Public Service Commission, Public Service Commission of Wisconsin and Federal Energy Regulatory Commission have approved the partnership between Wolverine and We Energies at the Presque Isle Power Plant.
Located on the Lake Superior shore, the plant consists of five coal-fueled units built between 1974 and 1979. Under the joint ownership agreement, We Energies and its employees will operate both the plant and AQCS.
Construction of the AQCS is expected to take two years to complete. Operation of the power plant with the new controls is planned for 2016.
– Nancy Tanner