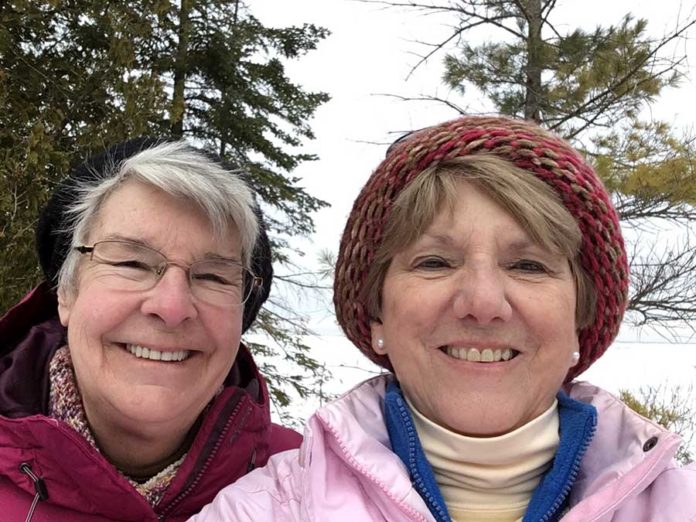 One summer many years ago, two teenage girls stopped to talk along Grand Lake Road in Presque Isle while on vacation with their families. As the years passed and their friendship grew, Judith Kimball and Ilona Stroupe discovered a mutual fondness for lighthouses and needlework. That was the beginning of a lifelong friendship that would eventually lead to the formation of Presque Isle Needleworks.
"We love lighthouses! In the northern woods, we would often sit around the fireplace on cool nights doing various handcrafts," Ilona said. "In 1983, we decided to combine our interests and create a cross-stitch kit of our local lighthouse that would include everything needed to complete a five-by-seven-inch picture. We strove to keep it simple and accurate so that it could be completed in a few nights around the fireplace..
Since 1983, they have designed at least one new pattern each year and the duo has also added two pattern books for stitchers who have their own supplies. Judy and Ilona do all the work in assembling their kits—from cutting the fabric and floss to intricately designing and stitching the artwork and critiquing it for improvements in color and detail.
"Input from the two of us makes our designs better," Judy said.
In addition to their cross-stitch kits, they expanded the business to include quilt square patterns of lighthouses. The kits are sold primarily at lighthouse museums and small gift shops in tourist areas near lighthouses. The sales of their kits also help to preserve the lighthouses, as a portion of the purchase price goes directly to support Michigan lighthouses.
"Over these 36-plus years, Judy and I are pleased to have been a part of the preservation and restoration of our historic lighthouses in Michigan," said Ilona.
Crafters can now also find more than lighthouse patterns from Presque Isle Needleworks. Most recently, for instance, they were asked to design a pattern for The Grand Hotel on Mackinac Island, which they did. Those one-of-a-kind patterns are now sold exclusively at the hotel's gift shop.