Fall in Michigan is a special time of year. Color tours, cool days and crisp nights.
It's what autumnal dreams are made of. But if you want to take your October
to the next level, there's nothing like a ferry ride to Mackinac Island to remind yourself of everything to love about this special season.
It's easy to imagine the island shuttering up at the end of summer, as the kids head back to school with sharpened pencils and fresh spiral notebooks. However, Mackinac Island has a rich second life in fall with the gorgeous burst of turning leaves, tempting lodging specials, annual events and shopping sales that are hard to resist.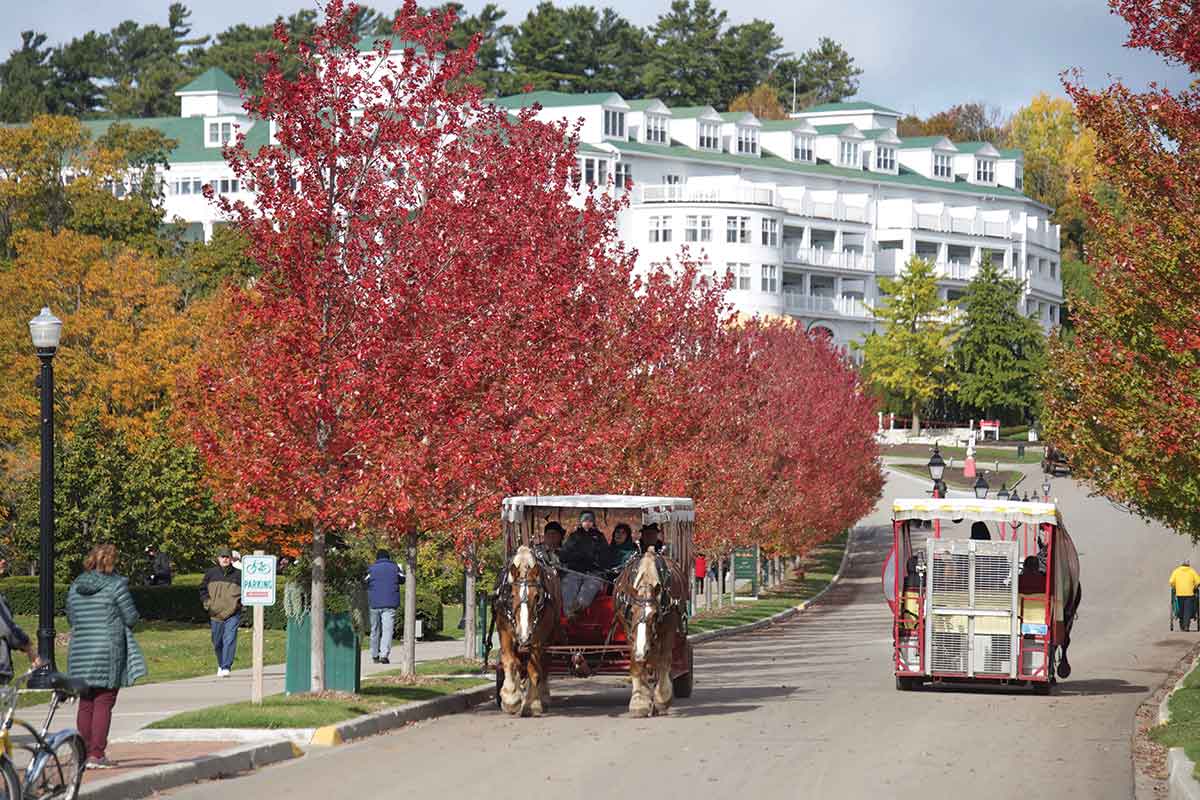 "October is our most colorful month on the island," said Tim Hygh, Executive Director of
the Mackinac Island Convention and Visitors Bureau.
"Our colors last a little longer than the mainland. They extend until the end of October, as does the fun."
The "fun" begins with decompressing when you hop a ferry in Mackinaw City or St. Ignace and feeling your blood pressure lower with each panoramic view of the Mackinac Straits,
the "Mighty Mac" Bridge and eventually the island itself.
Disembark from the boat and take a step back in time. Horse-drawn carriages and bicycles meander down streets as you begin to forget you ever owned a car. There's still a happy buzz of residents and visitors in the fall, but the crowds from the summer months have dissipated—allowing visitors to relax in a quieter atmosphere.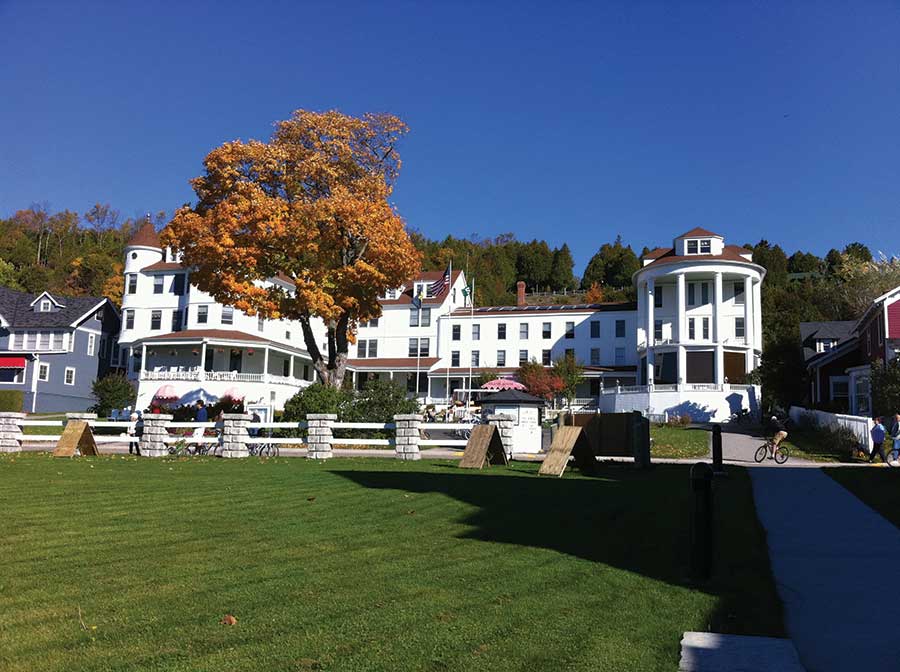 This mouthwatering Pumpkin Cheesecake recipe from Mackinac Island's own Island House Executive Chef, Phil Kromer, will have you dreaming at night of leaves crunching under boots and the smell of bonfires in the air.
Stores and restaurants are still open, with nightly entertainment still scheduled through the end of October at local haunts. Tours are also still booking—whether you're looking to explore local lighthouses or take a sunset cruise around the island.
If you're hoping to spend your time communing with nature, there are always bicycle and horse rentals. Or you can lace up your favorite hiking boots and explore more than 140 miles of hiking trails on the island.
"Each October, we close the season out with our Halloween celebration," said Hygh.
"It's such a special time of natural beauty and good, old-fashioned fun."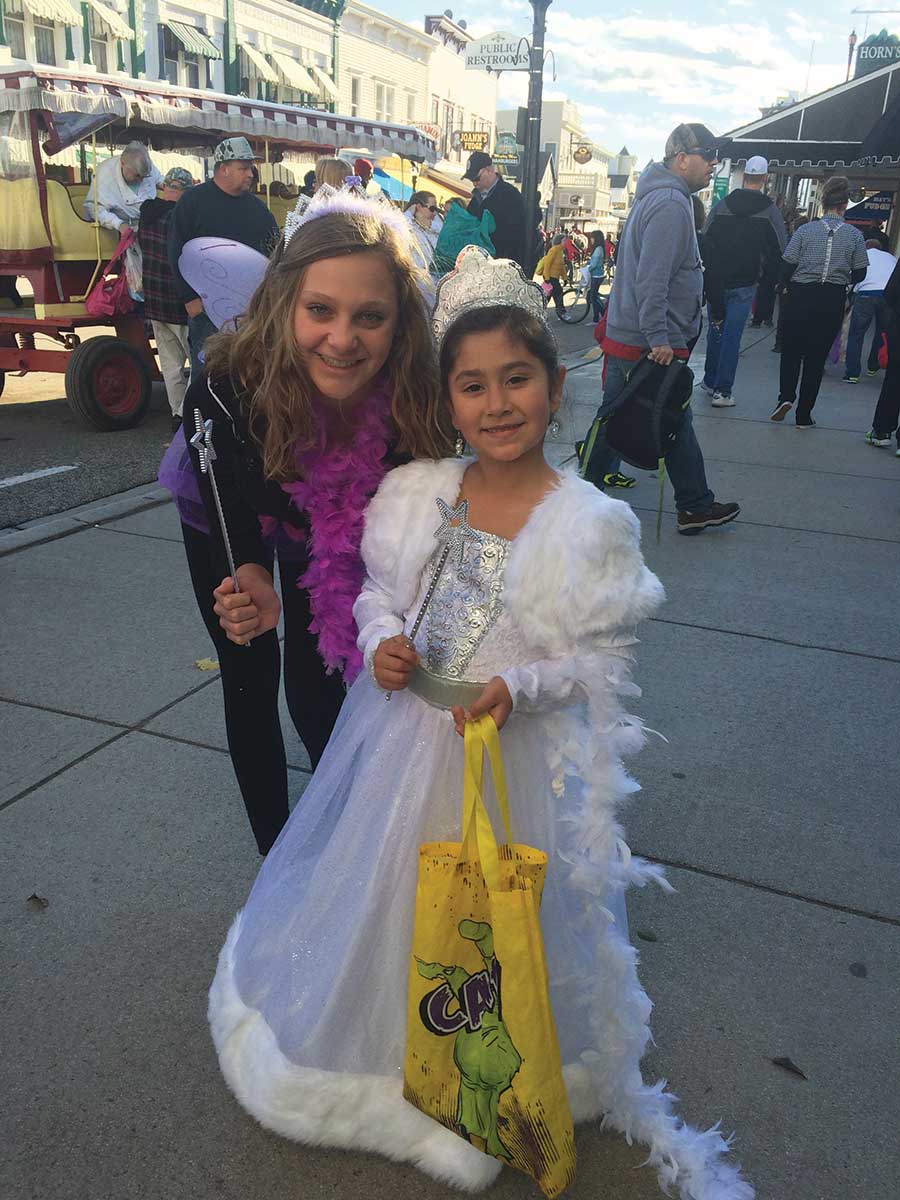 On Mackinac Island, Halloween always falls on the last Saturday in October. Festivities kick off with the annual Great Turtle Trail Run on Saturday morning. Cooler temperatures and colorful views keep the 2,500-3,000 walkers and runners coming back year after year.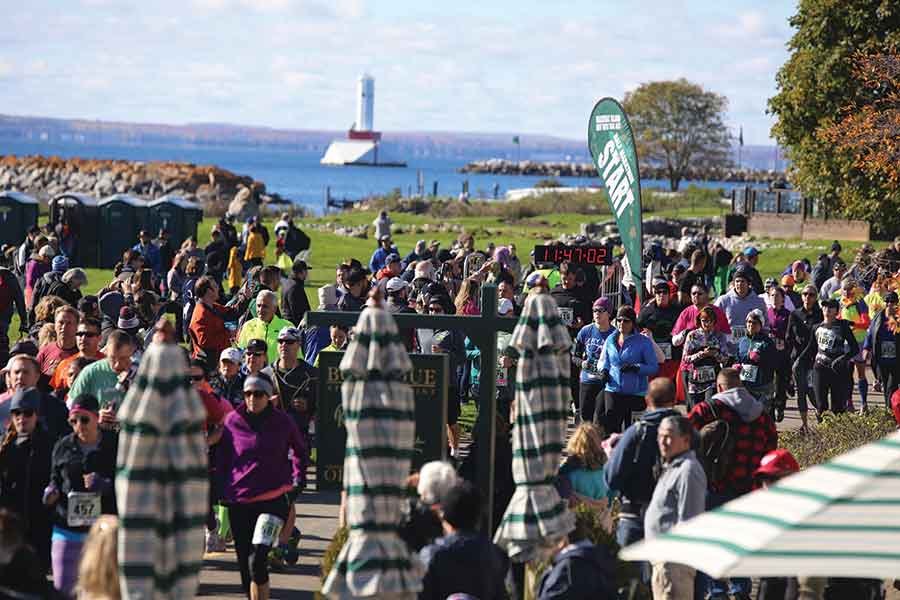 From 3 to 5 p.m. Main Street and side street shops open their doors to trick-or-treaters for a parade of costumes and the inevitable sugar rush that follows. In the evening, adults take their costumes out for a second spin of bustling nightlife at local pubs and restaurants.
By the end of the weekend, visitors agree that a visit to Mackinac Island in October guarantees far more treats than tricks.
---

Emily Haines Lloyd is a freelance writer in the Grand Rapids, Michigan area. She has worked in advertising and marketing for nearly twenty years and also contributes as a features writer in publications like – MLive, MicroShiner and MittenBrew. You can see more of her work at emilyhaineslloyd.com