Every artist finds a way to show others the world from a different perspective. For Tyler Leipprandt, photographer and owner of Michigan Sky Media, his perspective often comes from hundreds of feet in the air with his drone photography.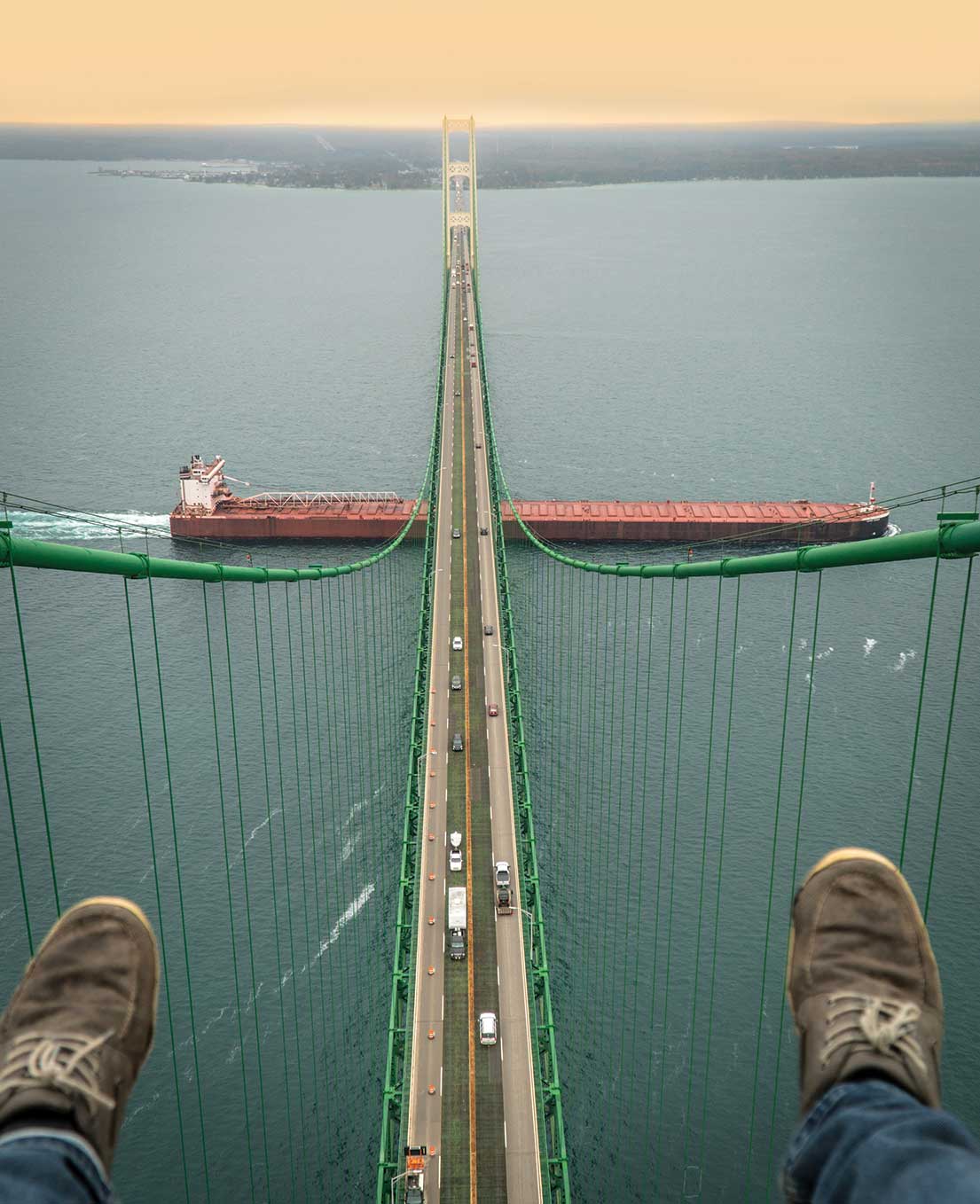 Learning To Fly
Leipprandt never saw himself as an artist in his earlier life or even once he began working in drone photography for the commercial sector.
An athlete growing up, Leipprandt spent most of his time in the gym and didn't really see art as part of his future plans. Currently, he spends his days in education, instructing teachers how to integrate and use technology in the classroom.
"It was my brother who got me interested in drone photography," said Leipprandt. "No one in our area was really doing aerial shots for real estate, so that's where I started. We did well in real estate, but I began to see how fun it was to use the drone in other ways."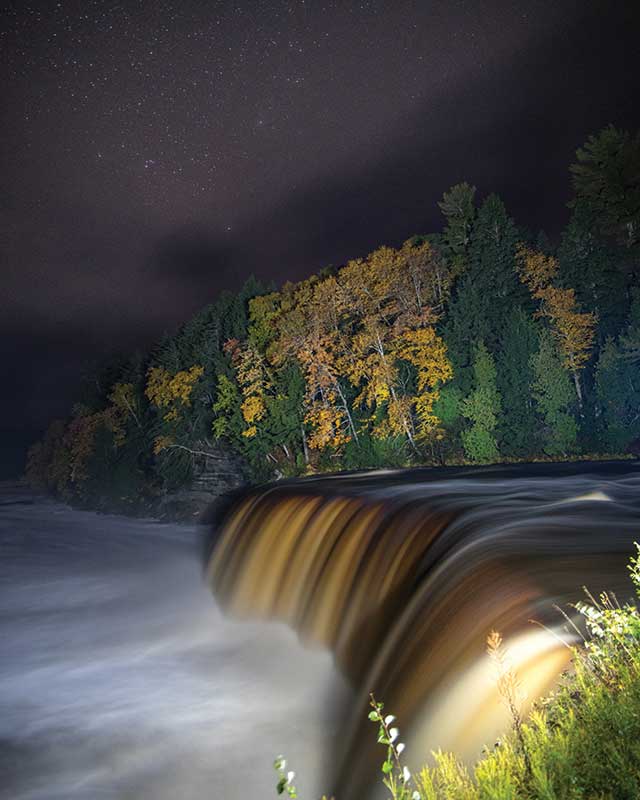 If you want to see more of Tyler Leipprandt's amazing photography, visit him Saturdays at the Port Austin Farmers Market from Memorial Day through Fall (9am–5pm) or check out his portfolio at michiganskymedia.com. He can also be found on Facebook and Instagram @michiganskymedia.
Snapping cool photos around the state opened Leipprandt's eyes to all sorts of opportunities; including a visit to the Port Austin Farmers Market where he saw some beautifully handcrafted cutting boards in the shape of Michigan that he noticed people admiring.
The very next year, Leipprandt was back at the market, but in his own stall selling his photos that paid homage to the Great Lakes state. Last year he made the Top 25 in his category at Grand Rapids' Art Prize competition.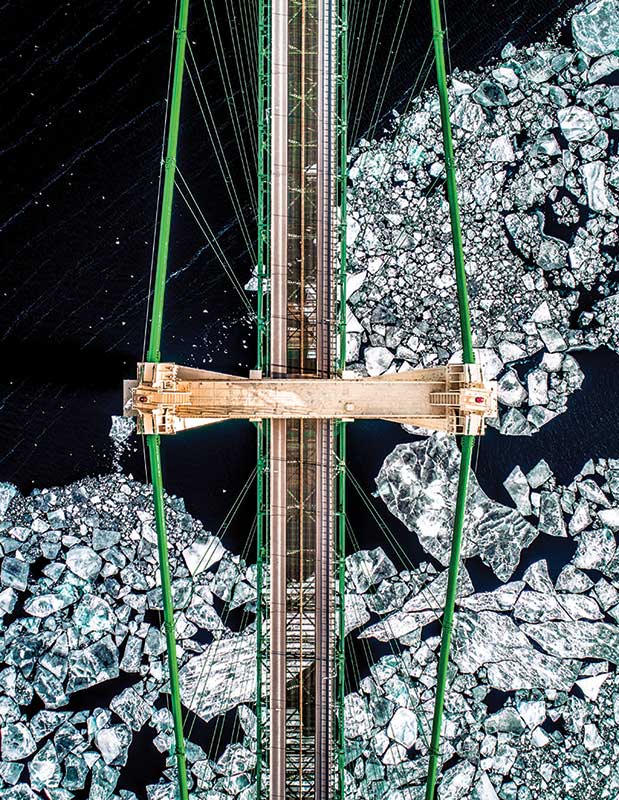 Developing A Signature Style
"These are the places that locals have spent their vacations and spare time exploring all their lives," said Leipprandt. "Places that you've seen a million times, but captured in a totally different way."
Leipprandt's photos are stunning, from twilight shots of Tahquamenon Falls to aerial feats over The Mighty Mac and University of Michigan's Big House. Including Leipprandt's now-signature shots of his feet dangling over the edge of bridges or from the sides of helicopters.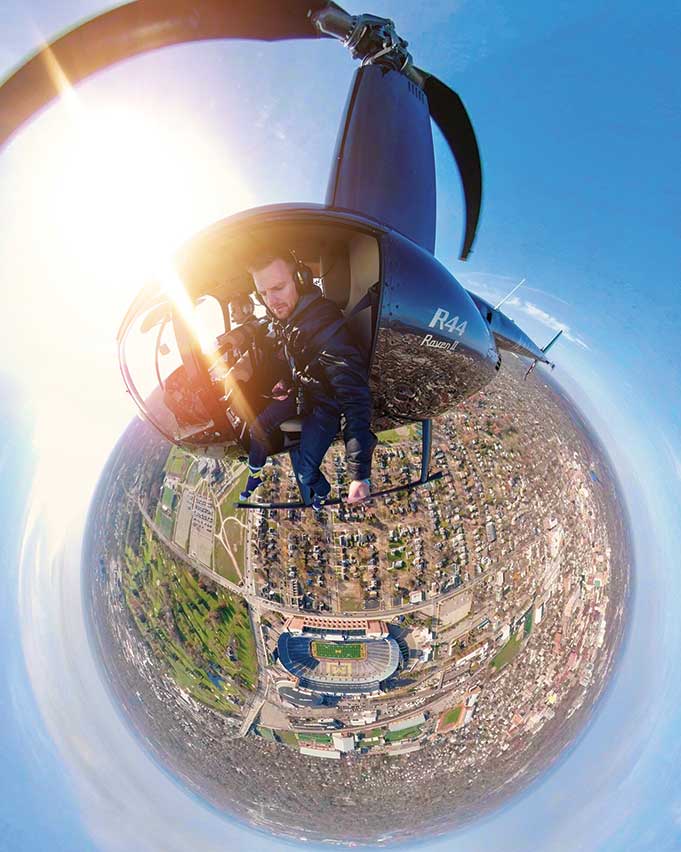 "The dangling shots started by accident when my brother-in-law and I went to the U.P. last fall and through some wild circumstances ended up being invited to the top of the Mackinac Bridge," Leipprandt said. "The Big House pictures were for a marketing promo—it was almost Thanksgiving, about 30 degrees outside and the helicopter was flying 120mph with the doors off. I've never been so cold in my life."
Taking The Family Along For The Ride
Not all of Leipprandt's excursions are quite so dare-devilish. He, his wife and their four kids spend a good part of their summers exploring Michigan based on year-long pins they've stuck in a map. Before dinner, during grace, the kids never forget to say an extra prayer for an RV they can take around the state to cover more ground and capture even more beautiful memories.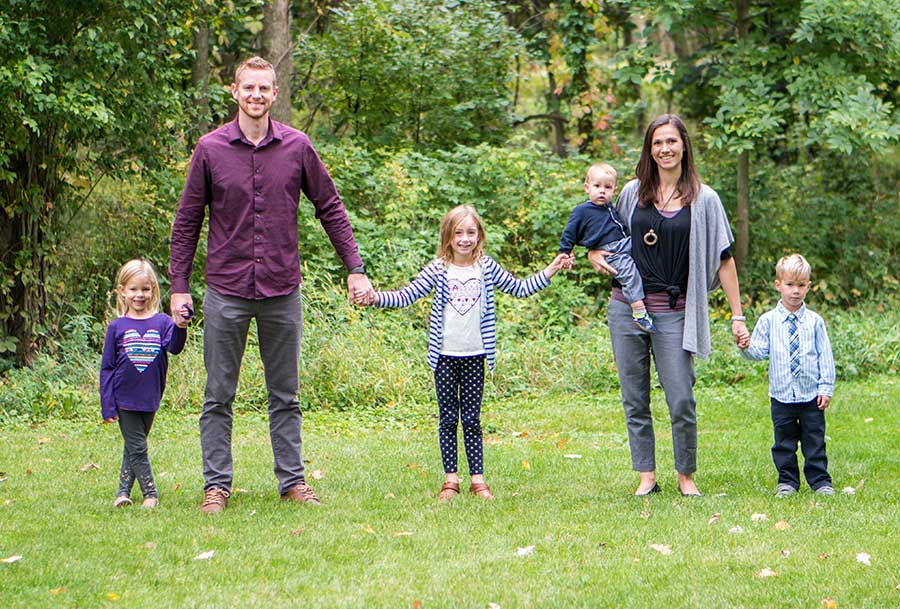 It's that sense of exploration and curiosity that Leipprandt brings to his photography. The joy of seeing something unique and beautiful that not everyone has an opportunity to experience for themselves.
"I love making people excited about where they're from and what's around them," explains Leipprandt. "I want to help folks find new places they can explore for themselves."
MCL Social Media Takeover! May 6-10

Watch Tyler Leipprandt as he does a live takeover of Michigan Country Lines' social accounts, May 6–10. He'll bring you some amazing, never-before-seen shots of the 2019 Tulip Time Festival in Holland, Mich.

Follow Along!
Instagram: @michigancountrylines
Facebook: facebook.com/MichiganCountryLines