B

lair Miller's life interests and experiences branch out like the maple and apple trees the retiree now tends to on his Vermontville farm.

A self-professed jack-of-all-trades, Miller began working in the computer industry at a time when components were easily interchangeable. His interest in the inner workings of things took him to the coffee industry in Chicago, where he designed machines for Starbucks, and developed his own inventions and patents.

While living in Chicago, Blair and his wife, Lorraine, visited Vermontville, Michigan, and fell in love with the area's rich history and connection to the land, leading them to buy what is now Miller Farm in 1985.
"While I worked in coffee in Chicago, we'd drive back and forth 26 times a year," said Blair. "We did this for 10 years and began building our house in 1991, where we wanted to make our transition."
Blair, now retired, makes cider from the farm's 700-tree apple orchard, and maple syrup from the sugarbush—or 350 maple trees—in the maple forest of his property. The maple syrup tapping process begins in late winter to early spring when the temperatures must be perfect for tapping conditions.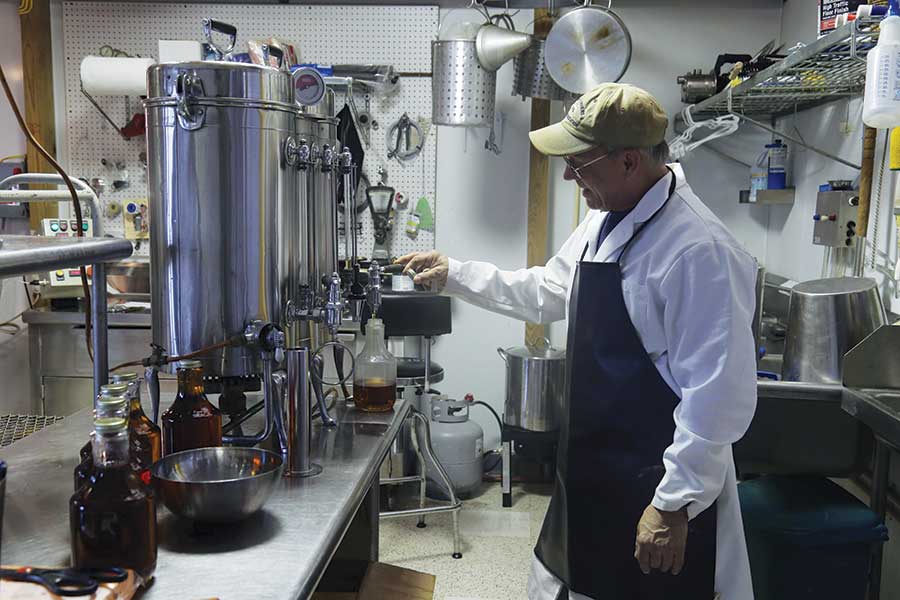 "Some seasons are shorter or longer depending on the time to tap," said Blair. "Taps are only good for four or five weeks. If you tap too early, they'll heal over and not produce. If you tap too late, it goes into bud and the sap is no good."
When conditions are perfect, Blair ventures out to the sugarbush to place taps and collection buckets for the sap.
During freezing nights and warm days, the clear, cool, water-like sap begins to flow. It is collected as soon as possible and transferred to an evaporator to boil the sap's water away, where it finally becomes syrup. On average, it takes about 40 gallons of sap to create one gallon of maple syrup.
"Syrup is special because it starts right at the trees," said Blair. "The sap that comes out of the tree is already perfect, and I take great care in every step to ensure I don't ruin the beautiful syrup God gave us."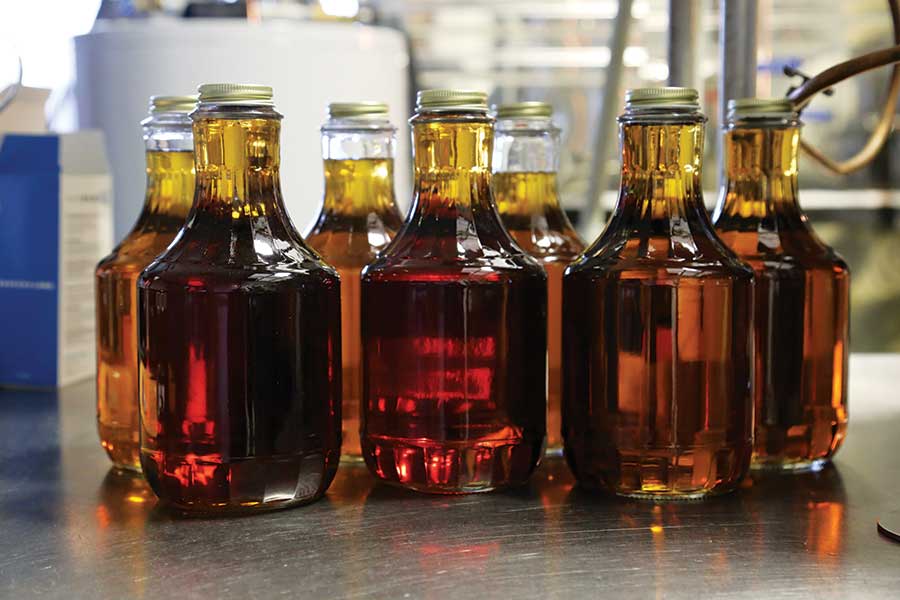 From his sugarbush and great care, Blair yields about 100 gallons of golden maple syrup a year—which has earned blue ribbon recognition in Michigan and Vermont. Most of his Miller Farms syrup is sold locally, but he ships it as far away as California, Texas, and Florida. To Blair, his connection to nature means much more than making his product.
"I like to go to the trees and talk to them," he said. "If I spill a bucket, or step on a branch, I apologize to them."
Blair's love for nature stems from his adopted family and Odawa Indian influences.
"When I was five or six, my Odawa sister joined our family, and I grew up with a lot of her culture," he said. "Her responses and attitudes for everything environmental—the animals, the plants, the trees—just stuck with me, and I couldn't get enough of that."
Throughout his life, Blair has sought to experience the outdoors, from hitchhiking across Europe and canoeing all over Canada, to becoming a licensed pilot and endurance bicyclist. As president of the Thornapple Trail Association—a 43-mile trail from Grand Rapids to Rives Junction—he worked to connect Vermontville and Nashville through the Safe Routes for School Program. This effort earned him recognition in 2012 as the Michigan Environmental Council's Grassroots Leader of the Year.
Today, Blair is a consultant to the Little Traverse Bay Bands of Odawa Indians, serves on the Ziibimijwang board of directors for its agricultural arm, and continues to live a philosophy of environmental stewardship. From the steam evaporator that makes his syrup-making process 75% more efficient, to the super-insulated post and beam home heated exclusively by a 40-gallon hot water tank, he built his Vermontville home and farm with efficiency in mind.
As a member of HomeWorks Tri-County Electric Cooperative, Blair has been grateful for the shared environmental values and partnership on efforts like energy efficiency programs.
"When I lived up north near the tip of the mitt, I found the cooperatives were much more attentive to processes," he said. "I had a unique situation where I could have connected to three different utilities, but my wife and I chose the cooperative because we've been used to it, and it's nice to deal with a smaller and more attentive company."
Blair is also proud his cooperative works on his behalf to be a leader in carbon-free energy. Now, HomeWorks and power supplier Wolverine Power Cooperative deliver electricity to all members that is more than 60% carbon-free.
"It's very important to me because you look at the way the climate is changing, and all of our carbon footprints as individuals, we need to bring that down," said Blair. "It's way too high. We really need to lower ours to share with the rest of the world."
Now calling Vermontville home for more than 20 years, the Millers have truly found the sweet spot.
To learn more about Miller Farms, visit vermontvillemaplesyrup.com, and to
learn about other HomeWorks members using their "homegrown" power for homegrown products in their communities, visit bit.ly/HWHomegrown.
---

Authored By: James Curtis
James Curtis is the director of communications at Wolverine Power Cooperative. James and his wife and daughter live in Cadillac where they enjoy making music and exploring the Michigan outdoors together with their ancient, yet spritely, miniature pinscher, Dakota.