While Nancy Supran grew up in Chicago with a love of horses, nature, and outdoors, she had no idea her family had a farm in Free Soil, Michigan, since the 1930s. Originally her great-grandparents' farm, it was long abandoned until a stranger showed interest in buying the property. That sparked Nancy's family to build a house on the farm, and for her father to retire there in 1987. Nancy, a music teacher and choir director, instantly felt a pull to make it something extraordinary.
"I always thought about turning it into a children's farm, but never did," said Supran.
In 1993, Nancy and her parents were involved in a horrible car accident, leaving Nancy as the sole survivor of the crash, and with severe injuries of her own.
"I wondered why God left me to live," said Supran, "and I knew there was a purpose."
In 1995, Nancy began building Circle Rocking "S" Children's Farm in Free Soil, a 501c(3) non-profit organization dedicated to providing touch therapy and recreation for people with disabilities. The farm's programs are free for people with special needs of all ages by appointment and are funded entirely through private donations.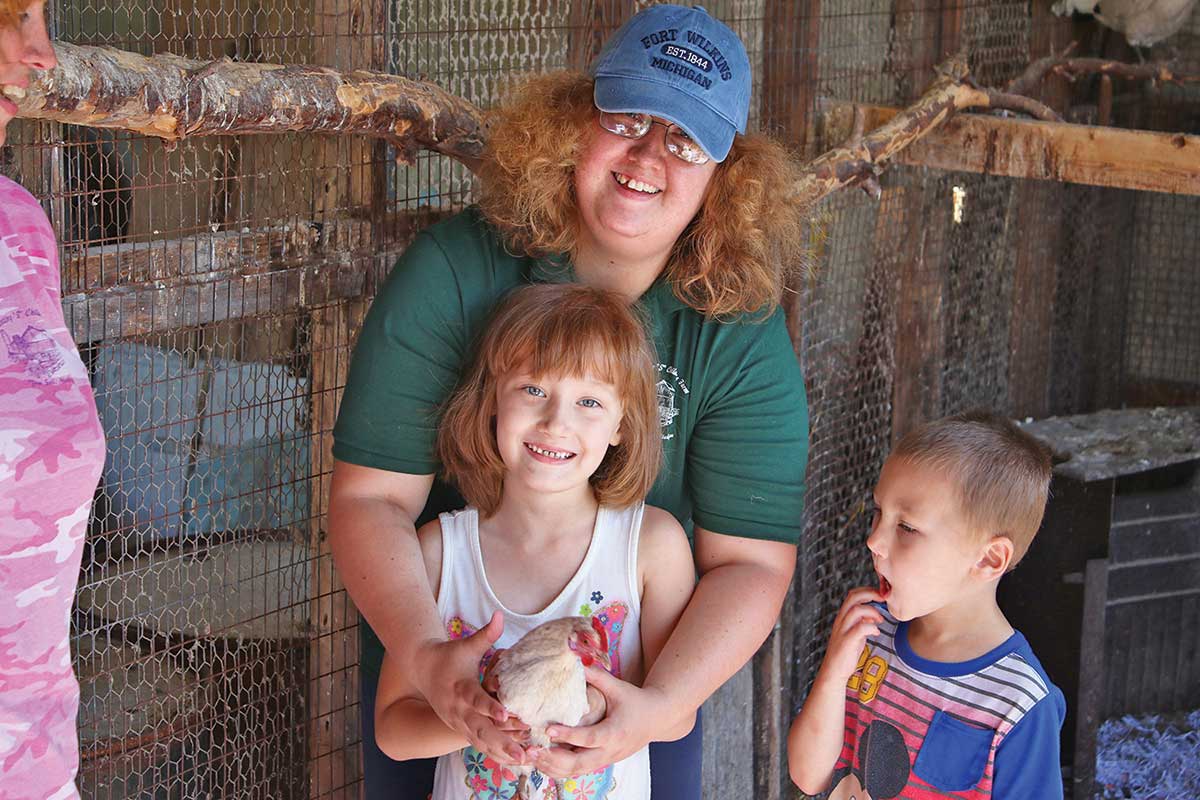 Now, more than 20 years later, the organization's programs impact the lives of more than 1,000 individuals every year from all over Western Michigan and beyond. The 40-acre farm—operated completely by volunteers and donations—features a working garden, sheep, rabbits, chickens, and year-round programming and events which has earned recognition from Ludington and Scottville Chamber's community service awards, and the state of Michigan's "Special Tribute Award."
As a professional music teacher and choir director, Supran leads the music therapy program and children's farm choir, which practices weekly and performs at churches, fairs, and nursing homes.
"The music therapy program is a great way to enhance motor and cognitive skills, and have a lot of fun," said Supran. "For many, it's the only opportunity they'll have to perform, and the people they perform for really love hearing them."
Another program is the weekly farm day and 4-H programs, where participants learn about farm life, being responsible caregivers, and where food comes from. Participants clean, feed, and groom the animals, weed and water the garden, and watch it grow, and harvest their produce for farm-to-table meals.
Kendra Lewis and her mother, Michelle Frostic, of Bear Lake, visit the farm each week and remark how important the farm is for Kendra.
"This program means a lot to me because it means a lot to my daughter and the disabled people who come here," said Frostic. "If it wasn't for Nancy, I don't think my daughter would have come out of her shell that much. I've seen a lot of changes. She's talking and participating more, and helping out in the community."
Kendra agrees. "I am autistic and have an emotional disability as well. It helps me rehabilitate myself with emotions. I focus on the animals and not anything else. It just helps me with focus, so when I'm doing something physically it helps. So, I'm learning as well as doing. It's a great place and Nancy is a load of fun!"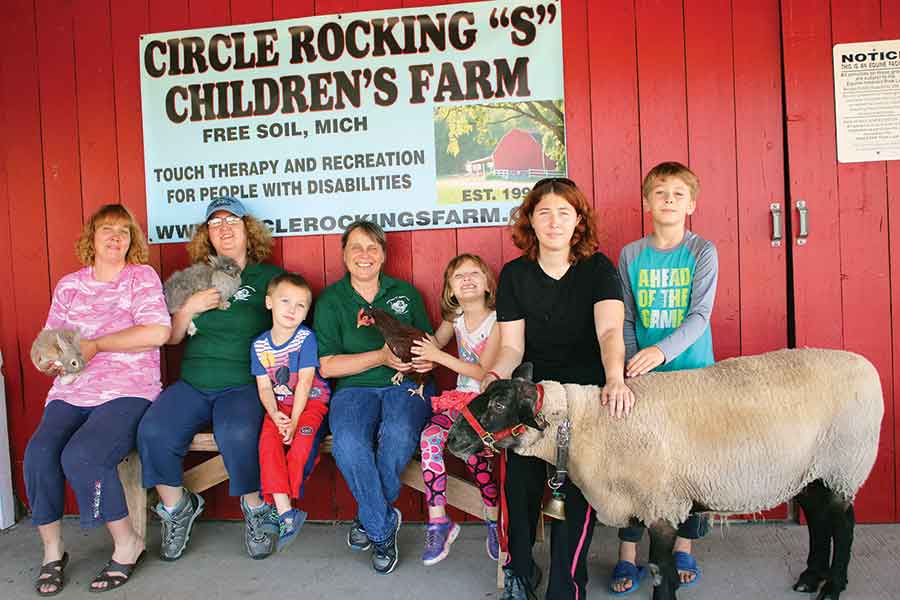 In addition to weekly programming, the farm welcomes school and group tours, holds fun events like the annual special needs Easter egg hunt, Halloween hayride and pot luck, and other events open to the public, like sheep shearing, barn dance and potluck, and the Blessing of the Animals—its most popular event.
"Every September we hold our Blessing of the Animals in the tradition of St. Francis of Assisi," said Supran. "We can have as many as 300 animals every year who are individually blessed. We'd love to welcome even more, and it's completely free for all to participate."
This year, the Blessing of the Animals will be held on Sunday, September 15. The event begins at 1:30 p.m., rain or shine, and features farm Olympics, animal costume contests, pet talents, and more. Animals of all sizes are welcomed to be blessed, from horses to parakeets. The event also has a silent auction with items donated by local businesses to support the farm. In addition, an anonymous community donor has pledged to match donations to Circle Rocking "S" up to $1,500 through the month of September.
"We rely on the support of donations from our community for all programs and animal maintenance," said Supran. "We are grateful for all of our community supporters."
Supran is also grateful for the support of its electric cooperative, Great Lakes Energy, whose People Fund grant recently helped pave program areas, as well as provide paint and repairs for the barn.
"Great Lakes has been fantastic," said Supran. "From the People Fund grants to providing their electrical display at our events, to their electrical service."
Supran's deep appreciation for her community's support of the farm stems from the difference it makes for families they serve—families like Michelle and Kendra.
"The farm means a lot to the community," said Frostic. "There's not a lot of places to bring kids like Kendra, and I'm grateful the farm is here."
For more information on Circle Rocking "S" Children's Farm, or to help support their mission by taking advantage of their matching grant opportunity, visit circlerockingsfarm.org. To learn about more Great Lakes Energy members making a difference in the community, visit gtlakes.com/yourpower.
---

Authored By: James Curtis
James Curtis is the director of communications at Wolverine Power Cooperative. James and his wife and daughter live in Cadillac where they enjoy making music and exploring the Michigan outdoors together with their ancient, yet spritely, miniature pinscher, Dakota.