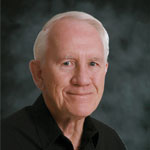 Michigan author Luman Slade has published four books for young readers. One of his books, "There's a Bear in the Raspberry Patch," is a young boy's story of his adventures at his grandfather's cabin in the U.P. His books are available at many stores in Michigan and through his website: lumanslae.com
---
I was 10 in 1951 when I first crossed the Straits of Mackinac on a ferryboat, and first saw Michigan's beautiful Upper Peninsula. Our family was traveling to a lake near Channing for a week of fishing. It was the most exciting trip I had ever taken.
As we neared Mackinaw City, an overhead sign said, "Straits of Mackinac—
25 miles." The traffic became so heavy it took us forever to go that last 25 miles. Then we waited another hour or so to board the City of Cheboygan ferry. While waiting, we ate smoked whitefish and soda crackers which were sold, car to car, by vendors. We supplemented those delicacies with Kool-Aid and Better Made potato chips. It was a wonderful meal!
After our car was blocked in place on the ferryboat, we all went up to the top deck for better views. Everyone waved when the City of Petoskey ferryboat passed by going the other way. I took lots of pictures with my Six-20 Brownie Junior camera.
I made many additional ferryboat trips back and forth between Michigan's two peninsulas before the Mackinac Bridge opened for traffic in 1957, but none were as memorable as was that first trip.