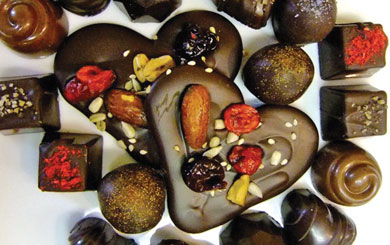 Sweethearts have expressed their affection with heart-shaped boxes of chocolates since British candy maker Richard Cadbury introduced the romantic packaging for Valentine's Day in 1861.
The custom endures, with some retailers filling the void left by candy canes with pink-and-red boxes of mass-marketed sweets. As a fresh alternative, consider the many Michigan chocolatiers who handcraft their treats in small batches from premium ingredients—and often, no preservatives. The chocolates' short shelf-life means your Valentine need not feel guilty about devouring them quickly.
Grocer's Daughter Chocolate, Empire
The intensity of South American cocoa in Mimi Wheeler's confections is a departure from the Belgian chocolate she knew growing up in Denmark. But after opening her store in 2004 she says, "I decided to go with a bolder, bigger chocolate. There are more flavors in dark chocolate. It's more complex than milk chocolate."
The former social worker grows and locally sources many of the herbs, fruit and maple syrup found in favorites like her famous "Puddles." In February, the pools of chocolate studded with cherries, nuts or seeds are hand-shaped into hearts and sprinkled with dried raspberries. For traditionalists, she adds, "We have a beautiful, big red box filled with handmade truffles, caramels and bon bons."
Boulevard Market, Tecumseh
John and Erika Aylward traveled the world before returning to their hometown to open Boulevard Market, a specialty food store and creamery where John crafts artisan cheeses and Erika makes chocolate from raw Peruvian cacao beans.
Intrigued by the history and tradition of chocolate, she says, "I purchased some beans to see what would happen." Erika now makes what she calls "rustic" dark (85 to 87 percent) chocolate bars, smoked chocolate bars, and truffles (cherry, raspberry and champagne are popular for Valentines Day). She suggests pairing her "Peppalo" chocolates with a sparkling raspberry wine and adding John's cranberry-topped fresh goat cheese in the shape of a heart for a foodie Valentine gift.
McDonald's Homemade Candies, Muskegon
Charles McDonald's recipe cards from 1941 are yellow and worn, so Nancy Wagenmaker tucked them away after making copies for daily use at the shop she worked at as a student. Now the owner of the sweet spot, she still satisfies sweet-tooths with hand-dipped chocolates, toffee, chocolate covered cashews and seafoam, an airy candy coated in chocolate.
Each February, she offers 50 different Valentine box designs for customers to fill with their candy choices. "We have really beautiful boxes. Heart-shaped, fancy, flowery and frilly." One thing that has changed, she says, is the addition of tuxedo-style boxes because more women are buying candy for men.
Sayklly's Confectionery and Gifts, Escanaba
Generations who grew up with Sayklly's candy have a sweet tradition of placing a solid chocolate heart or cupid on the breakfast table for their kids on Valentine's morning, says Debbie Kirby. She and her co-owner cousin, Mike Kobasic, use copper kettles and quality ingredients to make peanut brittle, hand-pulled saltwater taffy and fudge, just as their grandfather, Joseph Sayklly, did when he opened his store in 1906.
Sayklly's fills heart-shaped boxes with assorted hand-dipped chocolates and shapes their caramel "snappies" into hearts. Debbie also tempts gift buyers with $1 fudge heart treats. "You can have it eaten before you get home, and no one is the wiser."
The Sweet Shop, Cadillac
Step inside, inhale, and watch confections being made in Janeen Russell's kitchen, then create a one-of-a-kind chocolate assortment to fill a heart-shaped box. "A lot of people want to choose especially what their sweethearts like," says Janeen.
In addition to the original owner's 50-year old recipes, she's also created specialties such as a cherry-coated popcorn mixed with Michigan dried cherries formed into a heart shape. There's a dreamy swirl of fudges—chocolate, raspberry and vanilla—in a heart box, too. Her caramel apples, an autumn favorite, are so popular that Janeen makes a batch dipped in chocolate and sprinkled with cinnamon for Valentine giving.
Kilwins, Petoskey
When Don Kilwin and his wife Katy started making candy in 1947, they launched a tradition that now stretches to 80 stores in 19 states, including the original shop in Petoskey's Gaslight District. You can tour the spacious candy kitchen, where equipment from the 1940s to '60s still turns out Don's recipes for favorites like caramel-and-nut chocolate turtles, toffee bars, brittles and assorted truffles.
Just for Valentine's Day, a sprinkling of pink, red and white candies tops favorites like chocolate-covered cookies and pretzels. Along with chocolate-dipped strawberries, Kilwins is also crafting a limited edition Valentine truffle with a heart on top.
-Kath Usitalo