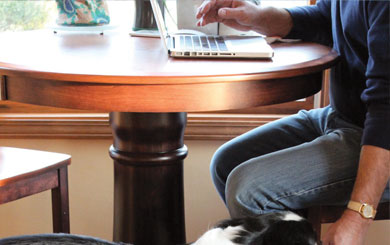 We bought a table and two chairs a few months ago. They're counter-height and sit in a bay window where we can catch the southern sun on a bright winter day. The spot is also great for coffee and a book, lunch or an evening beer. The warm wood tones add luster to the room.
It's solid furniture, made from real cherry—not fiber board and veneer. One look and you know it was made by someone who loves wood.
It was made in that old furniture capital of America: Michigan. The pieces are not antiques that were made in long-ago Grand Rapids. They were made a few months ago in the heart of Michigan's Thumb.
The L. J. Gascho Furniture Company has been making furniture since 1986, after a young Lyle Gascho returned to the family farm near Pigeon and remodeled the shed and chicken house into a wood shop. He learned woodworking in a small furniture shop in northern Indiana, where he apprenticed with Amish and Mennonite craftsmen. His company is now made up of 22 small Amish and Mennonite wood shops located in Pennsylvania, Ohio, Indiana and Michigan. All of these pieces are now delivered to the company complex on the Gascho farm for finishing. The furniture is sold in stores in the Midwest and a few Eastern states (ljgaschofurniture.com).
This furniture caught my eye when we were in an Art Van Furniture store. I was captivated by its simplicity, grace and quality. When I found out where it was made, I was sold. We're trying to buy American-made products, and though it seems to be getting a little easier, it still takes effort to find them.
As our state comes back from the economic edge, we seem to be chasing the newest thing to create jobs for the future. Technology is cool, and it's helped our auto industry return to competitiveness with the rest of world, but it's not a panacea, and not for everyone. Some of the start-up businesses regularly featured in this magazine's "Made in Michigan" series depend on technology, but most still rely on good, old-fashioned creativity and handcrafting. We ought to be fostering that kind of business development, too. Jobs that are attracted by incentives can leave the same way. Growing our own, like Gascho's, sometimes called "economic gardening," makes sense. While we're at it, we should be giving our kids the chance-in a school curriculum—to explore manual skills that also lead to meaningful work.
Before Michigan became known for cars, it was the furniture state. Once upon a time, Grand Rapids was the Silicon Valley of the craft era, a "Sawdust Valley" of sorts. After the Civil War, furniture-making became a booming business that continued to be a big part of our economy for the next century. Michigan-made furniture was sold and treasured all over the world. Furniture designers and manufacturers made Grand Rapids their headquarters, with associations of all kinds started to protect and grow the industry. A good bit of it remains, but now it centers on office furniture, since manufacturing in southeastern states, and then foreign imports, have chipped away at the home furnishings business.
Like many retired men, my dad dabbled in wood after he retired. He set up a woodworking shop next to the garage and turned out a series of shelves, quilt racks, picture frames and tables. We're happy to have a few of those pieces scattered around our house.
My own woodworking skills are still undeveloped and likely to remain so. Maybe that's why I'm drawn to heirloom furniture.
Still, I have one connection to our state's wooden past. For a blessedly brief time in the summer before my junior year of high school, a friend's father hired me and two friends to peel pulp. Eino laughed as we swatted mosquitos and no-see-ums that buzzed us incessantly, drawn by our sweat. Eino, a big, hearty Finn, was immune to the bugs. He dropped the poplar ("popple" in Yooper talk) trees with a chainsaw, cut them into 10-foot lengths, and taught us how to use a bark spud to skin the sinewy bark from the slippery white wood, destined for local paper mills.
It was hot, dirty work. We got so thirsty and hungry that we finished our water and food long before we should have. We were paid 10 cents a length, or "stick." Insect repellents being useless, our bodies were masses of bug bites. We lasted about two weeks, but the memory lasted a lifetime. I still itch and scratch when I see poplar trees, and I hear Eino laughing.
Mike Buda is editor emeritus of Country Lines. Email Mike at mike.f.buda@gmail.com.