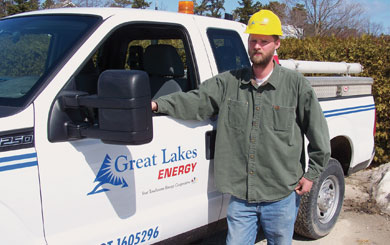 When the power goes out in the middle of the night on Beaver Island, Mike McDonough is the one who climbs out of bed. No matter that a blizzard may be raging over Lake Michigan on this remote island 32 miles offshore from Charlevoix.
McDonough (pictured above), a 27-year old Island native, will pull on winter clothes and head out to his truck at any hour. He is the Great Lakes Energy Cooperative lineworker tasked with making things right by keeping electricity flowing to 500 year-round residents, a population that swells to over 3,000 in the summer.
"I enjoy the work and seeing things get done," says McDonough, a fifth-generation Islander. "This year we had a rough time. The winter storms were hard and we had a half-dozen or more households that were without power for over a day.
"You can spend 16 to 18 hours a day working on lines and restoring power. It's a lot of work, but after it's over, everyone is really appreciative. They realize it's not the easiest thing to do."
Winter storms dumped an extra load of heavy ice and snow on the Island this season, toppling trees that in turn fell on power lines. The area gets its electricity from the mainland, but there is a backup generator just in case of an on-shore problem, or on the lake bottom, where three 27-mile long cables carry electricity to the Island's harbor.
Along with causing darkened homes and businesses, downed power lines present additional problems. Beaver Island is covered by thick forests, and is 13 miles long and about 6 miles across at it's widest point. So, line repairs—especially this ferocious winter—were made all the more difficult when trees fell across roads and blocked access to areas needing a power line fix.
"This was one of the worst times we have seen over here," says McDonough, who began working for the co-op in 2006 and later spent three years on the mainland as an apprentice training to become a lineman, a job that he started four years ago.
"He's the guy who does the day-to-day things like maintaining the lines on the Island," adds Dave Matz, operations director for Great Lakes Energy, which is based in Boyne City. Matz began his 32-year career with the company as a lineman, so he knows the job well.
"It's not a job for everyone," he says. "You learn how to climb poles and to respect electricity. When the weather gets nasty, these guys are out working. They're a special breed."
Mainland power was first extended to Beaver Island in the 1970s, but the system has since been upgraded. The latest underwater cables were installed in 1999, and the Island's 3-megawatt backup power plant was built in 2000. Three 20,000-gallon fuel tanks are also maintained to run the backup generators. Once winter arrives and Lake Michigan freezes, there is little chance of getting a fuel delivery, Matz explains.
Despite these preparations, other events also happen to cause occasional outages, such as squirrels chewing on things they shouldn't in the summer, Matz adds.
McDonough says he has the job covered, though.
"In the middle of the night you are on your own," he says confidently. "But if it happens early in the day, I hit the gas station and stock up on junk food; beef jerky and Mountain Dew get me through the day."
-Howard Meyerson