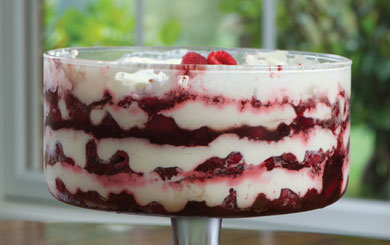 1 c. seedless raspberry jam
1/4 c. black raspberry liqueur
1/4 c. fresh orange juice
2 8-oz. containers mascarpone cheese
2 c. heavy cream
1/3 c. sugar
1 t. vanilla extract
Red velvet cake, broken in pieces
3 6-oz. containers fresh raspberries
Whisk together first three ingredients in a small bowl. Stir together mascarpone cheese in a large bowl.  In another bowl, beat heavy cream at high speed with an electric mixer until foamy; gradually add sugar and vanilla, beating until soft peaks form. Stir one-fourth of whipped cream into mascarpone using a rubber spatula; fold in remaining whipped cream. Arrange one-third of Red Velvet cake pieces in a 3-quart trifle dish, drizzle with one-third of jam mixture, top with one container of raspberries, and dollop with one-third of mascarpone mixture. Repeat layers twice. Cover and chill 4 to 24 hours before serving. Make snowflake garnishes by tracing snowflake templates on wax or parchment paper with royal icing. Let them dry at room temperature; peel off and place on top.
Amy Breimayer, Westphalia