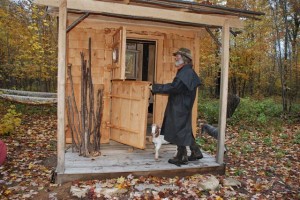 Dutch Door Dream
Submitted by Sherry Sutherby
My unique "dutch-door" deer blind was constructed by my husband Russ. All the wood used in the construction was from our property, hand milled on our portable saw mill. All hinges and locks are also hand carved by Russ.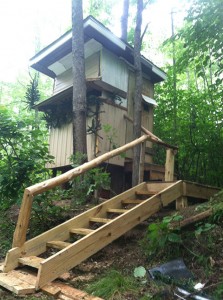 Porcupine Wars
Submitted by Larry Willett
Porcupines ate through the last deer blind, so this deer blind is made from 2-inch thick insulated steel panels, a 3-foot galvanized bottom skirt to keep them out! This blind was built to last for generations, and has the perk of heated floors.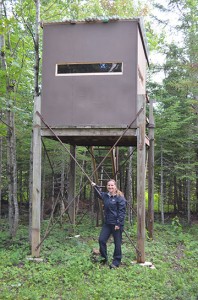 Re-Purposed and Ready to Rock
Submitted by John Willis
Originally, this deer blind stand was my daughter's first tree house that she helped design, build and paint when she was 6 years old. Last year I dismantled the tree house, and hauled the legs, decking, roof and most of the internal framing to our cabin in the UP. Hopefully my grandson we be able to one day hunt with grandpa in his mom's old "tree house."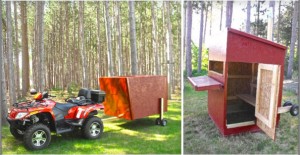 Perfectly Portable
Submitted by Jeremy Swift
This portable deer blind can be hooked up to an ATV, Tractor, or any vehicle with a hitch…to be placed anyplace on one's hunting grounds with ease. With its versatile design, it also can serve as a fruit & vegetable stand, as well as a bus stop. This is truly a blind for the whole family to use and love.