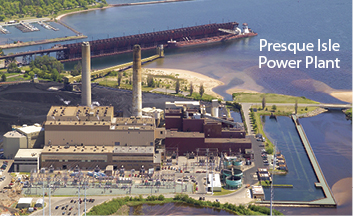 Wolverine Power Cooperative recently announced that it is ending the development of two generation projects in northern Michigan.
Construction of a 600-megawatt (MW) power plant and a wind turbine farm near Rogers City was proposed by Wolverine in 2006. An air quality permit was approved in June 2011 for the proposed Wolverine Clean Energy Venture power plant, but the co-op significantly scaled back development of the project in late 2011 with the passing of new emissions rules for new plant construction.
"I am very proud of our efforts on the Wolverine Clean Energy Venture," said Eric Baker, Wolverine's president/CEO. "The project team worked diligently to develop a proposed state-of-the-art power plant to serve co-op members efficiently and cost-effectively."
Wolverine has also brought its joint venture with We Energies (of Milwaukee, WI) at the Presque Isle Power Plant in Marquette to a close. The companies had proposed joint ownership of the plant in January 2012 in exchange for Wolverine's investment in an air quality control system.
"We're disappointed to end the joint venture with We Energies, yet that has become the best option for both parties," Baker explained. "We believe this joint venture would have brought economic and environmental benefits for the region, along with helping to ensure energy reliability."
We Energies plans to evaluate long-term options for the plant and may solicit other potential buyers for some or all of its output.
In keeping with its mission to provide outstanding service to its members, Baker noted that Wolverine will continue to seek reliable, competitively priced power supply that encompasses a mix of fuels and business partners.
Wolverine is the power supplier for Cherryland, Great Lakes Energy, HomeWorks Tri-County, Midwest Energy, Presque Isle Electric & Gas and Wolverine Power Marketing co-ops, and Spartan Renewable Energy.