She's dangled over an icy wall and rappelled its glassy facade, come dangerously close to the edge of several cliffs, and inched along narrow paths in the pitch-black night of the Upper Peninsula's wilderness to capture stunning images. Photographer Shawn Malone actually studied music in college, but a decade or so after leaving the Chicago skyline behind, she's developed a worldwide following for her impressions of the natural wonders surrounding her adopted hometown of Marquette.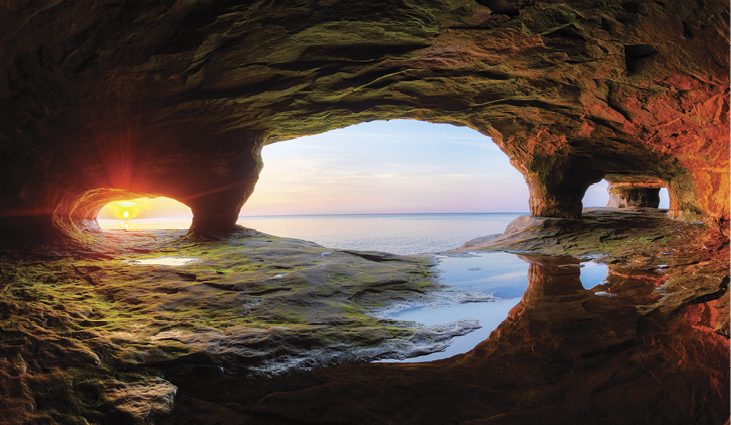 "I was doing a lot of auditions in major cities and grew weary of all the concrete, traffic, and smog. I realized I couldn't possibly be happy in that environment," Malone says of her past life. So, she and husband Brian took a jaunt to the U.P. and, she recalls, "We fell in love with the area after seeing Lake Superior for the first time in Grand Marais, and were struck by the quality of the water. I always remember that. We just moved up here, with no jobs, for the quality of life." Looking to earn a living, Malone picked up a camera and began seasonally capturing the woods, waterfalls, Pictured Rocks National Lakeshore, Lake Superior, and the Mackinac Bridge and lighthouses.
With Brian, also a photographer, she then traveled and sold their work on the art fair circuit for many years, including the Ann Arbor show. Burned out by the traveling grind, however, the couple missed the land they loved. "I moved to the U.P. to be in the U.P.," she says. "The next step was to figure out how to stay in the U.P."
One year ago, they cut all but a few art fairs from their schedule and opened Lake Superior Photo, a gallery and studio in Marquette, where they exhibit and sell prints of all sizes.
Besides landscapes, Malone has pointed her lens to the night sky and captured spectacular Northern Lights images, which have catapulted her into the national and international limelight—especially with
the release of her time-lapse video, "North Country Dreamland." She edited 10,000 still images taken throughout 2012 into the 7-minute program, which was the "People's Choice" winner in a 2013 Smithsonian
online competition (see lakesuperiorphoto.com).
"The Northern Lights have really caught on with the media," Malone says of her extensive portfolio of sky shots. She believes it's because most people will never see the lights in person. While it's possible to catch the colorful, dancing flares most of the year, conditions must be just right.
Even in the best viewing spots, including the U.P., there's no guarantee that clouds won't obscure them. "You might go years without seeing a strong display," she says, citing the spans between activity she witnessed in 2004, 2011, and those in her second video, "Radiance" (Oct. 2013).
"Those kinds of displays you remember the rest of your life." Monitoring space weather websites helps her decide whether to venture out and attempt a photo shoot, but she adds, "A lot has yet to be learned on how the aurora works, but you have a good opportunity to see it with a strong solar flare off the sun that is Earthward- directed." Once she sees some activity, her experience helps to judge how much time to invest and whether it will pay off.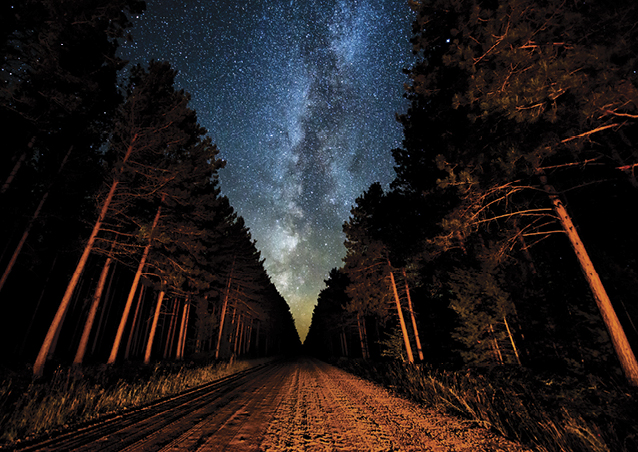 Patience and luck are given credit for some of her success, too, especially as she ventures into the wilds where there are no signs to warn of potentially dangerous areas. Recalling a trip to Isle Royale after shooting the Northern Lights at Tobin Harbor, she headed back to her lean-to. "I had a two-mile hike at two in the morning along basically a deer path…a cobblestone, trippy kind of thing." It was so dark that she couldn't see what was around her, but could hear moose sparring nearby. "That sound puts the fear of God in you because you could just feel the power of the animals," she says, shuddering while remembering that too-close call.
"Getting the shot" also involves experimenting with manual settings and using a tripod to keep the camera steady for long exposures, Malone tells shutterbugs in her teaching workshops.
Her imagery also appears in regional/national magazines, websites and books, and she also freelances as a managing photographer at Upper Peninsula Second Wave, an online magazine. Her artwork is also viewable and available for purchase at http://www.lakesuperiorphoto.com. Her custom prints also hang in restaurants, offices and hospitals, and this year she'll also ponder a book project. Meanwhile, her camera will be kept ever-ready to record impressions of the land, water and sky she loves.