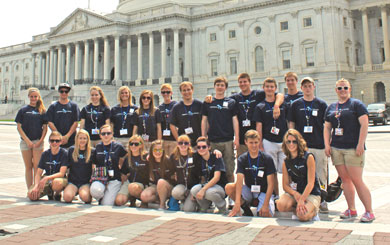 Twenty-two high school students representing six Michigan electric co-ops recently joined more than 1,600 other youth from across the country at the National Rural Electric Youth Tour to Washington, D.C.
The experience is an extension of the Michigan Youth Leadership Summit held in April, and is designed to give students a behind-the-scenes leadership experience.
The Michigan students visited memorials, museums and monuments, including guided tours through Arlington National Cemetery and the U.S. Capitol, stops at the WWII, Vietnam and Korean War Veterans' memorials, several Smithsonian museums, a performance at the Kennedy Center, and a riverboat cruise on the Potomac.
The group observed members of Congress debate and vote on important bills from the House of Representatives gallery inside the U.S. Capitol, then had personal visits with Sen. Debbie Stabenow and U.S. Reps. Justin Amash, Bill Huizenga and Dan Benishek.
Brianna Fitzpatrick, a junior from Onaway, earned the support of her peers to serve on the National Rural Electric Cooperative Association's Youth Leadership Council. She will return to D.C. in July to attend a youth conference that strengthens leadership and public speaking skills.
Youth Tour participants are chosen by their co-op, who sponsors them on the trip. Learn more about co-op-sponsored youth programs at miYLS.com, and find more Youth Tour photos on facebook.com/youthleadershipsummit.
The Adventure Began at YLS
The Youth Leadership Summit (YLS) is designed to grow leaders through team-building skills, including hands-on classroom exercises and a high-ropes challenge (over 30 feet in the air!). Sponsored by their electric cooperative, students from across Michigan gathered at SpringHill Camp near Evart this spring and tested their decision-making skills, learned how to respond in emergency situations and received valuable career information. Participants were then considered to attend the Rural Electric Youth Tour to Washington, D.C. (above). Learn more about both programs at miYLS.com.