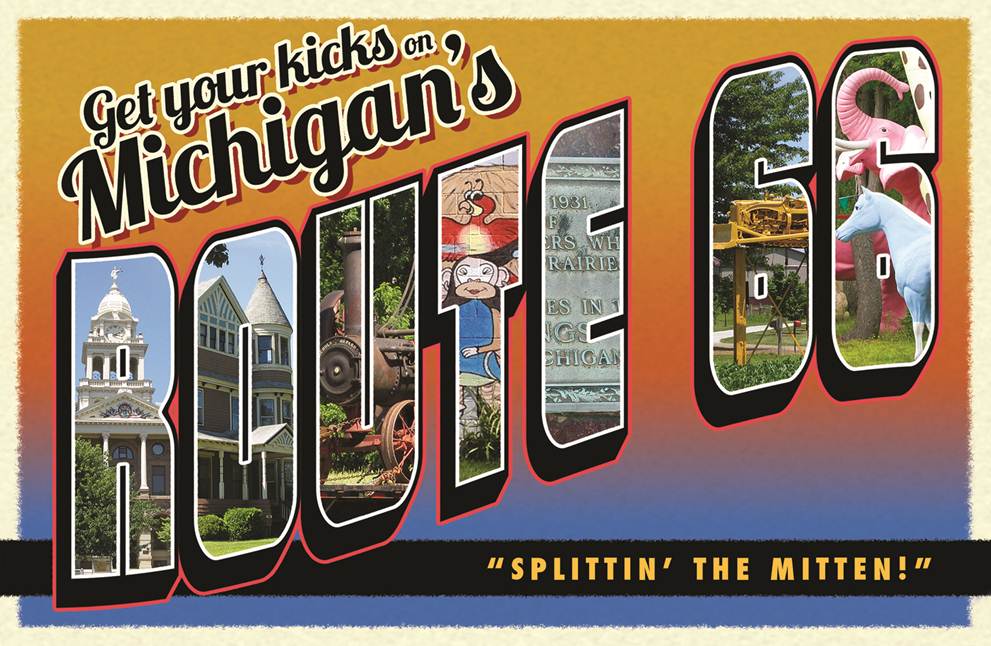 Jazz pianist Nat King Cole immortalized driving the open road with his 1946 hit song, "Route 66," a swinging rendition about traveling the fabled route from Chicago, Ill., to Los Angles, Calif. But authors John and Becky Schlatter, think the Michigan highway that bears the same name is just as appealing and has its own quaint charms. To prove it, they take readers for a 237-mile ride from Sturgis to Charlevoix in a new book called "Splittin' the Mitten: Get Your Kicks on Michigan's Route 66."
"To say it's just as scenic as the route from Chicago to L.A., might be a bit of hyperbole, but beauty is in the eye of the beholder," notes John Schlatter, a retired corporate communications professional and HomeWorks Tri-County Electric Co-op member. "But when you drive [Michigan's] Route 66 and see a field of sunflowers in late summer, or cows grazing in a field and modern wind turbines in the distance, or a pretty old church, those are all very scenic in their own way."
The Schlatters' book, with 250 photographs, is an account of their trip through our rural heartland. It's a route full of history, small towns and farm life—the backbone of our mitten state. Theirs is a story of pastures and cows, grange halls where farmers meet, ice cream parlors where families gather, and the overlay of modern times and change.
"We thought this might be a fun project," shares Becky Schlatter, who refers to herself as a "Michigan girl" and Flint native. "I get excited by stuff like this." The Schlatters spent five days touring M-66. Gathering material for their book required driving it twice and three shorter trips to shoot photos. One of Becky's favorite stops is Mancelona, where a downtown mural depicts the life of author Ernest Hemmingway. Other favorite stops are Ionia's brick-lined Main Street and Charlevoix's "two waterfronts" and unique old homes.
"The worst part of the trip was not being able to stop and talk to people at length," says John, a Mississippi native who retired from Bechtel Corp in 2012 after years of moving around the country. "If we had, it would have taken three years to get it done."
John admits he didn't know much about Michigan until 2007. That's when the couple bought their Chippewa Lake cabin in Mecosta County. It's not far from M-66, a route they use to come and go.
"As a kid growing up in the south, all I knew about Michigan was Bo Schembechler, Detroit car factories, and Motown," John exclaims. "When I got here I was amazed by how rural the state is, which is why we like Route 66.
"I can't say that there was an 'aha!' moment when I knew to write the book, but I am old enough to remember the 'Route 66' television show from the 1960s," he adds. "We saw signs at Barryton saying, 'Thanks for Visiting' and 'Route 66 Keep on Cruising,' and realized we're not the only ones who think Route 66 is pretty cool."