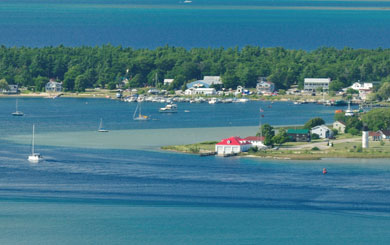 Beaver Island's draw for most visitors is its remoteness. They say it can snap a vacationer from the real world in just a few minutes.
"You really feel like you've left the mainland and that you're on 'island time,' says Linda Gallagher, a frequent visitor. "Islanders make you feel like an old friend instead of a visitor."
One of the best ways to reach Beaver Island is the two hour-and-15-minute ferry ride from Charlevoix to St. James. The leisurely ride allows you to chat with islanders that call it home. They love to talk about their island and its relaxed way of life, and it's a great way to learn about interesting spots to visit.
You can also fly over in about 15 minutes (from Charlevoix) on Island Airways or Fresh Air Aviation, if you're in a hurry to slow down.
The Great Lakes' third largest island is home to about 650 year-round residents, many whose Irish immigrant ancestors made it a bustling 19th century fishing port.
The Irish were the first to arrive and settle at Whiskey Point, but in 1848, James Jesse Strang, a Mormon Church leader, brought his followers here after a split in the church, and Brigham Young took his followers to Utah.
Strang claimed that an angel visited and told him to seek a place surrounded by water with great forests. Beaver fit the bill, and the Irish were forced off the island when the "War of Whiskey Point" confrontation was won by Mormons firing a cannon at an unruly gang gathered at the trading post.
Strang won a seat in the fledgling Michigan Senate and declared himself "King" of the island. But his reign was short-lived, as a revolt in 1856 left him dead. Some say it was sparked by jealous husbands when he began taking additional wives. When word of the revolt and Strang's death spread to the mainland, the Irish quickly returned and drove the leaderless Mormons off.
During their eight-year occupancy, however, the Mormons left it for the better, according to Steve West, head of the Beaver Island Chamber.
"They cleared and cultivated ground, built roads, farms, houses, and changed it from a wilderness to a civilized outpost, but never got to reap the benefits. Today, it's the Irish heritage that's celebrated on the island."
Beaver was blessed to be near some of the Great Lakes' best fishing grounds, and the Irish wrote to family and friends back home about America's "Emerald Isle." The population grew to over 1,000 by the early 1880s, and the island became the largest freshwater fish supplier in the U.S. By the mid-1890s, overfishing caused the harvest to decline drastically and provided the impetus for Michigan to start a hatcheries program and close fishing seasons during fall spawning.
"Fishing and timber made Beaver Island one of the most important ports on the Great Lakes around the turn of the last century," West explains. "As commercial fishing dwindled and shipping entered the modern era bypassing the island, the population reached a low of 150 residents in the 1960s."
A visit today to the Mormon Print Shop Museum provides a vivid account of those times. It's located on Main Street in St. James, the only village, which gently curves around Paradise Bay, the largest natural harbor on the Great Lakes.
Take a stroll along the quiet harbor roads to a handful of other shops and galleries, or relax in the colorful Shamrock Pub (an island tradition) or hike to nearby windswept Whiskey Point to admire the 19th century lighthouse (today, the island gets its electric lighting from service provided by Great Lakes Energy Cooperative).
Whitefish dinners at the Beaver Island Lodge at sunset are a must, where a wall of windows frames Lake Michigan and distant islands.
Visitors don't need a car, but having wheels makes it easier to visit the undeveloped one-third of the island, which is mostly state-owned. "Gravel and sand roads lead through thick sugar maple forests along inland lakes and the Lake Michigan shoreline on the south end," West says. There are over 100 miles of roads, but only eight miles leading out of St. James is paved.
"You'll see flocks of sandhill cranes, admire Fox Lake where beavers are reported to reach 60 pounds, and stop to climb Beaver Head Lighthouse on the southern tip. The lighthouse climb yields an impressive view of many of the smaller islands that form an archipelago around Beaver," he adds.
You can rent vehicles on the island, and West advises this for quick visits of a day or two, "but more than that, it's probably more economical to bring your own vehicle over on the ferry."
Bicycles (mountain style is best for the clay-gravel roads) are also popular, and easy to bring over on the ferry or plane. Riding from St. James, where most lodging is found, around the south end and back is about 40 miles. There are also a few campgrounds popular with cyclists—one on the north end and another half-way down the east side.
A shorter ride from the village to Donegal Bay, about 12 miles, is one of Keith Seeloff's favorites.
"You pass by old Irish homesteads with wooden and stone fence lines, century-old wooden cabins along dirt roads with names like Paid een Og's, Donnell Mor's Lane, Barney's Lane and Sloptown Road," says the mainlander. "Some of these lanes are lined by beautiful old oak trees, and Donegal Bay is a beautiful Cape Cod-like bay with white sand beaches and cottages tucked into dunes."
Following Kuebler Trail from Sloptown Road brings you to McCauley's Point, a state preserve with panoramic views of High Island. Hike the shoreline through low dunes to Mt. Pisgah, a towering sand dune rising 150 feet above the bay. It's along Donegal Bay Road on the way back to the village, and is one of the highest points.
"Climb up the dune for a nice view of the bay and islands nestled off-coast. Looking inland, treetops stretch as far as the eye can see, and it's a great place to watch a sunset!" Seeloff exclaims.
Other preserves to hike are Barney's Lake, Erber, Miller Marsh and Little Sand Bay, which is closest to St. James. A long trail and boardwalk traverses various wetlands and streams before arriving at a beautiful deserted sand beach. Knotted trillium, a rare sight on the mainland, lines the boardwalk.
The island has long been known for its smallmouth bass, but fly-fishing for giant carp along the flats has really taken off, says Kevin Morlock, of Indigo Guides Charters. It's been popularized as "golden bone fishing" by outdoor writers, and fly-fishers from California and Texas have made the pilgrimage.
"It's challenging. That's why it has become so popular," Morlock explains. "Bone fish are about 8 pounds, and you might get about 20 shots at catching one on a typical Florida outing. Carp weigh 20 to 30 pounds, put up quite a fight, and you'll get around 200 shots at hooking one on a typical Beaver outing. Europeans consider carp a prized game fish and we are starting to catch on."
After a trip to the island, Kirk Deeter wrote on his Field & Stream magazine blog, "Beaver Island is home to some remarkable smallmouth bass fishing. But, we were there to explore the flats fishing. And—I kid you not—I would rate the flats action on Beaver with any other flats experience in America. Yes, that also includes Florida, Louisiana, Texas, Nantucket and Hawaii. It's absolutely insane around Beaver Island."
Go, relax, and enjoy the experience, because after all, you're on "island time."
For more about Beaver Island, places to stay and all its amenities, click on beaverisland.org.
-Mike Terrell