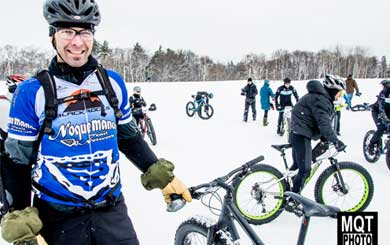 Get used to seeing more of something unusual this winter – people biking through the snow. Whether you dub them "fat tire bikes" or "snow bikes," the popularity of this new winter sport is gaining across Michigan for commuting, racing or just ridin'.
Fat tire bikes first became popular in Alaska for commuting and recreational use on their many trails and ski pathways. They started showing up in the Lower 48 about three years ago, and have blossomed in popularity over the last few winters. These bikes sell new from around $1,700 to $3,000 and typically run on fat tires that are 4 inches wide. The tires use about 8 PSI or less of air pressure for on-snow use, leaving little print on a hard, groomed surface. Crystal Mountain (Thompsonville), Timber Ridge Nordic Center (Traverse City), and Boyne Highlands (Harbor Springs) are all offering rentals and groomed trails this winter.
Crystal has about 10 groomed miles of both cross-country and single-track trails for fat tire bikes. Renting for about $10 an hour, you can ride them on portions of the cross-country trail until 10 p.m. nightly since it is lit for night skiing. At Timber Ridge, Einstein Cycles is handling rentals (about $25, including a trail pass), and there's about 10 kilometers of groomed trail.
The Highlands offers a five-mile groomed loop. A daily trail pass is $5, and rentals start at $30 for two hours. "We found them to be very popular last year at Crystal Mountain, our first winter," says Chris Remy, who oversees the resort's program. "We often had a waiting list and have added more bikes for this winter, and more sizes."
Trails aren't the only place you'll see fat tire bikes, however. Jason Lowetz, owner of Einstein Cycles, sees a market for those dedicated commuters who prefer a bike over a vehicle. "I'm seeing a lot more people using them to commute around town and work during winter," he explains. "It's the safest bike you can ride this time of year and allows cyclists to commute year-round. The stability of the bike makes it a good choice." Traverse City resident Jason Whittaker agrees.
"We're a one car family with a 20-month old son. My wife needs the car at home, and the fat-tired bike allows me to safely ride through the snow and slush on the TART (Traverse Area Recreational Trail) to get to work," he says. "Before they came along I couldn't ride the trail, which isn't cleared in the winter. I had to ride my mountain bike on roadways, which weren't that safe. I also ride on the VASA Pathway on Fridays for fun."
TART Trails, which spearheads VASA Pathway grooming, is asking riders to buy a $25 grooming badge. Fridays are set aside as "Fat Tire Friday," when cyclists and skiers mix on the 25-kilometer trail, and bikes are allowed on TART's Leelanau Peninsula, from Traverse City up to Suttons Bay, anytime.
There's a similar trend in the U.P., around Marquette. "We're seeing more commuter and trail use in our area over the last few years," notes Nicole Dewald, Noquemanon Trail Network director. "We plan to groom over 20 miles of single track this winter, and ask riders to support the project by purchasing a 'Support the Groom' card."
Other U.P. places to ride include the Keweenaw Peninsula, and Michigan Tech has 15 kilometers of groomed ski trail and ungroomed single-track where bikes are permitted, and Swedetown Trails permits them after 6 p.m. on Tuesdays. Ishpeming's Al Qual Recreation Area ski trails also permit them anytime. A day pass is required for all three locations.
For racing, Einstein Cycle has organized a Northern Michigan Fat Bike Series with three races. Fat Chance was at Crystal Mountain in January; King VASA is at Timber Ridge, Feb. 8; and Fat Camp, Timber Ridge, March 1. Fun Promotions in Grand Rapids has also organized races, with the next at Addison Oaks, Feb. 8; Shore Acres in Saugatuck, Feb. 16; and Pando Winter Sports Park, March 2. Pando also offers Fat Tuesday, a race every Tuesday night through February.
Another Traverse area fat tire rider, Eric Pollard, says, "Riding on snow has been a great alternative to my other winter love, Nordic skiing. Being able to hop on a snow bike is a great way to mix up winter activities and keep it interesting." Give it a try?