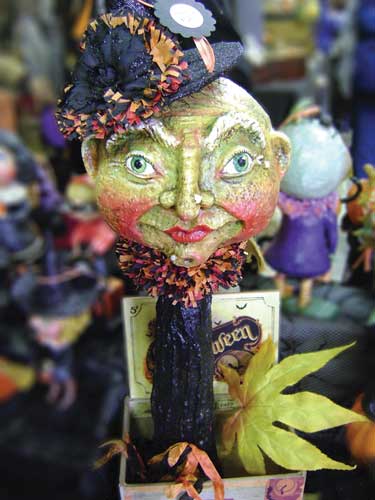 On the Lake Superior shore, Debra Schoch creates whimsical papier mâché holiday folk art figurines from her home in the tiny U.P. town of Ontonagon. A self-taught artist, she began experimenting in the early '80s when she was looking for a craft project she could do with her daughter, Simone. Today, her initial "wet newspaper" creations are outstanding artworks in a successful business that reaches as far as the Philippines.
Debra named her business Hop Hop Jingle Boo after her three favorite holidays and does her artwork, "When the mood strikes," she says. "Some days I wake up and say to myself, 'This is a crafting day,' and on those days I will have a 'workathon' of about 16 hours." The process begins with an 80-pound bale of papier mâché (sometimes called "poor man's pottery"). "I put some mâché into a large Tupperware® bowl and as corny as it sounds, I wait for it to talk to me and tell me what it wants to be and that is how I come up with the creation."
Using common household items as forms, such as lightbulbs and empty dish soap bottles, she applies and works the mâché into the desired design. The figurine then goes into a special drying box that her husband, John, created. Three days later, she begins working her magic by hand-painting each figurine with acrylic paint. The collars adorning many of her figurines are hand-stitched from 3 yards of crepe paper. The final touch is affixing the figurine to a painted wooden base that John creates.
Each original takes about one week to produce.
Like many artists, Debra started by selling her work at local craft shows, but in 2004 her clientele became global when the national firm Bethany Lowe Designs asked her to join their team of artists. Debra's designs are a perfect fit for the catalog and showroom company that provides vintage folk art and holiday designs for the wholesale industry. The popularity of Debra's designs earned her the prestigious designation of "Best Seller for 2012" for the Lowe company.
Each holiday season, Debra creates about 15 original samples that Bethany chooses from, which are then made into samples for showrooms, such as the Atlanta AmericasMart Gift Mall, where buyers order their desired products from Bethany Lowe. An order is then sent to a factory in the Philippines, where Debra's designs are mass-produced in resin and hand-painted, eventually making their way to retail shops around the world.
In Michigan, Debra also has a loyal fan base that is never more evident than at the annual Ghoultide Gathering festival in Chelsea, Mich. Ghoultide is a by-invitation-only Halloween art show, where she is often asked to autograph her pieces. Lisa Brown, who for the last four years has traveled from Dublin, Ohio, to attend, says, "I just love Debra's work. It's whimsical and fun and reminds me of my childhood. It brings me back to that time." In turn, Debra says, "I couldn't do what I do if it weren't for my customers.