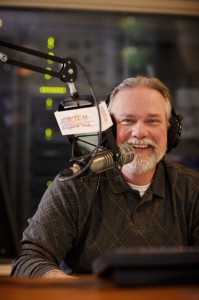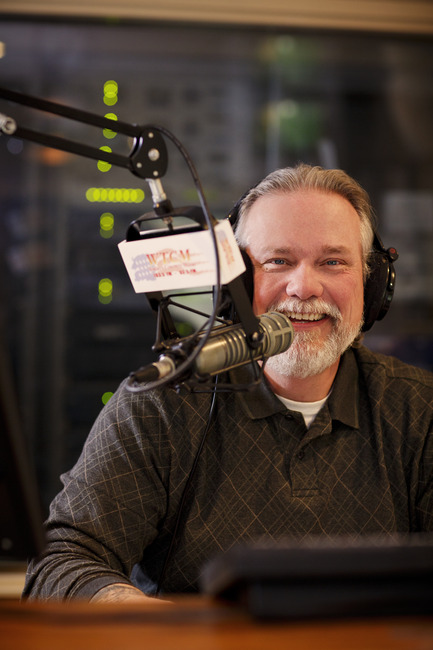 A self-proclaimed "spoken-word guy," Jack O'Malley is looking forward to transferring his upbeat view of life in Michigan to the printed page. "I'm thrilled about this," O'Malley said about his new gig with Michigan Country Lines magazine. "It's a whole new avenue, and I like a challenge." Beginning with this edition, his column on the Readers' Page will appear in alternating issues. O'Malley will use the hallowed space, once occupied by Jim Hough, then Mike Buda, to expand on what he already does on northern Michigan radio and TV: celebrate the great and quirky people and places of his home state, filtering the stories through the lens of his buoyant personality. "People get enough bad news," he says. "They want a little good news."
O'Malley, 54, relishes the role of good-news messenger. To Traverse City area people, his voice is as familiar as cherry pie. He's hosted the WTCM Radio Morning Show since 1984, making it the longest-running morning radio show in northern Michigan. O'Malley describes the program, which airs from 5 to 9 a.m. Monday through Friday as "full-service," meaning a complete package of music (country), news, weather, traffic reports— everything listeners need to start their day, except the coffee.
"People waking up want to know the world is still here and that all is well," O'Malley explains. The idea is to be happy and fun, and keep people informed." Brief interviews with various guests are also part of his routine—a local librarian offering a glimpse of what Traverse City folks are reading, an outdoor writer discussing what's biting in the Bay, or a city official discussing a development project.
A true multi-media man, O'Malley also turns up every Monday on the northern Michigan CBS affiliate WWTV (TV 9&10), in the form of "Jack's Journal," a 2-minute human-interest feature that airs during the 6 p.m. news. The subjects? "Gosh, it's everybody and everything," O'Malley says, tossing out a few recent examples—a hidden gem known as the Manton Military Museum, a one-man band, a funky little "Up North" tavern… O'Malley describes the drill: "I get a cameraman and travel all over northern Michigan—from Alpena to the eastern Upper Peninsula, to the Ludington area—I follow the subject around, do an interview, put it all together." Now and then O'Malley spends the 2 minutes musing about one of modern life's marvels—the overwhelming number of options, for example, in a supermarket cookie aisle.
O'Malley gleans ideas from his viewers and listeners, production team members, and his own observations. For Country Lines, O'Malley, who grew up in Detroit, will continue working Michigan's fertile human interest soil, but on a broader, statewide field.
"I'm a Michigan boy," he says. "My heart is in Michigan." O'Malley and his wife Robin are, by the way, Cherryland Electric Co-op members. O'Malley has two grown daughters and a 12-year-old son. As this Country Lines edition went to press, a first grandchild was also expected. A veteran hunter of human-interest stories, O'Malley knows that the eyes and ears of his listeners, viewers, and now, readers, are his best bush-beaters. If you have an idea for a column, he wants to hear from you. "I'm always open to ideas and suggestions," he says. On column writing, as well as on grandfathering.