"The truth is, I'm selfish."
Those words don't quite ring true when you're speaking to Kim Skarritt-Nelson, owner of Bowsers By The Bay, and founder and program director for Silver Muzzle Cottage Rescue & Hospice in Rapid City. Skarritt-Nelson is the heart and soul of this organization that looks to place or care for senior dogs that have been surrendered or abandoned by their previous owners.
"You see," Skarritt-Nelson explains, "I get as much out of the time spent with these amazing animals as they do."
Skarritt-Nelson's "selfishness" began when she left corporate America in 2004 and opened Bowsers By The Bay in Elk Rapids in 2011. This cage-free boarding home, grooming center and behavior therapy clinic for dogs offers everyday encounters with a variety of beloved breeds.
However, as Skarritt-Nelson became more involved in the community, she saw a disturbing trend.
"Over and over again, I would see senior or terminal dogs in shelters," said Skarritt-Nelson. "They were either dropped off by their owners who could no longer care for them or, even more heartbreaking, these animals were abandoned and left to fend for themselves."
In a typical shelter older dogs are often overlooked for more energetic puppies, while the terminally ill dogs are often euthanized. Over 2,000 senior dogs are without homes within 500 miles of Traverse City, she learned. Skarritt-Nelson's heart couldn't take it.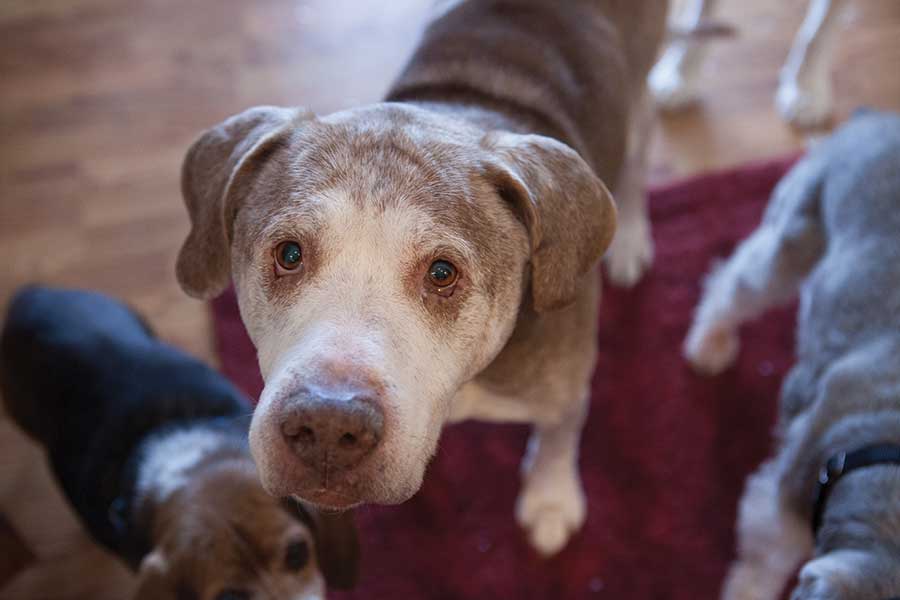 That's when she created Silver Muzzle Cottage—a unique rescue mission for senior dogs and hospice care for terminally ill dogs. Unlike overcrowded shelters, Silver Muzzle provides a home-like environment where dogs roam freely during the day and sleep on large pillow beds or sofas at night, often curled up with their new pack family.
"These dogs once were loved by an individual or a family," said Skarritt-Nelson. "We believe that they should feel that same love at the end of their life as well."
As big as Skarritt-Nelson's heart is, even she can't attend to all the needs of each dog in her care, which is why a dedicated team of volunteers are critical to Silver Muzzle's success. Volunteers take the shelter's beloved pack on trips to the beach, walks in the woods, drives into town for ice cream, or even just long, lazy naps on Skarritt-Nelson's newly-acquired 15 acres in Rapid City. The new location is undergoing constant renovations to provide an amazing quality of life for its canine residents and accommodate even more needy dogs in the future.
Volunteers even gather together when it's finally time for some of their hospice pets to say goodbye. Surrounded by loving words, lots of animals and heartfelt farewells, Silver Muzzle's team sends beloved friends off with all the love and companionship each dog deserves.
With heartwarming touches and thoughtful experiences like that, it's easy to say that the world could do with a little more selfishness like Skarritt-Nelson and the team at Silver Muzzle Cottage.
Visit silvermuzzlecottage.com to see how you can help.