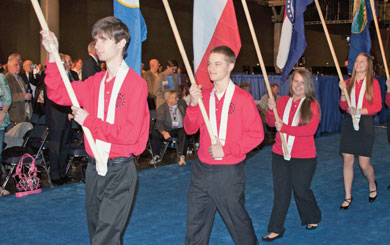 Drew Graeber, a junior at Lake Michigan Catholic High School in St. Joseph, and a Great Lakes Energy Cooperative member, represented Michigan electric co-ops at the National Rural Electric Cooperative Association (NRECA) annual meeting in New Orleans, LA, recently.
As part of his year-long service on the NRECA Youth Leadership Council (YLC), Drew joined over 40 students from co-ops across the country to assist at the convention that brought together over 12,000 co-op directors, managers and staff. Shown above, YLC students each carried their state's flag in a procession to kick-off the huge event, where industry issues affecting electric co-ops and their member-owners were discussed and voted on.
Drew was elected by his peers to serve on the Youth Leadership Council during the Rural Electric Cooperative Youth Tour to Washington, D.C., where each June electric co-op students from across the country join together to meet their legislators and see the sights.
Learn more about co-op youth programs at miYLS.com.