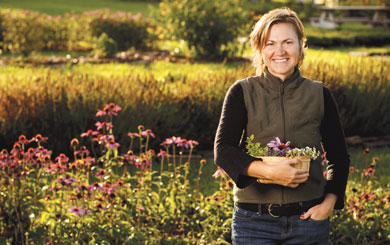 Angela Macke has made her business of growing and producing teas a mission to make the world a better place.
When we think of tea, it is often in reference to afternoon tea, or a soothing drink to sip on a chilly day. Usually, it's just dropping a tea bag into boiling water and maybe adding a little milk or honey. At the Light of Day Organic Farm and Tea Shop in Leelanau County, it is so much more. They embrace the whole tea culture, including everything from the seeds to preparing and brewing "the perfect cup."
Angela Macke, an RN and mother of two, started Light of Day Organics because of her own personal experience with tea. "I love tea, and have experienced healing from this miracle of agriculture that decreases inflammation, and am continually intrigued by the people and culture that surround the practice of tea worldwide."
In fact, Macke has successfully managed her own Crohn's disease, rheumatoid arthritis and lupus by incorporating tea into her daily life. She says even the name for the business she created came from a spiritual place for her, as "All good things good are from the light."
Leaves of Wellness
Plenty of good things are definitely growing and brewing in the light at this impeccably maintained, 25-acre farm located just 8 miles west of Traverse City. Step inside the charming, cozy tea shop, and immediately you are met with wonderful aromas and a warm atmosphere. This is a no-pressure place.
Of course, they are in the business of selling tea, but Macke's mission is more about nurturing the body and soul and helping customers find the tea that not only suits their taste buds but helps bring wellness and balance to the body. "Every day I get emails of testimonials on how tea has improved the quality of someone's life," she adds.
According to Macke, it's a four-day labor of love for each pound of tea. "Full-leaf tea is harvested by hand to ensure a high-quality, full leaf," she says. "It takes 70,000 tea leaves, chamomile blossoms, rose hips, clover tops, lavender, and others petals for one finished pound of tea."
While "true" tea is made with Camellia sinensis leaf, the tisanes Light of Day offers are made from blending components such as herbs, spices, seeds, bark, fruit and other ingredients. Tisane teas are caffeine-free.
Balance and Harmony With The Earth
Light of Day isn't your ordinary farm in other ways, too. It is a Green America partner, which means they strive to be as paperless as possible, use only environmentally-friendly inks, and recycle everything they can.
Another exemplary attribute is they are Michigan's only Demeter-certified biodynamic farm. "These farms, including ours, abide by standards that exceed that of the National Organic Program and produce some of the most tasty, nutrient-dense food possible," Macke explains. The criteria for this international certification aren't easily met, but that didn't sway her from pursuing it. "It is a preventative approach and I believe it to be the kindest, most holistic practice that one can do for our planet."
The farm first had to be certified organic with the National Organic Program for three years. This involves following a Lunar calender for growing, harvesting and seed collection, providing on-farm fertility, and using homeopathic remedies throughout the growing season to support the plants' growth and development.
In keeping with her philosophy of balance and harmony with the earth, solar panels are used to help lower their electric bills, as the irrigation system and food dryers use a lot of energy. Plans for 2014 include expanding their solar array and adding an architecturally-designed functional stand to hold the panels and create a shaded area that visitors can sit under and enjoy their teas during a visit.
Fruits of Labor
Managing a farm, employees and family is no easy task, but Macke's family pitches in when they can. Her 12 and 14-year-old boys have been helping since they were toddlers. "They are excellent botanical harvesters, planters, preparation helpers, weeders, and assist with mowing, apple coring, packaging up bags and labeling tins. They have done it all," she says proudly.
About her role on the farm, Macke says, "This is the most meaningful and hardest work I've ever done."
Lisa Marie Metzler is a certified trainer and freelance writer specializing in health and fitness. Her articles have appeared in magazines such as Healthy & Fit, IDEA Fitness Journal, Positive Thinking, Hope for Women, and more.