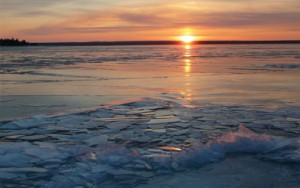 Julie McKay Covert likes to sit at her dining room table, cradling a steaming mug of hot chocolate and looking out over the treetops at Lake Huron. Two sides of the dining room are windows, and from this vantage point on the second story of her snug, 1,200-square-foot house, she has a bird's-eye view. Depending on the season, the daily show includes cedar waxwings, warblers, snow buntings, ravens, and even bald eagles.
The variety and abundance of wildlife on Shelter Island is just one of the trade-offs that Julie, and her husband Hugh, embrace in their life as the only people living on the 40-acre island they own in Lake Huron. The island is located just off the southeastern tip of Drummond Island, in the far eastern Upper Peninsula. Hugh works as a captain of tall ships, among other pursuits, and bought the island nine years ago and built a home and lifestyle that reflect his love for sailing the Great Lakes. He designed the open-plan house to withstand the rigors of wilderness living.
The first story of their house is used for storage and utility areas, in order to be thoroughly bear-proof—the second story is their living space.
"We enjoy all of our fuzzy, furry friends that live out in the woods with us," Julie says. The thin topsoil cover precludes gardening, and the wildlife and isolation make the idea of owning pets or farm animals like chickens or pigs impractical for the Coverts. "How do you ask someone to come out and care for animals when you live where we do?" she laughs.
A massage and bodywork therapist, and book author of "The Insightful Body," Julie spends much of her time traveling to conduct classes for her business, Island Wellness Center, located on Drummond Island. At work, she is a member of Cloverland Electric Cooperative, but at home, the Coverts live "off the grid." Three years ago, as a bride, Julie moved into an island home that uses wood and propane for heating, cooking and refrigeration, and solar panels for electricity.
"I loved it immediately," she says. Her new husband encouraged her to explore all four seasons of the wilderness outside their door. "'Go play in the 'big room,' Hugh would tell me. I saw absolutely beautiful sights that the snow, the ice, and the light were creating," she recalls.
Struck by the fleeting quality of the winter beauty surrounding her, she would see a breathtaking arrangement of ice and light and hoarfrost, but passing the same spot 10 minutes later it would all have changed. A long-time photographer, Julie began to carry a camera on all of her walks in order to capture the changeable winter scenery for family and friends. "I would put pictures on my blog to show people things they'd never see otherwise," explains. She collected enough photos in her wanderings to self-publish a small book as a gift for guests and family. They urged her to seek out a wider audience, and the result is her second book, "Art of Winter," which was published this year.
"I started this for fun," Julie says. "Living like this has always been a dream."
Learn more about Julie McKay Covert's books and businesses at JulieMCovert.com or call 443-604-1981, e-mail Julie@JulieMCovert.com, or write to her at 38300 S. Shelter Island, Drummond Island, MI 49726.
– Linda Sirois