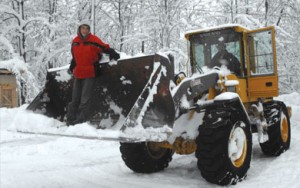 No one will forget the "big one" of March 2nd, 2012. Over 2 feet of heavy, wet snow fell overnight throughout northern Michigan, and left thousands of people without power. Some weren't prepared and needed food and water. Cars were left vacant in ditches on the roadside. Others were stuck at home because the snow was too heavy and deep to shovel. Fallen trees canvassed the landscape and roadways, making it hard to navigate and dangerous to even walk your dog. But the blizzard, in all it's fury, couldn't match the warm generosity and overflowing kindness that began to grow… Love Thy Neighbor After waking up to a gorgeous view of trees blanketed in snow it was time to dig out and get households in order. Snowplow trucks, snow blowers, and the occasional front loader quickly turned a serene, quiet morning into a full war on snow removal.
Amy Rose of McBain was one of those who felt blessed when her driveway was suddenly cleared. "A young man with a front loader showed up on my street and just started clearing driveways, expecting no money in return. He helped so many people that day!"
Mark Gabrick of Lake Ann and Trevor McClain of Traverse City logged in 36 hours clearing driveways and roadways of snow and fallen trees. Amy and Kyle Rosa were one of the first recipients of Gabrick's generosity. "My husband Kyle is a deputy for Benzie County and needed to get his patrol car out for work. Mark came over with his loader right away and wouldn't take any money for it," says Rosa. "It was just another day in the work of the Lord," says Gabrick. "We saw the need and answered the call."  Feeling Good in the Neighborhood Tom and Laura Phillips of Traverse City felt guilty about having a generator while others went without power, but they didn't sit selfishly by and watch their neighbors muddle through. "Tom helped neighbors turn on their gas fireplaces and pitched in shoveling driveways," says his wife, Laura. Laura did her part by using her generator-powered kitchen to make large pots of chili and goulash, and distributed them to the neighbors so they could have a warm meal.
Gary and Lori Florip, of Lake Ann, were just coming off a 12-hour EMS shift, but instead of going home to sleep they continued to help their friends and neighbors. Tera and Scott Konchek, also of Lake Ann, and their three children weren't able to get out of their driveway and were low on food. Scott suffers from Devic's disease, a disorder of the central nervous system involving inflammation of the optic nerves and spinal cord, so Tera wasn't going anywhere anytime soon. "They brought us food and cleared my driveway. They are two amazing people that went out of their way to help our family and many others without stopping to think of themselves," Konchek says. "People helping people—that's why we moved to Northern Michigan." Unplugged and Loving It Why is it so frustrating when our internet or cable service is temporarily interrupted, yet when the power was out for days most of the people have fond memories of rediscovering family time and connecting with neighbors? Perhaps it's because we were all in the same predicament. We had a good "excuse" not to be tied to our cell phones and constantly checking email messages.
Linda Snow, of Traverse City, fondly recalls passing the time with her grown children. "We played cards, had fun melting snow on our gas stove, and my daughter Torre made bracelets," Snow says. They even brought out the old "I Spy" books from the kids' younger days. "We were all playing cards when the power came back on. I was actually disappointed our 'Little House on the Prairie' days were over."
In a chaotic world where criminals and corruption sometimes take center stage, it was heartwarming to witness the human spirit at its best. The kindness and generosity of compassionate people and the fun and creative ways we passed the time brought us all closer together. Even though March came in like a lion last winter, the spirit of goodwill left an impression in our hearts that will get us through another winter and perhaps encourage us to have a little creative fun with any down-time caused by bad weather.
– Lisa Marie Metzler