Nick Kuz wears many hats. By day, the Reed City resident wears Great Lakes Energy's hard hat for his work as a lineman, bringing power to co-op members across Michigan—including his own home. On his personal time, he trades his hard hat for a cowboy hat as the owner of Clementshaw Ranch, the Reed City Rodeo (RCR), and the Reed City Youth Rodeo Association (RCYRA) where he works to preserve the American tradition of rodeo for the next generation of athletes. No matter which hat Kuz is wearing, he maintains the same passion for helping others.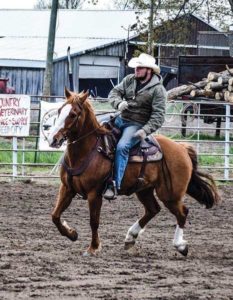 The RCR and RCYRA, founded nearly 10 years ago by Lonnie Clementshaw, is now owned and operated by Kuz and his wife, Sarah, with help from a team of dedicated volunteers. The pair are passionate about the sport of rodeo and are committed to doing what they can to spread awareness and continue the rodeo legacy. Through the RCYRA, the only youth teaching rodeo of its kind in Michigan, Kuz is able to introduce junior rodeo hopefuls to the sport and work with them to hone their skills as they compete and mature. "I'm proud to say that a lot of people's stories begin here," said Kuz, "I love seeing the sense of accomplishment the kids get from the hard work they put in."
Kuz's passion for service extends beyond the world of rodeo into his professional life as well. Nearly three years ago, Kuz left a successful career as a diesel mechanic to join the energy industry. Now a fifth step apprentice lineman, Kuz is happier than ever in his new career. Drawn to the industry because of the service mentality of the co-ops, Kuz takes pride in the fact that he has a direct hand in bringing power to co-op members across the state.
"One thing the rodeo and being a lineman have in common is that you get out of it what you put into it," said Kuz. "And that's true for the energy I help move and get to receive at my own home."
Great Lakes Energy and power supplier, Wolverine Power Cooperative, provides members with energy that is more than half carbon-free.
"I work to preserve the American tradition of the rodeo just like Great Lakes Energy and Wolverine Power Cooperative are working to preserve Michigan's natural resources," said Kuz. "And that makes me proud to not only be a Great Lakes Energy employee, but also a Great Lakes Energy member."
To learn more about the RCR and RCYRA, visit reedcityrodeo.com. To learn about additional ways Great Lakes Energy members can make an impact in their community, visit gtlakes.com/yourpower.
---

Authored By: Brittany Kielbasa
Brittany is the communications specialist at Wolverine Power Cooperative. Brittany and her husband, Carl, live in Cadillac where they enjoy spending time outdoors and enjoying all that Northern Michigan has to offer.