Ever since the Sam Beauford Woodworking Institute opened its doors in 2017, people have been coming out of the woodwork to enroll in their classes. Some students have traveled far distances from other countries (including Japan and Germany), while others are lucky enough to live just down the street from the facility's location in Adrian, Michigan.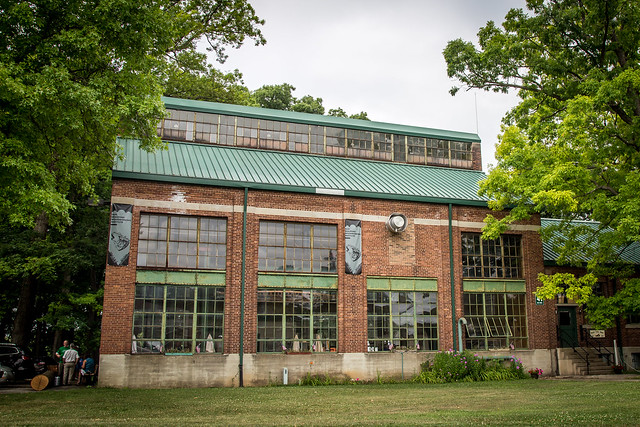 It's safe to say that part of the appeal comes from the unique variety of woodworking classes offered by the woodshop. If you want to learn to make a ukulele, there's a class for that. Or maybe you'd prefer to make a guitar? No problem. Same goes if you're interested in creating a knife, a live edge desk, or just about anything else you can dream up.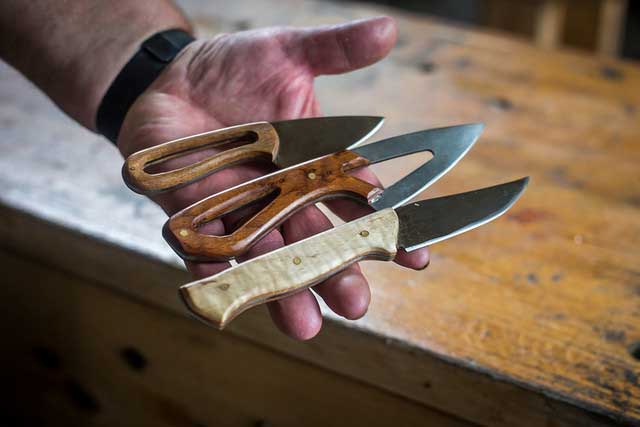 "We adapt our class offerings to what people want to see," said Luke Barnett, class instructor and woodshop director. This past May, however, Barnett got the opportunity to add a program he wanted to see offered. A special program just for veterans.
Sponsored by the Adrian Noon Rotary, the Woodworking Warriors program is an effort to provide veterans with opportunities for personal and professional growth. Every Wednesday from 9 a.m. to 9 p.m. veterans are welcome to come hang out, enjoy camaraderie and pick up new woodworking skills. Woodworking experience level does not matter, and it is entirely free of charge.
So far, the program has 60 veterans enrolled, and the participants have nothing but great things to say about it.
Chad Diffin, a U.S. Army veteran, has been coming every Wednesday since the program started. "The interaction with the people here is my favorite part," he said. "I have woodworking equipment at home, but I choose to drive an hour and a half to come here instead."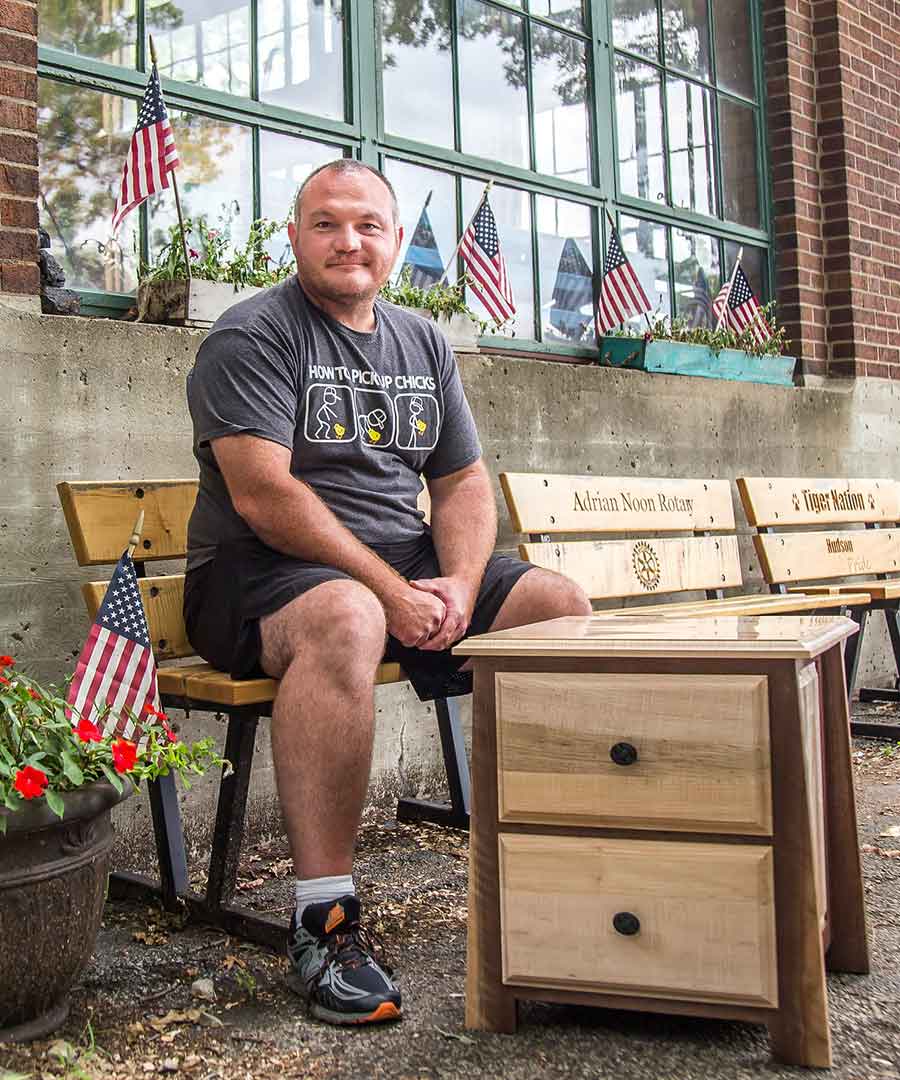 Newcomer Debi Barry, a U.S. Air Force veteran, has started encouraging her veteran friends to come. "We all have something in common here," she said. "We all served. And if you want to talk about it, everyone understands."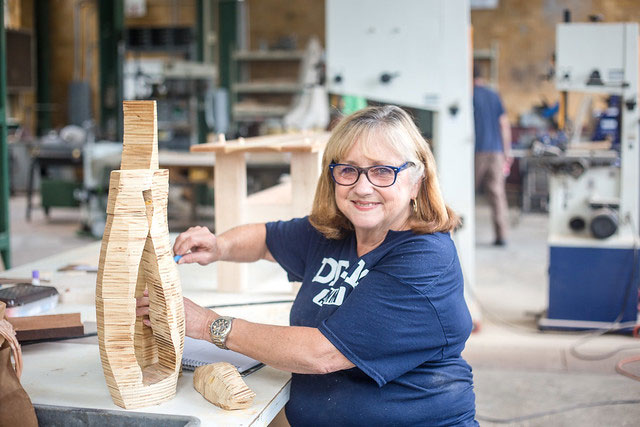 The instructors at the woodshop are a talented bunch. Several are internationally recognized, including Barnett, who is best known for his handmade Windsor chairs.
"I came here so I could learn from Luke," said U.S. Air Force veteran Jeff Davis. Davis picked up guitar making in retirement and was ready to take his skills to the next level. At the woodshop, he is working toward certification and learning skills such as precise measurement and understanding woodgrain orientation.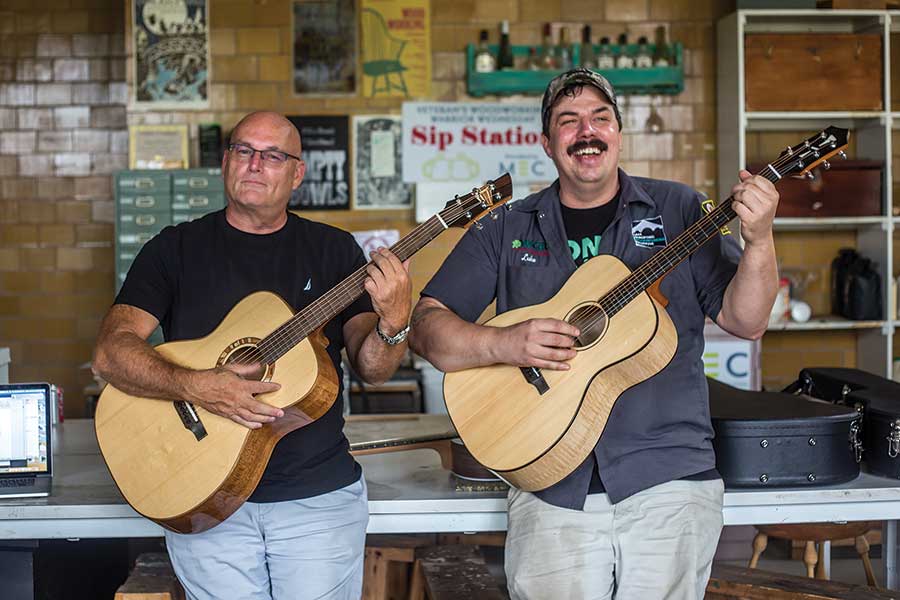 "The community has been very supportive," said Barnett. The program runs at cost, so support is essential to keep it going. The Adrian Noon Rotary donated $35,000, and Black Rifle Coffee Company stepped up to donate 20 pounds of coffee each month. Midwest Energy & Communications donated a sip station to keep the coffee warm.
Barnett is excited by the momentum behind the Woodworking Warriors program and hopes to see it continue to grow. "Once you cross the corridor you are welcome here," he said. "It's not just about wood. It's community and friendships."
Visit sambeaufordwoodshop.com to learn more about the Sam Beauford Woodworking Institute.