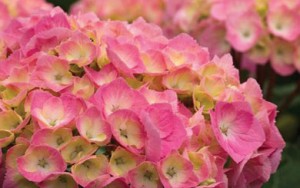 Back in the old days, like when cars had "fins," shrubs were just something you used in the yard to fill-in space. The rather plain-looking "bushes" as we called them, were planted in rows in our yard, mostly to stop baseballs and such from going into the neighbor's yard.
Today, there are more shrub varieties than flavors of ice cream at Disney World—exciting ones too! The new varieties have names like "Handsome Devil Viburnum," and "Happy Face Potentilla," names that fit their appearance. These show-stopping varieties come in a variety of colors to contrast or complement other plants in your yard.
"It's an exciting time to be a gardener," says Stacey Hirvela, marketing specialist at Spring Meadow Nursery/Proven Winners Color Choice Shrubs in Grand Haven. And, there are some truly amazing varieties of shrubs on the horizon that bear the Proven Winners logo, she says. Wegeila is an example. If you like the flowers that this shrub bears, you'll really like the "Sonic Bloom" series, a new hybrid that reblooms for a longer season of color. These come in red and white.
Other varieties that will surely cause a stir for the next few years include "Oso Happy Smoothie," a thornless, hardy rose for Michigan; "Let's Dance Big Easy" hydrangea, a fragrant viburnum called "Spice Girl," and a compact variety of forsythia, "Show-off Sugar Baby." And there are more! "Happy Face" white potentilla will surely put a smile on your face as it is both showy, hardy, and blooms most of the season. For early flowering, choose from a number of new varieties of long-blooming azaleas from the "Bloom-a-thon" series.
Shrubs with Nice Foliage
If our landscapes were all flowering plants it would be a riot of color, but too much for the eye to take in and the flowering plants wouldn't stand out as well. So, let's take a look at a few shrubs planted for their foliage. They range in color from green, yellow-green, blue-green, and even burgundy. The plants below are available at most garden centers around the state. Pay attention to the hardiness zone of each one; the plants rated to zone 4 will do better in the state's colder locations.
"Celtic Pride" or "Siberian Cypress" is a new variety of cypress that would have been nice to have in my garden this past summer. It's a drought-tolerant, very hardy plant that will provide a good alternative to juniper, Hirvela says. It won't get too tall either, growing to only 3 feet.
Arborvitae is still a standard in many landscapes, and there is quite a variety to choose from now. Make sure you research these well before purchasing so that you choose the appropriate height and spread for your landscape. Some arborvitaes, such as "Emerald," are tall specimens and work well near tall buildings. Arborvitae, which is actually a domesticated cedar, comes in different shades of green-yellow-gold.
Barberry bushes are sometimes overlooked, and they shouldn't be, especially some of the new gems. The "Sunjoy" series will really add a bold look to your landscape. "Sunjoy Cinnamon" is a deep burgundy color and "Sunjoy Syrah" is a full-bodied shrub with black-red foliage. Plants with white or yellow flowers will really pop when grown alongside these shrubs.
Planting Shrubs
Hirvela suggests paying close attention to how large and wide your shrubs will be at maturity and make your selections accordingly. Shrubs are pretty easy to grow if you buy ones that are hardy for your area. In general, plant in well-drained, fairly rich soil. If you have really poor soil, dig a hole three times the size of the root ball and fill it in with good topsoil or aged compost. Plant them at the depth they grew in the nursery container; then water around the root ball prior to filling in the hole.
A slow-release fertilizer applied in spring will keep them healthy and looking good. A couple more tips: water well the first summer after planting and apply a 4-inch layer of wood bark mulch to hold in water and discourage weeds.
"Shrubs are one of the best ways to invest in your garden," Hirvela says. "You get a lot for your money, they form the backbone of a garden." They fill in spaces well and keep your interest even into the fall and winter months, she adds.
Visit provenwinners.com and use the Proven Winners' garden center locator to find these new varieties. Not all garden centers will have them, so call ahead to check or ask if they can order them for you.
– Neil Moran