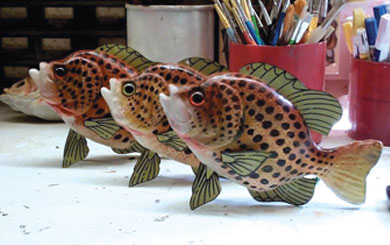 Where most people see a cedar fence post, Dave Kober sees a trout. Or a perch. Or maybe even a turtle or a frog.
Kober carves fish decoys—both working decoys that fishermen use when spearing through the ice, and decorative decoys that exist purely for their aesthetics. And though he turns them out from a small workshop behind his home near Cadillac, his decoys are on display across the world.
"It's grandpa's fault," explains Kober, 74-years-young and a carver since he was a lad. "My grandfather was an ardent hunter and fisherman and he liked to carve decoys. I started it as a hobby."
Kober, who grew up on a farm in Ottawa County, has been carving professionally since before he retired from a 30-year career in environmental clean up in 1989. And though he never had any formal training, the talent comes from his genes.
"That artsy thing kind of runs in our family," Kober adds. "I have a brother and sister who are commercial artists, though I never pursued anything artsy. When I was a kid it was the furthest thing from my mind. But I could always draw."
That's where his decoy designs start. When Kober begins, he sketches out the design on a chunk of wood, cuts out the rough form with a band saw, and then gets after it with a draw plane and rasp. He finishes it with power tools and hand paints it with acrylics.
Kober works with white cedar, most of which he scavenges from nearby wood lots, though it isn't unusual, he said, to come home and find a cedar limb on his porch, left there by one of his buddies.
"I like the texture of it," he says. "And the smell of it. It's pleasant to work with and it takes paint well.
"I really like that old worn cedar, like fence posts. If it's got flaws in it that just adds to the character of the piece."
Over his career, Kober has carved thousands of pieces, including all the fish that are common to the Great Lakes area, as well as some saltwater species. He often works from a photo sent by an angler who wants a replica of his trophy.
"I send quite a bit of stuff to Alaska—I like to carve grayling and I do halibut, and Dolly Varden [trout], too, so I do quite a bit for customers up there."
But Kober says he has no favorite species.
"Our state fish is a brook trout, and I probably carve as many brook trout as anything I do, but in this area up here, all of these streams are full of brook and brown trout, and they're popular. And walleyes and muskies are popular up here, too."
Though he's never advertised—aside from a sign by the road at his house on M-115—Kober has been commissioned to create original pieces for display. His largest piece ever, a 13-foot sturgeon, is on display in Minnesota. A 10-foot muskie he carved graces Da Dawg House Restaurant in Cadillac.
Kober has gained wide notoriety for his work over the years. Mort Neff of Michigan Outdoors television was an early patron. A display of his process—from a hunk of wood to a finished decoy—is featured at the Department of Natural Resources' Carl T. Johnson Hunting and Fishing Center in Cadillac. He was also featured in a large spread by Michigan Natural Resources Magazine in 1992, and he does a lot of work for Bass Pro Shops by carving trophies and retirement gifts.
But Kober has no plans to retire himself.
"As long as my old bones still work, I'm going to keep doing it," he says.
Kober invites anyone who passes his shop near Cadillac to drop in and have a gander.
"Half the time I forget to turn my sign on," he says. "But if my pickup's in the yard, come on in."
Visit Dave Kober's Wooden Fish Gallery (8 miles south of Cadillac on M -115), his website is koberdecoys.com, or call him at 231-388-4170.
Thanks to Brian Hoekema, a Great Lakes Energy Co-op member from Marion, for submitting Dave Kober's decoys as his "favorite Michigan-Made product." Hoekema said Kober "individually handcrafts each carving with great care and attention. His work can be seen in many places of business, such as Cabela's, as well as many restaurants."
To tell us about your favorite Michigan-Made product, please send a few short paragraphs describing the product and why you like it, along with your email and phone number to gknudtson@meca.coop or call 517-913-3531. Also, please let us know which electric co-op provides your service.