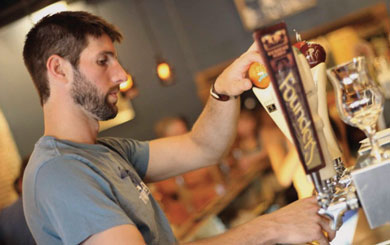 When is a beer not just a beer? When it's the ideology behind a gathering place for those who enjoy the camaraderie shared over a handcrafted adult beverage. That's the thinking that launched The Mitten Bar, a Ludington hangout that serves only Michigan-made beer, wine, spirits and hard cider.
The concept came to owner Megan Payment and Brian Josefowicz, her fiancé and business partner, as they sampled their way across the state's wine and beer trails. "The beer was great," says Payment about their tasting tour of brewpubs, microbreweries and breweries. "But that was almost secondary. It was how people treated each other, how everyone could get along," that she says impressed the couple and inspired them to open their business in July 2011.
Payment, 27, who graduated from Aquinas College with a dual major in business administration and communications, is no stranger to the food and beverage industry. Her parents, Mike and Julie Payment, own the Sportsman's Restaurant and Irish Pub, a Ludington landmark since 1955. But she wasn't planning on it as a career. "I wanted nothing to do with my parents' place," she says. "I have a lot of great childhood memories, but it's just not me. This (The Mitten Bar) really fits who I am."
Named for the Lower Peninsula's shape, The Mitten occupies a 1900s building with exposed brick walls and vintage wood flooring. The cozy tavern serves no food (guests can carry-in, and Sportsman's is next door), just a changing menu of 40 Michigan bottled beers and a selection on-tap, plus about two dozen spirits and a small selection of wines. But here, Payment says, "It's not just about drinking, by any means. It's a 'third place'—not home, not work—we've developed a community place. Our regulars have become family. It's more about the interaction." She and Josefowicz, 31, who studied business and photography at Grand Valley State University, post short, "wonderfully awkward" videos on Facebook with updates on beverage releases, weekly band appearances, and progress reports on their new venture, Barley & Rye.
Housed near The Mitten, Barley & Rye offers craft beer and whiskey from around the world and a short menu of "fast, casual foods," like charcuterie (cooked, cold meats) and pulled pork, specialties of foodie Josefowicz. The hop vines growing in the outdoor beer garden make it an especially good setting for sipping a refreshing brew.
Cheers to Michigan Beers
July is Michigan Craft Beer Month for the state's more than 100 commercial craft brewers and their growing economic impact on agriculture and tourism. Michigan ranks fifth among states in number of breweries, microbreweries and brewpubs, and its 20 percent growth last year outpaced the nation. The hopping beer scene is so vibrant that the Pure Michigan advertising campaign is airing a radio spot about it, and carries information on beer trails and brewery tours at michigan.org/breweries.
Larry Bell is the founder of the state's modern craft beer movement; he made his first beer in a 15-gallon soup kettle in 1985. Today, Bell's Brewery is one of the top craft brewers in the country and is still located in its hometown of Kalamazoo. That city placed second in the 2013 Beer City USA poll, just behind winner Grand Rapids and ahead of fourth-place Ann Arbor.
The strong Michigan showing in the annual survey adds credence to the "Great Beer State" promotional slogan of the Michigan Brewers Guild (MBG) (michiganbrewersguild.org). The Guild produces a free, glossy guide to beer destinations here, and hosts four popular events: the Summer Beer Festival in Ypsilanti, July 26-27; U.P. Fall Beer Festival, Sept. 7, in Marquette; Detroit Fall Beer Festival, Oct. 25-26; and the Winter Beer Festival, Feb. 22, 2014, in Comstock Park. Even the February event at the West Michigan Whitecaps baseball stadium attracts a sell-out crowd of 6,000 craft beer drinkers—many, no doubt, wearing mittens.
– Kath Usitalo