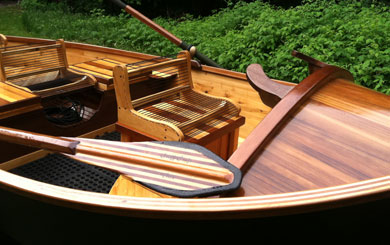 Phil Croff wasn't planning to start a boat-building business when he constructed his first driftboat in 2006, using Michigan cedar and walnut. He was looking for a safe way to fish rivers at night—a time when big brown trout come out to feed and anglers wade cautiously to avoid stumbling in the dark.
Croff had worked in the construction trade for years as a finish carpenter. He envisioned a small-but-wide and very stable craft, just perfect for the "tip of the mitt" rivers he likes to fish. When others saw what he built, he began getting orders from anglers who wanted one. And so, a new Michigan business was born: Croff Craft Custom Drift Boats. Its catchy slogan is: "Small Boats with Big Attitude."
Now, seven years later, Croff's boats are being showcased by Orvis Co., the Vermont-based fly-fishing giant, known for its discerning client base. The company's website features a special 12-foot Orvis Edition Croft Craft that sells for $10,000.
"I had discovered night fishing for big brown trout," explains Croff, the 43-year-old master wood craftsman from Alanson. "It's very addicting, but I hated wading at night. So I got online, trying to figure out how to get on the water to do it. The rivers up here are small. There were 12-foot boats out there, but I couldn't find one stable enough.
"So, I told my wife, 'I am going to build a boat.' And her response was: 'But you don't build boats.'"
Trude Bigelow Croff, his wife of 16 years, laughs about the story. She loves floating on rivers with her husband. Wooden boats have "atmosphere," she notes, more so than fiberglass, the typical construction material. She's noticed that heads turn when people see a Croff Craft boat go by.
"When Phil told me 'I am going to build a boat,' I said 'you've got to be kidding,' Trude says wryly. "But Phil is that kind of guy, even in our house. He can't go out and buy something. He has to make it.
"He drew that design on a napkin and I'll be darned if he didn't do it."
Croff Craft driftboats are handcrafted, one at a time, to customer specifications. Croff builds them from 12 to 15 feet long. Their deck layouts can be customized, and each offers seating, dry storage, rod storage, an anchor system, and casting braces.
Building a driftboat requires 350-plus hours of labor, Croff explains. The hull is coated with epoxy and fiberglass and then sprayed with a Kevlar-enhanced polyurethane product. All of the other woods get two coats of epoxy and seven coats of clear varnish for a brilliant sheen. His custom oars are built from Douglas fir and clear cedar. Each boat is delivered on a trailer for $14,000.
"Upper Peninsula cedar is the most outdoorsy wood there is," adds Croff, a Petoskey native and Great Lakes Energy Cooperative member. "It is the lightest and most weather-worthy wood I can use to build these."
Croff grew up fishing northern Michigan's small, spirited streams, so he knew a wide, stable hull was in order—one that draws just a few inches of water.
The Croff Craft driftboat is the product of an inspired moment in 2005 when Croff was sitting in a local pub with a buddy. They were comparing notes about boat design, so he grabbed a napkin and began sketching lines. The result became his signature design.
"He's gotten a lot of attention for it," adds Trude, an artist and the owner of Beveled Edges, a Harbor Springs custom frame shop. "He built that first one for himself, but people keep asking him to build one.
"We still have that napkin. I am going to frame it someday."
– Howard Meyerson