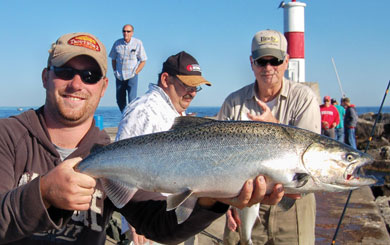 There's obviously a lot of fishing to be done off Michigan's shores, and a billion-dollar industry has grown up serving those that do—from boat dealers to charter boat services. But there are plenty of fishing opportunities for those who are bound to the shoreline, too. We're talking about piers.
Piers that allow anglers to enjoy the Great Lakes can be found at the mouth of many of our state's rivers, and there's a good shot at scoring a fresh catch during most months of the year.
Pier fishing in Michigan hits its peak as summer wanes, and Chinook salmon begin moving upriver on their annual spawning runs. By mid-August, there are outstanding opportunities off the northern piers, and by September it's going on statewide. From then until it's too cold to fish, the only thing that changes is the species of fish.
There are as many ways to fish the piers as there are anglers who do it. Some cast spoons or sinking lures from the pier's end. Others rig up a big sinker to hold bait on a hook—everything from live alewives to salmon eggs to insect larva—and fish near the bottom.  Others prefer chunks of skein spawn and a bobber. All three techniques "produce."
In recent years, I've been fishing the pier at Manistee with some buddies in late summer and early fall. Our best technique is using live alewives, caught with a cast net or on tiny jigs, for bait. We rig-up with a large pyramid sinker and cast into the river, keeping the bait near the bottom. When the fish takes it, drop your rod tip, reel up the slack, slam the hook home, and hold on!
As the season progresses, other trout and salmon species join the procession. Chinooks are joined by Coho salmon, brown trout and steelhead over the course of fall and the steelhead, which are spring spawners, filter upstream throughout the winter and into spring. Techniques change as the species change—steelhead seem much more willing to take salmon eggs or insect larva than the baitfish—but anything you offer is likely to produce at any time.
By October, other Great Lakes denizens show up, especially whitefish. That's what gets guys like Doug Smith, a veteran angler from the Kalamazoo area, fired up.
"From the first of October until ice-up, you can get your limit of whitefish most days," says Smith, who fishes from the pier at St. Joseph. "Right at deer season seems to be the best time and that's when there are fewer guys out there.
"I like to use a single salmon egg that I've boiled so it stays on the hook well, but some guys use wax worms or wigglers. I use a pyramid sinker and about a 3-foot leader and just let it sit on the bottom. And if you miss a fish, just leave it there—those whitefish will circle around and come back and get it."
While Smith is busy with whitefish, anglers elsewhere are looking at other species. The pier at Muskegon, for instance, is noted for producing excellent walleye fishing, often at night, usually around Thanksgiving.
After winter, it doesn't take a lot of spring weather for the action to resume. Fishing for Coho salmon and brown trout—which are near shore then—and steelhead commences as soon as the weather is nice enough to tolerate it. And there are often a few whitefish or their cousins, Menominee, hanging around.  As spring progresses, steelhead filter back into the lake from the rivers and from then on, there's plenty of fishing for resident species—smallmouth bass, catfish, burbot, freshwater drum, and more—until, next thing you know, it's late summer and the salmon show up again.
There are piers on all four of Michigan's Great Lakes, from Erie to Superior, and all attract their share of anglers. Some, such as the piers at Ludington or Oscoda, attract regular crowds while others—such as many on Lake Superior—remain undiscovered by many. Pier fishing may not be as adventurous as taking to the big lake in a large boat with a handful of friends, but it can be just as exciting—and generally much less expensive—to enjoy Pure Michigan fishing on Great Lakes waters.
– Bob Gwizdz is an avid outdoor writer featured in many hunting and fishing publications.