Presque Isle Electric & Gas Co-op is leading the way to support electric vehicle adoption in northeast Michigan with plans to deploy six electric vehicle (EV) charging stations in its service territory.
Last October, PIE&G energized its first EV charging station at Tom's Family Market in Onaway. Two more were energized last November at Briley Township Park in Atlanta and in Albert Township Park in Lewiston.
According to Wesley Repke, systems engineer at PIE&G, the final three will be located along U.S. 23 and will be energized in summer 2019 at the Hammond Bay State Harbor, P.H. Hoeft State Park north of Rogers City, and Presque Isle State Harbor.
Each station is capable of charging two electric vehicles simultaneously. The service at the stations will be provided free of charge as a courtesy from PIE&G to the general public. Since most owners charge their EVs privately at home or work across the country, PIE&G hopes to recoup its investment as the EV market continues to develop and grow.
PIE&G Charging Stations
PIE&G has three active EV charging stations. Three additional EV stations are proposed along US 23 for completion during 2019.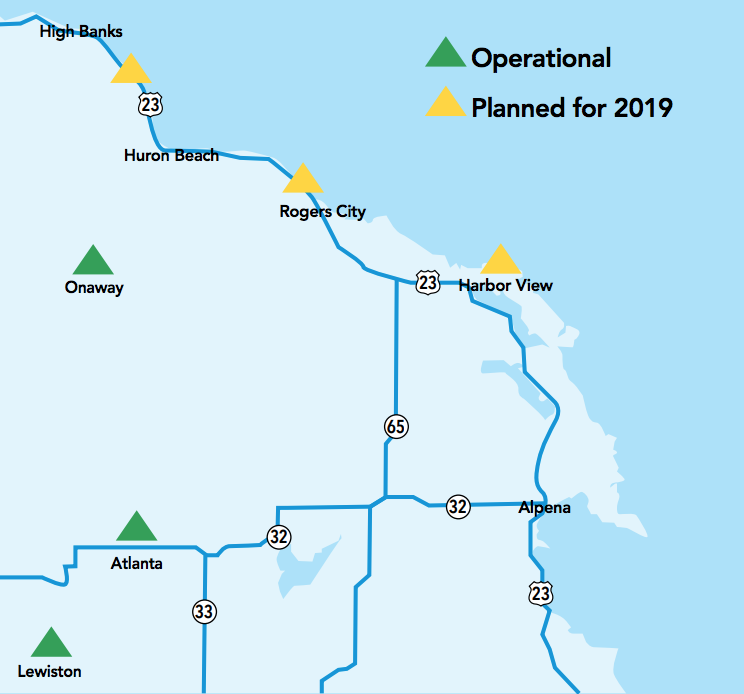 PIE&G's "Level 2" stations can charge at a rate of up to 80 amps maximum, which allows for about 60 miles of charge per hour of charging. However, few vehicles are currently able to take full advantage of this, except for Tesla vehicles equipped with a specific add-on feature and some commercial EVs such as buses.
All EVs manufactured in North America are compatible with PIE&G's stations. Tesla vehicles require an adapter which is provided when the vehicle is purchased.
Usage statistics for stations currently in operation (as of Nov. 15, 2018):
Onaway. . . . . . . 57 kWh
Atlanta. . . . . . .184 kWh
Lewiston. . . . .  107 kWh
Did you know?
There are more than 40 models of battery plug-in electric vehicles (PEVs) or hybrid models available for purchase in the U.S. today. The electric drive portfolio includes Hybrid Electric Vehicles (HEVs), Plug-in Hybrid Electric Vehicles (PHEVs), Battery Electric Vehicles (BEVs) and Fuel Cell Electric Vehicles (FCEVs).
The entire portfolio of electric drive vehicles provides an opportunity to improve air quality by increasing fuel economy while reducing, or eliminating, tail-pipe emissions. The EPA has consistently rated hybrid and plug-in hybrid vehicles as the most efficient vehicles available— and fuel cell vehicles emit only water vapor.
California ranks first in the country for states with the highest PEV adoption and more than 13,000 PEVs have been sold in Michigan. In 2018, there were 263,077 plug-in electric vehicles sold and 1,015,890 PEVs sold in the U.S. between 2010 and October 2018.
EVs today have much greater travel ranges than those that were available in 2010. The 2019 Chevy Bolt is rated at 238 miles from a single charge and starts at $36,620. The Tesla Model 3 is rated at between 220 and 310 miles from a single charge depending on which options are selected and could be as low as $35,000.
Existing federal tax credits range from $2,500 to $7,500, based on the battery capacity of the vehicle. Although the government recently voted to continue providing credits, some of the biggest names in the segment may soon see their incentives eliminated. Once a company sells more than 200,000 qualified vehicles (including all-electric models and plug-in hybrids), the phase-out process of the federal incentive begins. Tesla has now hit that mark and General Motors is fast approaching it.
Resources
https://www.plugincars.com/cars
https://autoalliance.org/in-your-state/MI/
https://electricdrive.org/index.php?ht=d/sp/i/20952/pid/20952
https://www.chevrolet.com/electric/bolt-ev-electric-car
https://www.tesla.com/model3/
https://news.energysage.com/how-much-does-a-tesla-cost/