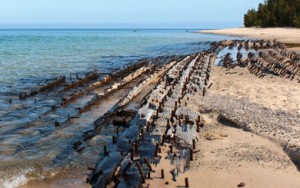 I just learned, from my son Jon, while we were camping in Pictured Rocks National Lakeshore after Labor Day, that I've been peeling bananas backwards my whole life. Maybe you already know this: It's much easier to peel a banana from the bottom, the end opposite the stalk. Just pinch the bottom and pull the skin down. You can use the stalk to hold the banana as you eat it right down to the end. That's how monkeys do it. Apparently they've evolved more than I have. (Some people would probably agree.)
This new trick is helpful. It may save me a few minutes over my remaining life, but if you were to start young . . . .
In a way, Pictured Rocks was new for us, too. Although I've passed the entrance in Munising about 100 times, on the way to Marquette and Ironwood, I'd only gone in twice to look out from Miners Castle. There's so much more.
It may not equal Yellowstone or Yosemite national parks in immense grandeur, but Pictured Rocks has something found in no other park: the magnificent multi-colored sandstone cliffs and sand dunes, of course, but also the splendid solitude, awesome power and white sand beaches of Lake Superior.
Since we were mostly alone, we felt we had discovered something new, an unspoiled place that stuns with its beauty. I grew up around Lake Superior, but I've never seen it like this: miles of beaches, with sand like powdered sugar, on the Grand Marais end of the park, the spiked hulls of old shipwrecks half-buried like whale skeletons, submerged sandstone tables etched by water and time, and boulders rising out of the surf just right for sitting on and taking it all in.
We camped for three nights in one of three small, rustic campgrounds, hiked near the solar-powered Au Sable Light Station and the Mosquito River rain forest area, took the cruise out of Munising to view the cliffs at sunset, bathed in icy whitecaps, ate beans and hot dogs, pasties and beer, discovered that putting a cold hard-boiled egg in a fresh cup of camp stove coffee warms the egg and makes the coffee just right to drink.
When you stand alone at midnight on a desolate, dark, Lake Superior beach with thousands of stars twinkling overhead and whitecaps pounding at your feet, you feel the wonder of the universe—and the raw beauty of Michigan. As a dear friend would have said, "This is great!"
We drove on the best road in the state, Alger County's H58, especially the eastern end where the road meanders near the lake. It was finished last year and I think rivals Route 119, from Harbor Springs to Cross Village, as Michigan's best scenic road.
I posted a photo on Facebook, wondering why more people don't know about Pictured Rocks, and a friend replied that more people knowing would ruin a good thing. I don't think so. Not many people are getting there, with 561,000 visitors in 2011, down from 705,000 in 1991. By comparison, the Blue Ridge Parkway got 15.4 million visitors last year, the Golden Gate National Recreation Area attracted 14.6 million, and the Great Smoky Mountains 9 million. Sleeping Bear Dunes National Lakeshore near Traverse City attracted 1.35 million visitors last year.
(Michigan has five National Parks: Isle Royale National Park, Keweenaw National Historic Park, Sleeping Bear and Pictured Rocks, and the North Country Scenic Trail. Mackinac National Park was named the second national park, after Yellowstone, in 1875, but lost that designation when the national lands on Mackinac Island were returned to Michigan in 1895.)
More visitors to Pictured Rocks would help the economies of Grand Marais and Munising, destinations I think deserve wider recognition for the outdoor sports possible there. Petoskey is another one of our favorite areas.
In August, Barbara and I took an impromptu overnight trip there. For many reasons, we hadn't visited in two years, and we needed that special up-north 'fix.'
We spent one afternoon in Harbor Springs. The small town on the bay just feels like summer, with quirky shops, art galleries and a menagerie of restaurants that seem to change frequently. Still around, though, is Turkey's on Main Street, where I finally tried their toasted, fresh turkey-cranberry-cream cheese sandwich. Wow, what a treat. I'm voting it the "best sandwich in Michigan."
With that banana-peeling technique and Turkey's sandwich, my life has changed. Sometimes it's good to try a new thing.
Mike Buda is editor emeritus of Country Lines. Email Mike at mike.f.buda@gmail.com or comment on his columns at countrylines.com/column/ramblings.