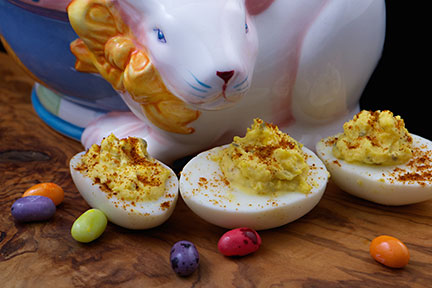 Fresh eggs (amount you want to serve)
Marzetti's® coleslaw dressing
Salt and pepper
Paprika
Dash of Tabasco® sauce
2 T. or more minced capers
Place eggs in a pot and just cover with
cold water. Bring to boiling, then shut off
heat and cover with lid. Set timer for 15
minutes. Remove and cool eggs, shell and
cut in half. Remove yolks and mix in bowl
with Marzetti's slaw dressing, salt, pepper,
hot sauce, and minced capers to taste, until
the mixture is spoonable. Spoon mixture into
chilled egg halves, sprinkle with paprika and
serve on lettuce leaf.
Pamela Newcomb, Charlevoix