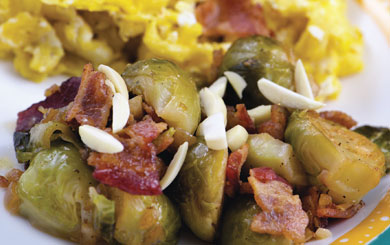 1½ lbs. brussel sprouts, trimmed and halved
1½ T. margarine or butter
1 shallot, finely chopped
1 clove garlic, crushed
1/4 t. pepper
1 t. sugar
2 T. white vinegar
1/2 c. low sodium broth
1 lb. bacon, fried and crumbled
1/2 c. slivered almonds
Cover sprouts with water in large pan. Boil 5 minutes; remove and drain. In same pan, combine butter, shallot, garlic, pepper, sugar, vinegar and broth. Add bacon and sprouts to pan and boil until almost dry. Top with almonds; serve hot. Goes well with scrambled eggs. Serves 8.
Fred Black, Sandusky