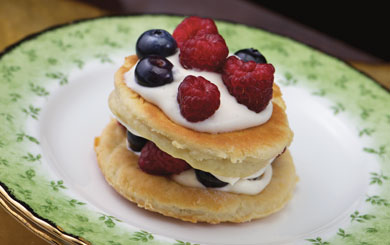 1/2 c. butter, softened
1 8-oz. package cream cheese
1½ c. flour
1/2 t. baking powder
1 c. fresh blueberries
1 c. fresh red raspberries
granulated sugar 
1/2 c. powdered sugar
1/2 t. vanilla
1/4 t. mace or nutmeg
2 t. grated orange rind
2 c. heavy cream for whipping
Cream butter until soft and fluffy. Add cheese and mix until smooth and well-blended. Stir in flour and baking powder. Shape into a ball; wrap in plastic wrap and chill for one hour. Roll out to 1/4-inch thickness, cut into 12 3½-inch rounds. Place on a lightly greased cookie sheet and prick well with a fork. Bake at 400° for 10 minutes, or until lightly browned; cool. Gently combine berries sprinkled lightly with granulated sugar; set aside. Combine remaining ingredients; beat until stiff. Arrange pastry rounds on platter or individual plates; top each with a generous spoon of whipped cream and some of the berries. Top with a second pastry round, more whipped cream and berries. Serve!
Janice L. Thompson, Martin