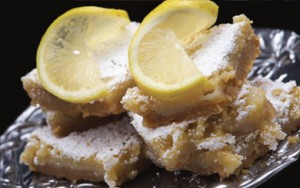 2 c. flour
1/2 c. powdered sugar
1 c. butter, melted
4 eggs, beaten
2 c. granulated sugar
4 T. flour
1/2 t. baking powder
1/3 c. lemon juice
powdered sugar to sprinkle on top
Preheat oven to 350°. Mix flour, powdered sugar, and butter together. Press into greased and floured 9 x 13-inch pan. Bake 20 to 25 minutes. Combine the rest of the ingredients and pour over the bottom crust. Bake 20 to 25 minutes more. Cool and sprinkle with powdered sugar.
Jenn Seif, Shelbyville