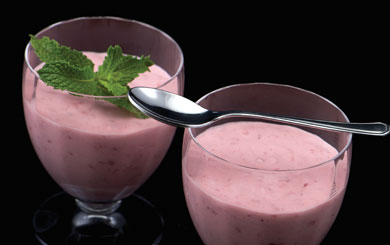 1 envelope unflavored gelatin
2 T. cold water
juice of 1 lemon
grated zest of 1 lemon
1 pint raspberries
1 pint strawberries, quartered
2 T. creme de cassis liqueur
2 egg yolks
1/2 c. sugar
2 c. whipping cream
Combine gelatin and water in a small sauce pan and set aside to soak for 5 minutes. Stir the lemon juice into the softened gelatin. Add the zest, raspberries, strawberries, and creme di cassis. Bring gently to a boil, stirring frequently, and then set to cool to room temperature. Combine egg yolks and sugar in small bowl and beat until pale yellow. Transfer to double boiler and cook over simmering water, whisking until hot and slightly thickened, 10 to 15 minutes; set aside to cool. Fold the berry mixture into the cooled custard. Whip cream with mixer until it forms soft peaks, and gently fold into the mixture. Scoop the mousse into a glass bowl or wine goblets and refrigerate until set. Garnish with raspberries or sprigs of mint. Enjoy!
Betty  Hahn, Cornell