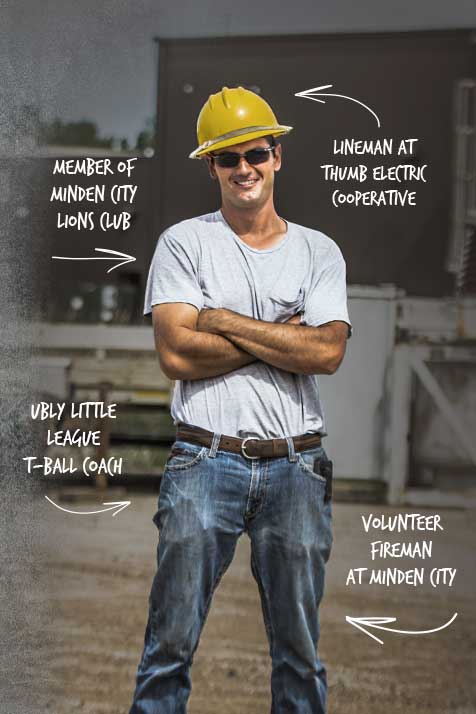 How long have you worked at Thumb Electric Cooperative (TEC)?
I've worked at TEC for the last sevenand-a-half years. Prior to that I worked out-of-state for various contractors, completing my apprenticeship and becoming a journeyman lineman. When my first child was born, it was time to put down roots, and I was lucky enough to be hired on at TEC. I've been here ever since. Michigan's thumb is a good place to call home.
What does a regular day of work look like for you?
We start the day at 7:30 a.m. Each day is a little different depending on the job order received that morning. The day's assignment could be anything from underground primary work to overhead distribution work (and anything in between). We load up the truck with the material needed and head out to the job. After we arrive on site, we conduct a safety tailboard meeting and get to work!
What's your favorite part of the job?
My favorite part of the job is restoring outages. Whether it is an individual outage at 3 a.m. on a Saturday night, or an ice storm that's left thousands without power, I'm always up for the challenge.
So, do you sleep with your phone by your bed? 
Yes. Two phones, every night. Both with the ringers turned all the way up. Sometimes in outage situations, additional help is needed by the on-call crew. I'm also a volunteer fireman, so I want to be able to take the call if someone needs help.
What's the toughest part of the job?
The toughest part of the job is dealing with the weather—especially winter. I hate the cold! I am constantly trying new clothing that claims to be "wind resistant" or "water repellent." Some of it is better than others.
What do you like to do in your free time?
In my free time, I enjoy spending time with my three daughters: Adrienne, 7; Avery, 4; and Adalynn, 1. Anything and everything that I do, they want to be doing it with me.
What kind of activities do you do together?
In the summer, baseball is a big hit at our house. I have coached t-ball since my oldest was old enough to play, and my second will start playing this year, too. During the winter months, we all enjoy snowmobiling. But for some reason, it seems like I'm usually working on the machines while everyone else rides!