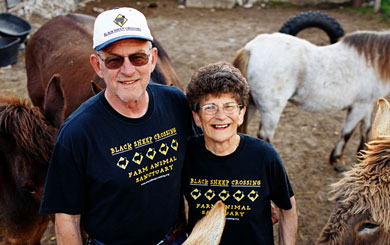 Cherry Scott gazes out at her Leelanau County "Field of Dreams."
Gazing, in itself, is something of a miracle because she was going blind before a new medical procedure helped stabilize her eyesight.
What she and her husband Marty see now is a farm they own called Black Sheep Crossing—a no-kill animal sanctuary they have had since 1998—15 years of giving a second-chance to animals.
"After we raised our family, we were looking for something else to do with our lives," explains Cherry, whose family owned a gas station in downtown Northport for years. "One day we found this farm, fell in love with it, and started this sanctuary. I never pictured myself as living on a farm. But what we found here—well, Marty and I call this place 'the end of our rainbow.' We have learned so much from these animals."
There are 74 animals of all kinds, shapes and sizes on the 100-acre sanctuary. They range from seven friendly donkeys to two Scottish Highland steers (Sir Patrick and Sir Edward), to pot belly pigs, dogs, birds and cats. And they all get an annual physical.
"We have names for all 74 of them," Cherry says with a smile. "They are our family, so they all need names."
In the 15 years since they started Black Sheep Crossing, Marty and Cherry have helped 159 animals. Where do they go once they get here?
"They spend the rest of their days here," she says. "We have a cemetery where we bury them at the end of life. Each animal has a little headstone. And we have a small memorial service when they pass. It's amazing how the animals seem to understand those moments. We've had services surrounded by donkeys and dogs. They are very respectful, like they know what's going on."
And, in many ways, Cherry and Marty are convinced they do understand.
"These animals have done more for us than we've ever done for them," adds Marty. "We've learned so much about things like patience and compassion from them."
Cherry agrees.
"We give tours several times a week at 9 a.m., because that's the best time for these animals. We work on animal time, not people time," she says. "And we ask our visitors to be respectful because this is their home. And you wouldn't believe what people come away with when they visit here.
"They tell us it feels different here, there's an aura they say you don't experience very often."
Cherry and Marty say that "aura of goodness" emanates from the barnyard. But those who know the Scott family say it starts with them. And that's hard to argue when you watch them interact with the animals, calling out their names and even using nicknames for each animal.
"We're not taking any more animals, that's something we've agreed on," Cherry adds. "This is the family we'll see through."
The Scotts get the electricity to run their farm from Cherryland Electric Cooperative. They get some of the money to operate their nonprofit sanctuary from contributors around the state and country—stretching from Kalamazoo to Engadine and from people in 15 different states.
"Once people get here, they seem to like what they see and observe," Cherry says. "Our tours take up to two hours, but we don't do it for entertainment. This isn't a petting zoo, this is a sanctuary. People like to see these animals in their environment."
Marty admits that owning and maintaining a sanctuary like Black Sheep Crossing isn't for everyone.
"I think we're three-quarters crazy," he says with a laugh.
But Cherry wouldn't change a thing.
"What we've experienced in these 15 years has been amazing," she says. "You see the bonding that takes place between animals…the trust, the caring, the love. And you learn from it."
-Nick Edson