Eddie, what happened to my blankets?" said Ed Girrbach's mother when she noticed they were missing. Ed jokes that after he explained he'd been selling them as ponchos to his schoolmates, "mom's reaction helped me understand at an early age about the 'cost of goods sold.'"
Ponchos were Ed's first foray into business, but the now co-founder of Great Lakes Potato Chip Company (GLPCC)—a member of Cherryland Electric Cooperative—would carry that entrepreneurial spirit his entire life, eventually leading him—along with his son and business partner, Chris Girrbach—to open Pangea's Pizza Pub in Traverse City. Even more, it was that same spirit that inspired a growing interest in manufacturing.
Ultimately, deciding where they would strike out next came down to a simple question: "Dad, what do you like?" asked Chris.
Ed thought for a moment and replied, "Well, aside from pizza, I like potato chips." And the idea for GLPCC was born.
The Girrbachs threw themselves into researching potato chips; and on May 5, 2010, they founded GLPCC with two part-time employees and one old fryer to begin manufacturing their favorite—skin-on kettle chips.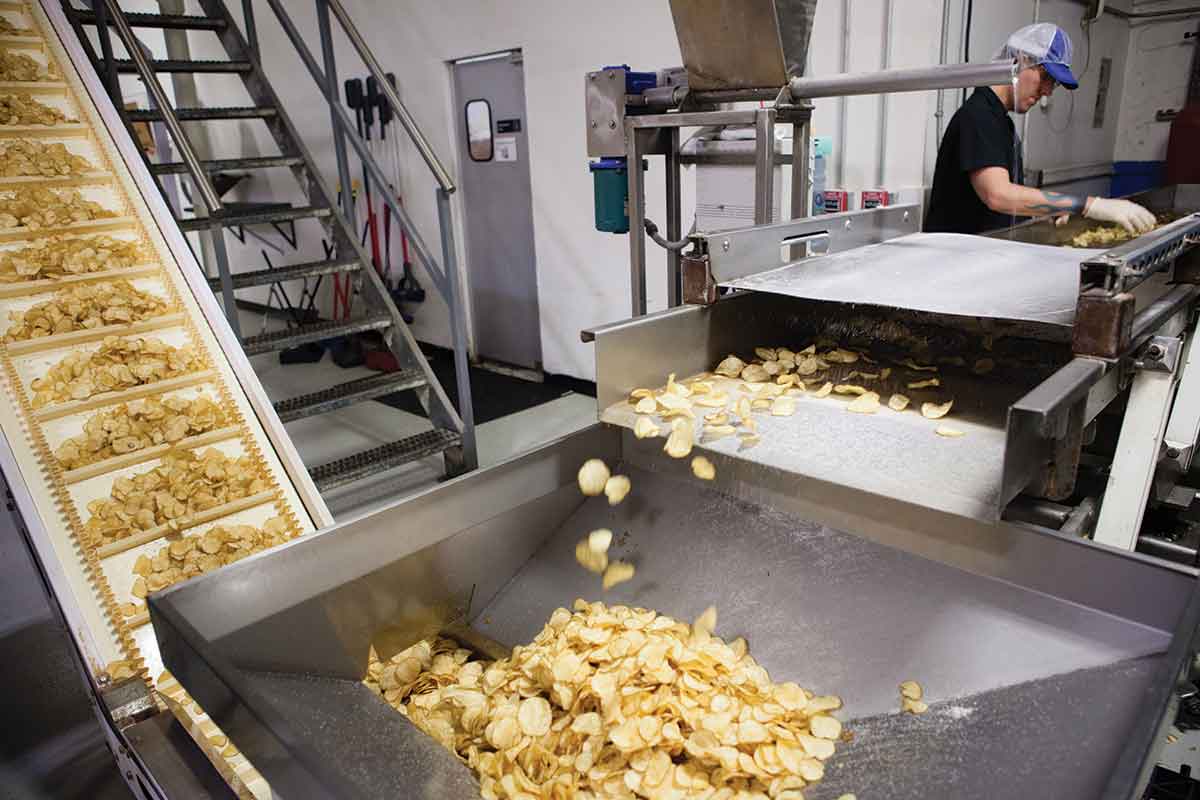 Check out this homemade chicken finger recipe made using GLPCC's Michigan Cherry BBQ chips.
In the eight years since, the chip company has experienced tremendous growth and won numerous accolades, including being named "Number One Kettle Chip" by The Chicago Tribune, and "Most Investable Second-stage Food Company" at Crain's Food Summit. They also received a "Gold" rating for kettle and tortilla chips at the Saratoga Springs Chip Festival—the birthplace of the potato chip.
Today, the chip company produces seven flavors of kettle chip,

a tortilla chip, has 16 distributors, retails in seven states, employs 30 people, and is growing at a rate of 30 percent per year.
All this growth means more potatoes, and Michigan has no shortage—it's the leading producer of chipping potatoes in the nation. The Girrbachs developed a special relationship with Sackett Farms in Mecosta—a HomeWorks Tri-County Cooperative member—to supply their potatoes. Sackett Farms is a sixth-generation, family-owned farm specializing in A-grade chipping potatoes, whose crop is in high demand.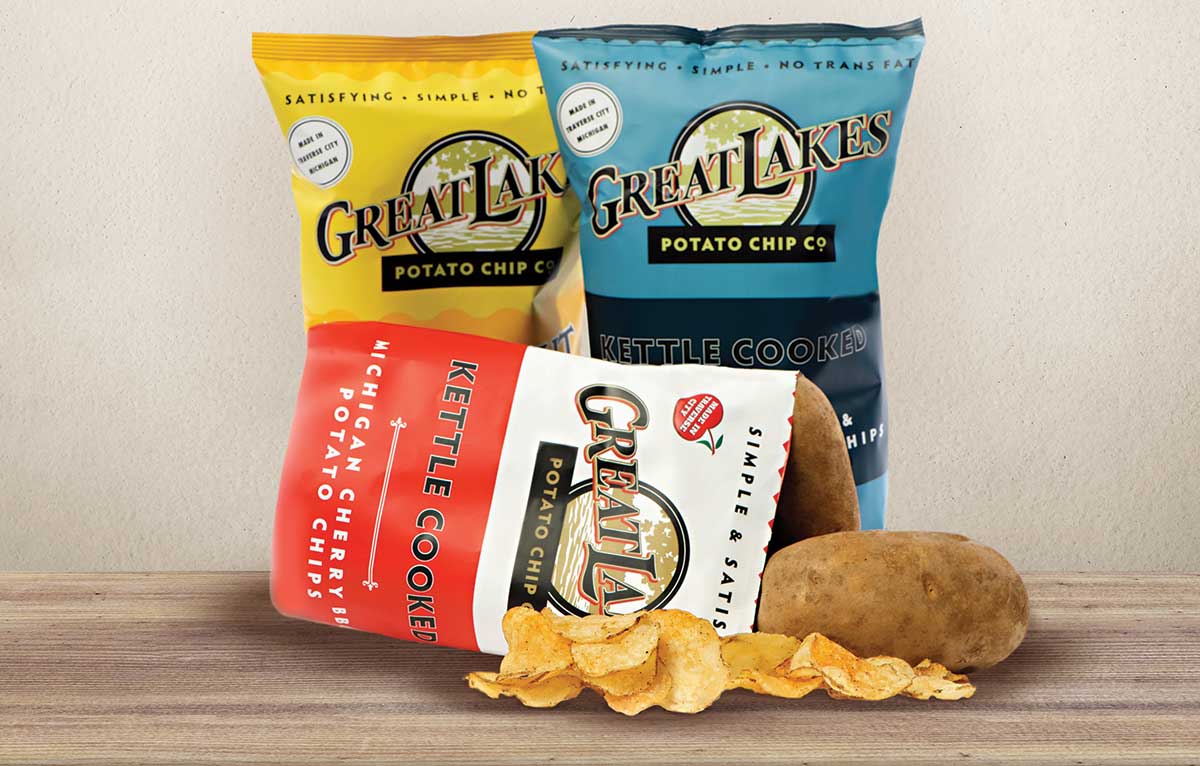 "Chris' first trip to Sackett Farms was humorous," said Ed. "He drove 110 miles to the farm in his pickup truck with a crate in the back and had to get in line with semi-trucks to load up the potatoes. He was the only pickup in the line, and we're thankful they let us jump in and hold up their process."
Chipping away at the potato chip industry, the Girrbachs eventually sent more than a pickup truck to Sackett Farms. Now, a semi-truck delivers 120,000 pounds of potatoes a week—and they are looking for more.
The chip company has invested nearly half a million dollars in automation to double its capacity to keep up with demand.
With each upgrade, Ed and Chris look closely at the most energy efficient equipment as part of their commitment to sustainability, and they value their partnership with their electric cooperative.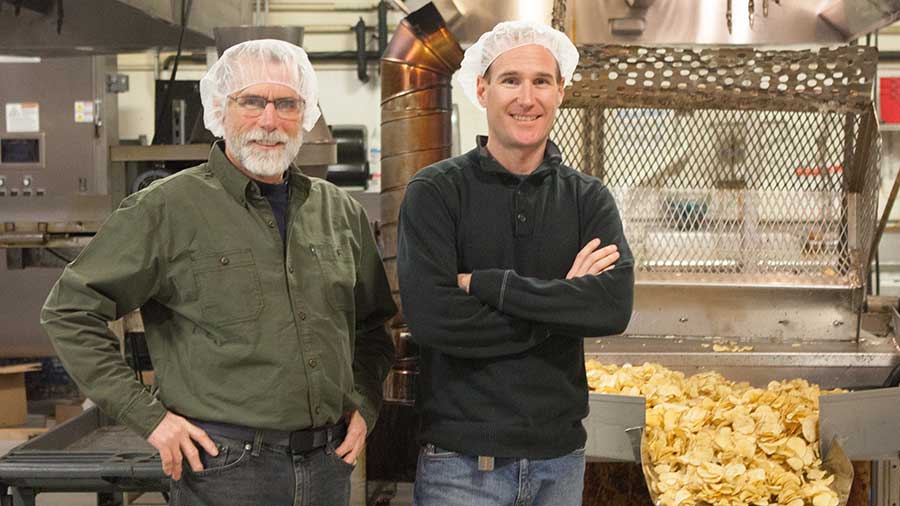 Coincidentally, GLPCC and Sackett Farms belong to electric cooperatives that are members of Wolverine Power Cooperative. The Wolverine cooperatives lead Michigan in new renewable energy. In 2018, the co-ops reduced their carbon footprint by 25 percent—now providing members with 56 percent carbon-free energy. "Cherryland operates as a true partner, their whole mindset is how do they help us, and how do we work together to find more ways to be energy efficient," said Ed. "We love doing business with them."
As Great Lakes Potato Chip Company continues to grow, Ed takes great pride in his Michigan-made products, their highest-quality ingredients, and their unique process to get a crispier, crunchier, tastier chip.
"We get asked a lot why we leave the skin on," said Ed. "It's simple. It just tastes better."
---

Authored By: James Curtis
James Curtis is the director of communications at Wolverine Power Cooperative. James and his wife and daughter live in Cadillac where they enjoy making music and exploring the Michigan outdoors together with their ancient, yet spritely, miniature pinscher, Dakota.