B

en and Alison Sklarczyk's five-year-old daughter Morgan has a dream to be Johannesburg, Michigan's first farmer-police officer.

She and her little brother, Dane, are the latest of four generations in the Sklarczyk Seed Farm family, and while she has not spent time as a police officer, she has already spent time in the family business doing everything from clipping leaves to picking tubers.

Sklarczyk Seed Farm began in 1942 when Michael and Theresa Sklarczyk purchased a farm in Johannesburg which would later be passed onto their son and daughter-in-law, Don and Mary Kay.

Beginning in the 1980s, Don began a tradition of innovation when he was the first to use tissue cultures to reduce instances of bacteria and viruses that commonly affect potato crops—a practice that has become an industry standard.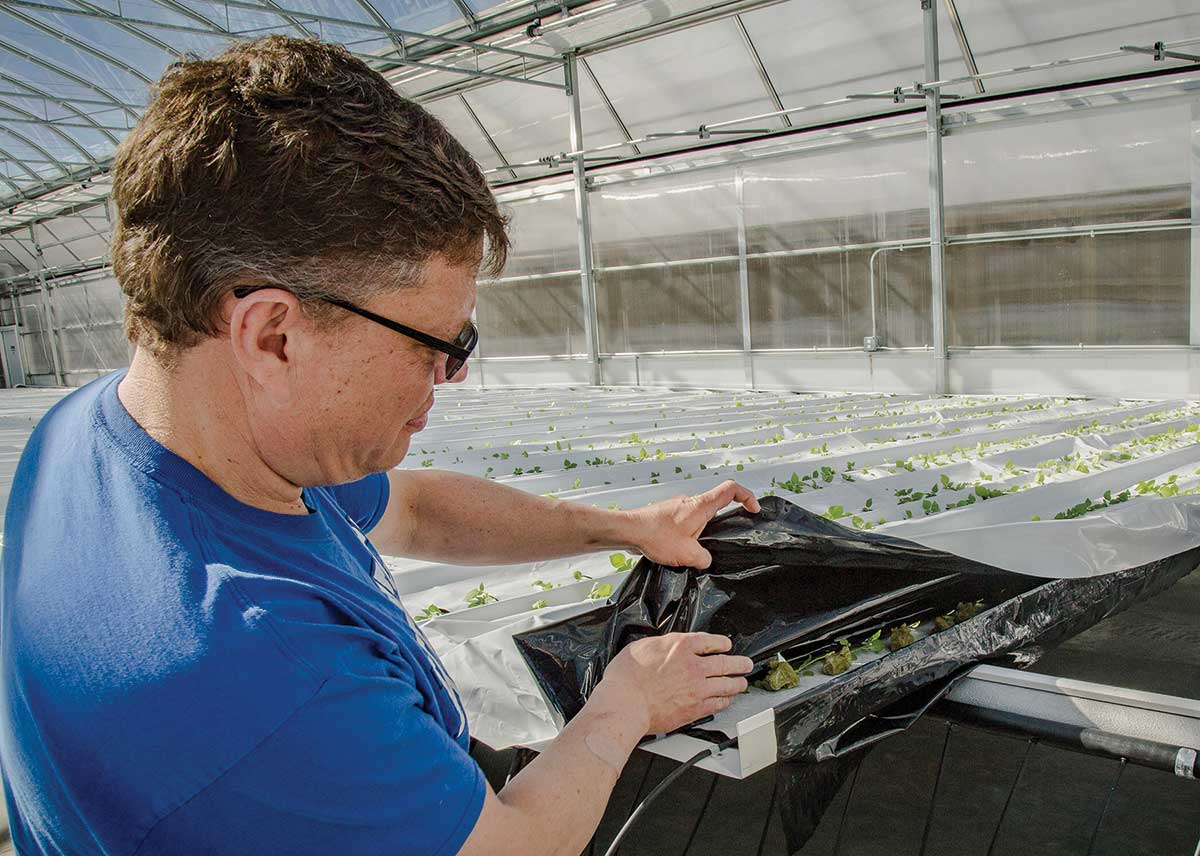 Today, Sklarczyk Seed Farm produces more than four million seed potatoes each year, making them responsible for roughly 65 percent of all potato chip potatoes produced in North America.
Now Don's son, Ben, continues to grow the farm and his parents' and grandparents' legacy with his wife Alison.
"I never want to forget where we came from," said Ben. "I never want myself—or our team—to forget how we got here, and the sacrifices my parents and grandparents made for us to have what we have here today."
Sklarczyk Seed Farm's barn facility is a testament to that legacy. The modern take on the traditional big red barn is a beautiful marriage of past and present. The common areas and offices are adorned with nostalgia of the Sklarczyk story. From original bills of sale and ledger books to the track and hay carriage from the original barn that serves as the focal point in the conference room, Sklarczyk Seed Farm proudly displays the seeds of their story and the generations of hard workers who created the foundation for their successful business.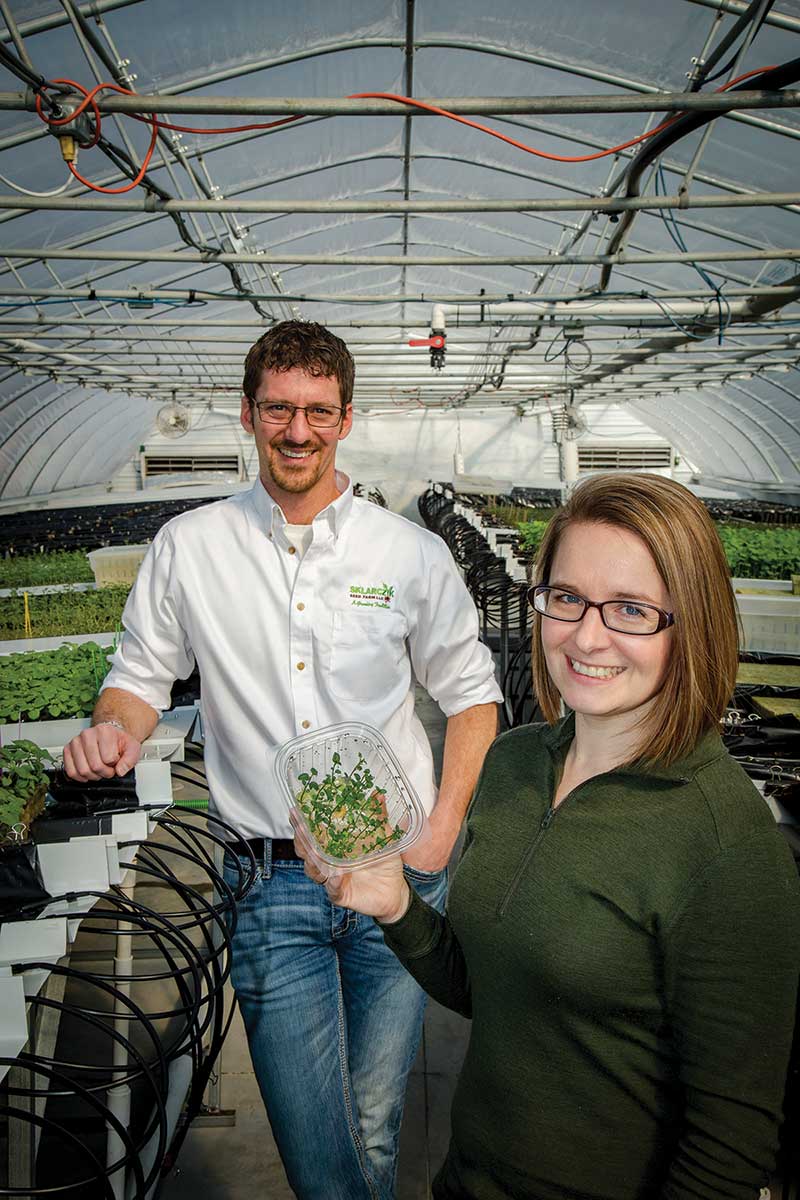 While the inside of the facility is impressive, the Sklarczyks have a deep appreciation for the outdoors and the environment.
"As a farmer, there's a mentality ingrained in you to take care of the earth because the earth is what takes care of you," said Sklarczyk. "These values were instilled in my dad from his dad, and he passed them down to me."
The Sklarczyks' respect for Northern Michigan's natural resources is also infused into their business as they recognize the importance of utilizing earth-friendly, sustainable practices, to provide benefits for future generations. That respect inspired them to utilize innovative technologies to run their operation as energy efficient as possible.
In 2016, Sklarczyk Seed Farm installed 90 LumiGrow LED grow lights instead of the standard high-pressure sodium grow lights to significantly save energy—more than 200,000 kilowatt hours per year.
They also worked with the LED manufacturer to conduct tests at their facility to monitor the effects of light spectrum control to maximize usage. The resulting optimized energy consumption and efficiency allowed him to increase production without the need to construct costly new facilities.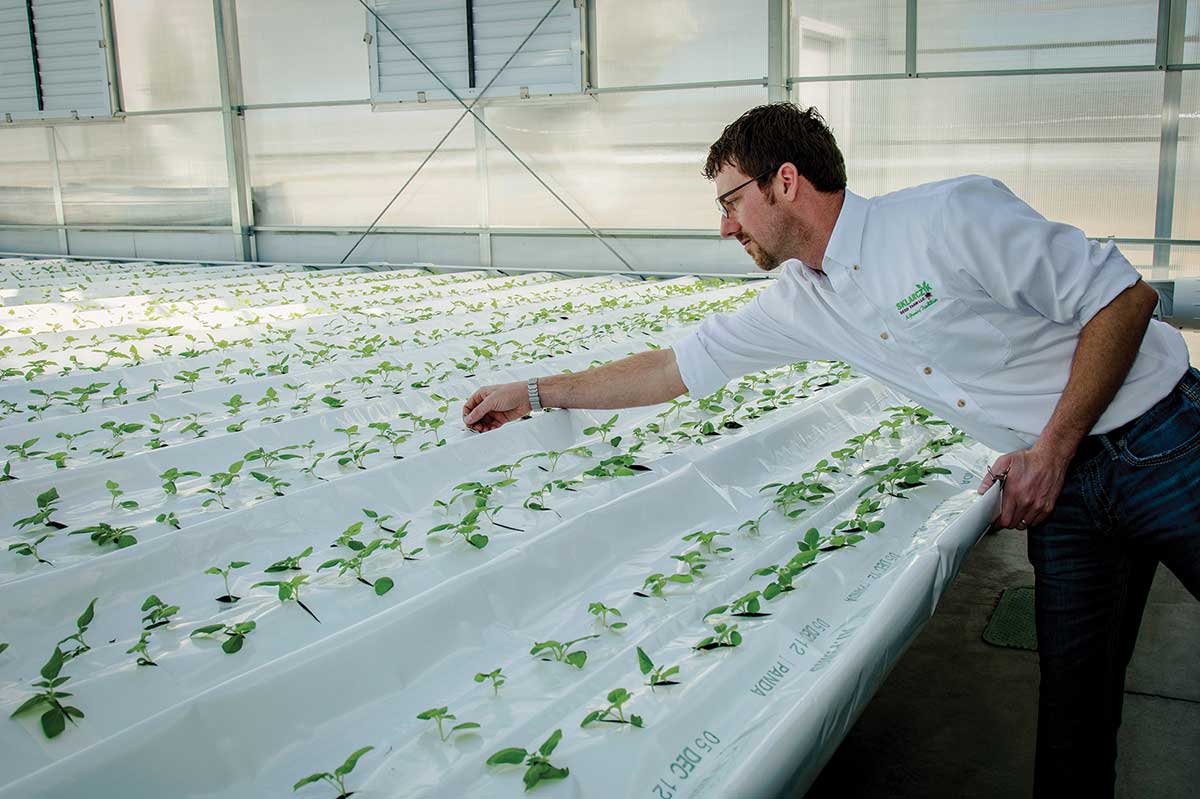 The Sklarczyks' commitment to energy efficiency has been recognized by the Governor's Energy Excellence Award as a 2017 Finalist, the EPA and National Potato Council Environmental Stewardship Award, and the Michigan Agricultural Environmental Assurance Program (MAEAP) verification.
In their initiatives, the Sklarczyks value their partnership with their electric cooperative, Great Lakes Energy (GLE), to help them achieve their sustainability goals. GLE's Energy Optimization programs helped the farm offset costs associated with the implementation of their energy-efficient equipment and helped the business maintain cost-competitive operations. In addition to these programs, Sklarczyk Seed Farm's GLE membership means they are powered by the state's leader in new renewable energy. Even more, this energy is now 56 percent carbon-free.
"We are very fortunate to have our partnership with Great Lakes Energy," said Sklarczyk. "They have always gone above and beyond—everything from quick outage response to implementation of upgrades. We are fortunate to be part of the co-op family."
The Sklarczyks' traditions of innovation and environmental stewardship are plainly evidenced in Morgan's dream to be a farmer-police officer—valuing and protecting the legacy of what's come before her, and imagining something even greater.
---

Authored By: Brittany Kielbasa
Brittany is the communications specialist at Wolverine Power Cooperative. Brittany and her husband, Carl, live in Cadillac where they enjoy spending time outdoors and enjoying all that Northern Michigan has to offer.