From hideouts that resemble a cozy cottage (complete with area rug) to basic shelters, we received more than 60 entries in our Country Lines tricked-out deer blind contest. Who knew there were so many cool deer blind styles? Thanks to all who participated—it was difficult to choose! Our winners are featured below, but other submissions can be viewed here.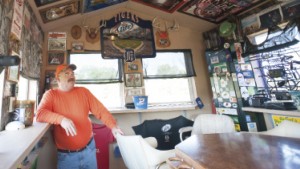 "Most Tricked-Out"
Congratulations to Ward Forquer, a HomeWorks Tri-County member, for having the most tricked-out blind. Affectionately known as "Fort Miller Lite," it's a two-story 10 by 14-foot insulated structure with a carpeted observation room, solar panel, propane heat and lights, 13-inch flat screen color TV, bunk beds, and customized Miller Lite memorabilia. Located in Isabella County, it can host up to 12 people.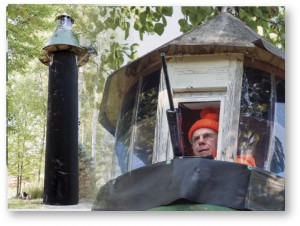 "Most Interestingly-Engineered"
Kudos to Ronald Camp for building the most interestingly-engineered blind. Working in underground excavation for 30 years, Ron envisioned a 36-foot underground storage tank for his shelter. The HomeWorks Tri-County member set the tank upright, above ground, and added a cupola at the top that swivels 360 degrees. Getting to the top means climbing a 28-rung ladder, but he is installing a 12-volt elevator.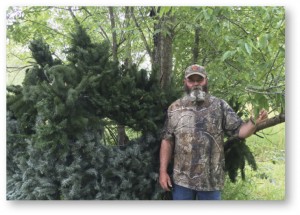 "Best Story Behind the Blind"
Dean Ronk made his deerblind after finding that nearly every garage sale had a fake Christmas tree—usually with a bent, broken base or missing branches. The Midwest Energy co-op member decided to bend the wire tree branches around a circle of hog fencing, with heavy plastic as a roof. His idea has gained popularity, and he says, "it makes hunting affordable, and a 'green' way to hunt by recycling old trees." Now he makes them for friends, and people are giving him their old trees.